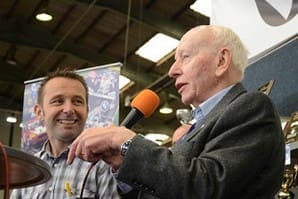 John Surtees, multiple world champion and the only man to capture world crowns on both two and four wheels, kept the gathered enthusiasts spellbound as he shared superb stories from his incredible life at the 34th Carole Nash International Classic MotorCycle Show at Staffordshire County Showground.
As an added treat, both the MV Agusta and Ferrari 158 that Surtees used to rack up his world titles were on display next to the main stage – the latter being unique for its blue and white paintwork… the only championship winning Ferrari that was not red.
Surtees' interviews were the highlights of a jam-packed weekend of motorcycle action with thousands of showgoers in attendance for one of the world's flagship classic events.
Throughout the weekend, Surtees arrived on stage to warm applause as he sat down with Isle of Man TT race winner and TV commentator, Steve Plater.
"Seeing so many familiar faces here at Stafford and catching up with old friends, it feels like a homecoming of sorts," said Surtees.
"It really is great to be here."
His appearances throughout 2014 mark both the year of his 80th birthday and the 50th anniversary of him completing his historic sporting double when he won the Formula 1 title in 1964.
At all events, Surtees will be raising money for the Henry Surtees Foundation, the charity he set up following the tragic death of his son after a Formula 2 race at Brands Hatch in 2009.
Surtees explained: "George Barber, who runs the Barber Vintage Motorsports Museum in the USA, owns the Ferraris that were used for the 1964 season.
"He called me and said that he was sending them over the UK, and for every penny that we raise for the foundation by taking them to events such as the one here at Stafford, he will double it!"
Surtees will also launch a photographic memoir of his life and career, to be released in June, with royalties going to the foundation.
Nick Mowbray, exhibition manager for the Carole Nash International Classic MotorCycle Show, said: "It was a real honour for the team here at the event to welcome John to the show and to do our bit to aid the amazing work being done by the Henry Surtees Foundation.
"John's an old friend of ours; the event this past weekend is the third time he's been our guest at Stafford – another record he holds – and he also opened the media centre at our offices in Lincolnshire.
"We knew that our visitors would enjoy hearing him speak and he didn't disappoint.
"What he achieved on both two and four wheels is remarkable, and it was fantastic to be able to honour those accomplishments."
Classic Bike Shows' next event takes place in Edinburgh at the Royal Highland Centre, where another of Surtees's fellow racing legends, Giacomo Agostini, will be the special guest of honour.
Details for the whole season events can be found at www.classicbikeshows.com.