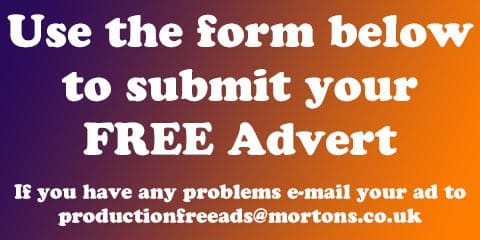 Note: If you have problems with the form below and need to email your advert, please include your address, the category and state which publication/magazine your advert should appear.
Advert booking form
NOTE: If you are having trouble submitting this form it may be caused by a browser extension such as Grammarly, please turn this extension off or try an alternative browser/device. If you are still having difficulty please e-mail you advert with all of the above information to: [email protected]
For private advertisers
1.All advertisements must be for private sales only. Strictly no trade advertising.
2. The advertisement copy provided by the Customer must be legal, decent, honest and truthful and comply with the British Code of Advertising Standards Authority and Mortons Media Group Ltd may amend the advertisement to ensure compliance with such requirements.
3. Mortons Media Group Ltd is not able to verity the truthfulness of any statements made by a Customer in the advertisement copy. Accordingly, the Customer will be responsible for any losses, expenses or other costs incurred by Mortons Media Group Ltd which are caused by an untrue statement made deliberately by the Customer.
4. In order to meet its production and other editorial requirements. Mortons Media Group Ltd reserves the right to hold back adverts until the following issue. Adverts only appear when space allows.
5. In the event of the complete omission, cancellation or mismatch of an advertisement by Mortons Media Group Ltd, the Customer will be entitled to a re-run of the correct version of the advertisement, unless the omission, cancellation or mismatch by Mortons Media Group Ltd is caused by unforeseen circumstances beyond the reasonable control of Mortons Media Group Ltd, or breach of contract by the Customer or. where the Customer has given special instructions about blanking out the registration number of the vehicle, increasing the probability of a mismatch.
6. Mortons Media Group Ltd's liability for breach of contract or negligence will not exceed an amount equal to the price of the advertisement or series of advertisements involved, provided that nothing in this clause will limit Mortons Media Group Ltd's liability br death or personal injury caused by its negligence or that of its servants or agents.
7. By placing a free advert order on this website, you agree to receive communication from Mortons Media Group Ltd about our publications, shows & our services. We do NOT send spam, & do NOT share your personal information with any 3rd parties. We will use your name & email address to send you an advert confirmation email and on occasion, emails containing offers relating to our publications & services. If you do not wish to receive these, you may opt-out of such emails upon receipt by clicking "Unsubscribe" link contained in the email.
---
Advert

Enjoy more The Classic MotorCycle reading in the monthly magazine. Click here to subscribe.
---