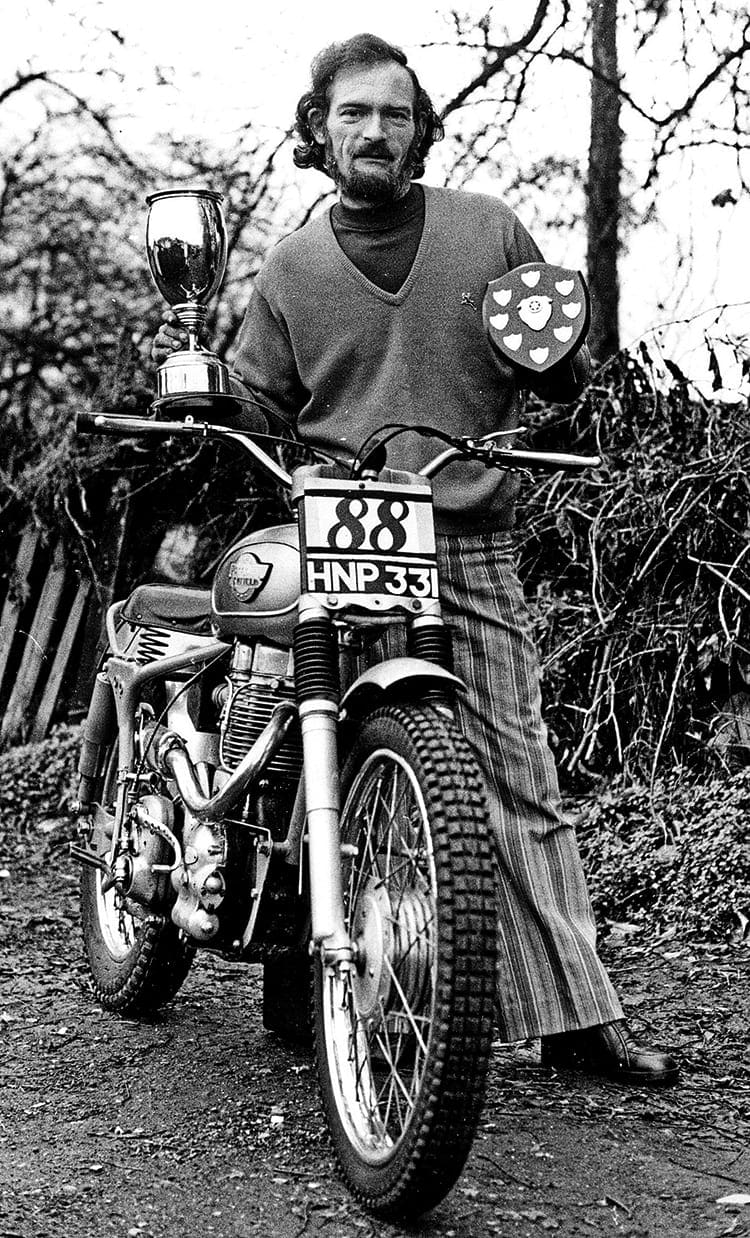 I enjoyed the feature on the Johnny Brittain Bullet (May 2018), particularly as I found and restored it.
I was variously on the staff of The Motor Cycle or MCN during the 1950s and early 60s and also a trials rider myself with a penchant for trials Royal Enfield, so most weekends were spent following the great JV (John) and his likewise brilliant brother and fellow works team member Pat, either to photograph and report on them or, on other occasions, to ride in the same events.
In the mid to later 1960s, the classic (as opposed to the vintage) scene had yet to happen and pre-65 trials had not been invented, so, as I liked the big bikes, I had in fact become one of the few riders still choosing to compete on one of those large British singles.
In my case at least this led to two differing reactions from my lightweight-mounted fellow competitors. Some actually complained my bike was making it easy for anyone following as it was destroying or bulldozing the sections, but more than a few of the other lot said something more like: "I still have one of those (trials Royal Enfields) rusting away at the bottom of the garden, do you want to buy it?" I ended up with 20…
To cut to the quick, basically this is how the museum's 'HNP 331' came my way, totally dismantled and in a very poor state. I also bought the final 'works' 250 which was still as ridden by Peter Fletcher in The Scottish Six Days Trial, complete with Scottish mud and competition plates fitted and registered to the factory as 'RE 250'from the factory 'Comp Shop' when the firm was finally being wound up, and I also bought all of John Brittain's and Peter Fletcher's ex-works spares off them.
There was problem with the registration number 'HNP 331' in that it had finished up being moved on to John's final Royal Enfield trials 250, which the factory had given to John when he had more or less retired, and then it had been stolen from his shop, so John still had the number but not the machine it then related too. So I bought that bike as well, so as to get the HNP 331 number to put it back on what had been John's previous works 350cc trial bike, which is the featured machine.
Anyway, I restored HNP 331, put its original registration number back on it and rode it with some success for several more years before being approached by the museum asking if I would consider letting them have it. This coincidentally was at a time when the years of continued competition use were really telling on the magnesium castings with such as the cylinder to cylinder head through bolts stripping the crankcase threads etc, so I thought, yes, this is where this wonderful old machine should now be.
Final point. Back in its factory days HNP 331 did not have black painted magnesium crankcase castings, that was down to me. I had worked for Rolls-Royce and been involved with Merlin Spitfire engines which likewise were never expected to have such a long life and whose castings could also go porous, so I painted the bike's during my restoration just to seal them up while I was still using it in the then modern trials.
Don Morley, via email.