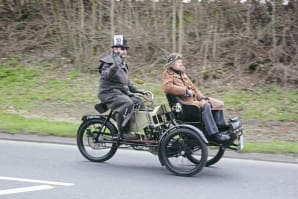 When the first Pioneer Run was held, in 1930, the entered bikes were simply old and they were relatively few in number.
By this year's event, the 76th, the 360 entered machines were all at least 100 years old and some considerably older.
The intervening years have increased the reputation of the run to make it the premier event for veteran machinery, defined as anything built before December 31, 1914.
The event is organised by the Sunbeam Motor Cycle Club.
A critical qualification for any potential Pioneer Run entry is to be in possession of the dating certificate issued by a Sunbeam MCC committee dedicated to the task.
Although sympathetic to those trying to restore and run motorcycles made by long-vanished manufacturers, the idea is to ensure that any veteran seen 'Pioneering' is as genuine as possible.
A brief scan of the programme underlines the status of the event, with riders from continental Europe forming a significant proportion of the numbers.
However, for serious commitment it was hard to beat Zachary Sagurs from Bermuda with a 1905 453cc LMC and Pete Young who came from the USA to ride the VMCC's 465cc 1904 Dreadnought.
Read more in the June edition of TCM