With the Panther pulled apart and engineering work completed, Steve wanted some paintwork doing on the cycle parts.
Words: TIM BRITTON Photographs: STEVE PARRISH
The world of refinishing motorcycle parts has moved on a long way since the early days of the British industry, and the early days of the restoration hobby too for that matter. Once Steve Parrish got the restoration bit between his teeth and the Panther had to come apart for some engineering work, then it made sense to refinish the frame and cycle parts.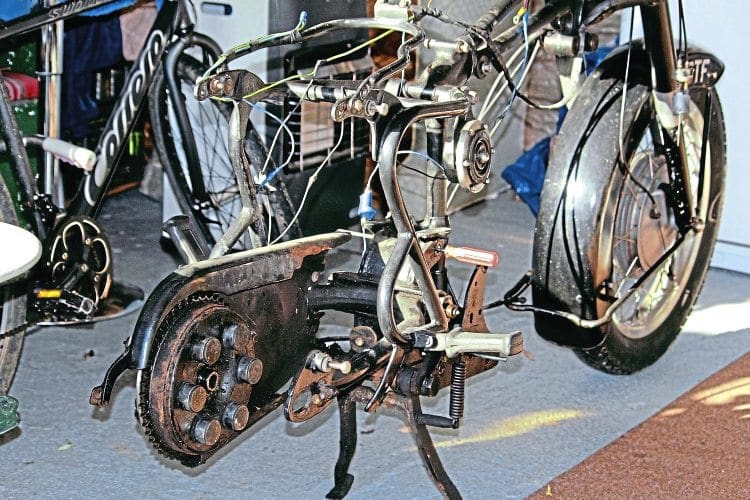 "I wasn't going to do it, then I thought well, it's apart, it will have to come apart again if I wanted to paint it, so I had it done," said Steve.
As have many restorers, engineers and mechanics, Mr Parrish has a network of people who do all sorts of things mechanical for his bikes and vehicles. One of these contacts being Morley Brothers in Cambridge who are specialists in all types of paintwork and powder coating.
"I knew them from the race days as Mark over there did race a bit and it's always nice to entrust your motorcycle parts to a motorcyclist to do the work. I took along all the rusty bits and pieces and they sorted everything out and back they came all shiny and black for the frame and the tank resplendent in orangey red with silver panels," Steve explained.
Steve had initially thought about doing the engineering side of things, like all the tin bashing to get the dings and dents out of the cycle parts and any welding too, but in the end he didn't even have to degrease anything. "The lads down there have a wet-blaster so you don't even have to wash things beforehand and there's an engineering place next door to them who repair all sorts of bits too."
Article continues below…
Advert
Just as with the motorcycle industry in its fledgling years, the coatings industry has made advances and all sorts of finishes are on offer from aerospace coatings as used on the Big D Cycles racing Triumph in the 1980s to the tins of paint on sale at the local DIY superstore.
Read more in the April issue of TCM – out now!
---
Advert

Enjoy more The Classic MotorCycle reading in the monthly magazine. Click here to subscribe.
---