The Bristol show once more lived up to its reputation as a friendly, fun, feature-filled event, with some show-stopping machines up for delectation.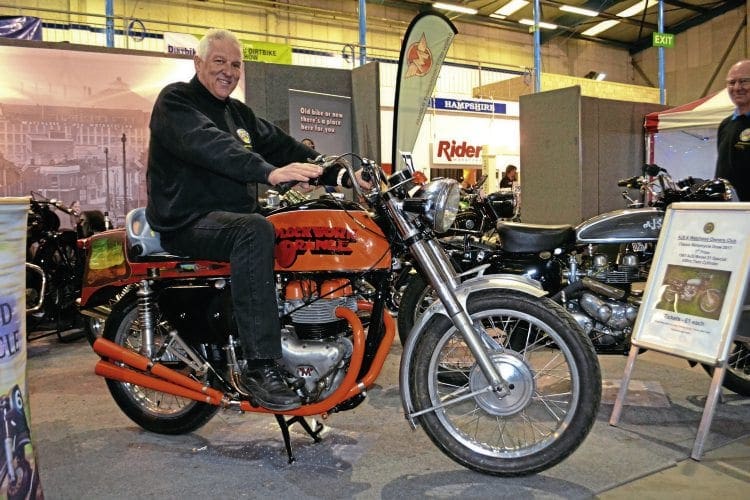 For a few minutes, I stood by the information desk at the Carole Nash Bristol Classic MotorCycle Show. A man approached the desk: "Where's the Lawrence Brough, please?" he enquired, and received the requested directions. A short time later, the scenario was repeated. And again. And again. Apparently, it went on all weekend. The draw and glamour of Lawrence of Arabia endures, it seems.
So there was little doubting the motorcycle which was, for many, the highlight of the show. It was Brough Superior SS100, registration number UL 656, the penultimate (of seven) example of the Nottingham made V-twin owned by the famous soldier and statesman. Incidentally, UL 656 was actually the registration number used erroneously on the SS100 that Lawrence, as depicted by Peter O'Toole, is riding in the 1962 film Lawrence of Arabia when he is killed in a motorcycle accident – in fact, Lawrence was actually riding GW 2275 when he met his demise.
That doesn't diminish UL 656 though. A 1929 SS100 Alpine Grand Sports, it was the first spring-frame Brough Superior Lawrence owned and it was the machine he traded in for his last Brough (GW 2275).
Last year, was the first time UL 656 had been on the road for around 60 years – much of which was spent under the workbench in Cyril Hockin's shed. Cyril, who acquired the Brough Superior in the early 1960s, passed away about 10 years ago, with the Brough's ownership moving to son Tony, who resolved to have the machine back on the road. This has been achieved, though rather than being restored the SS100 has been sympathetically recommissioned; indeed, I heard a comment of: "I expected it to be all glitzy and shiny" made, though it wasn't said as an insult, more an appreciation and in admiration of the work done and how it's been undertaken.
Much of the labour was by marque specialist Tony Cripps, who managed to come up with various missing parts too, including the tail-pipe section of each of the twin exhaust pipes.
Article continues below…
Advert
Read more in the April issue of TCM – out now!
---
Advert

Enjoy more The Classic MotorCycle reading in the monthly magazine. Click here to subscribe.
---