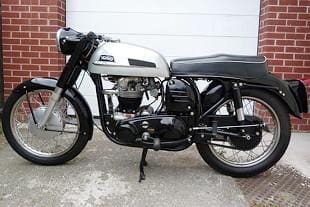 That's a proud Carl in the photograph above, outside the Vintage Motor Cycle Club headquarters after collecting his prize.
Full results for raffle were:
First prize: 1959 Velocette Venom 500cc
Winner: Carl Storer from Leeds
Second prize: Davida Classic helmet, courtesy of Davida UK
Winner: Jim Bunce, Somerset
Third prize: one year's subscription to Old Bike Mart and The Classic MotorCycle
Winner: William Mills, Surrey
Fourth prize: one year's subscription to Classic Racer
Winner: Mr J Parker, Chepstow
Fifth prize: one year's subscription to Bonhams Motorcycle Auction Catalogues, courtesy of Bonhams Auctioneers
Winner: Jason Hunt, Burton upon Trent
The VMCC also annnounced information on its next raffle, with a top prize of a 1961 Norton Dominator 650SS. The July-Dec 2013 raffle will be drawn on December 20. Tickets have already been distributed with the July edition of the club's mag The Vintage Motorcycle and others will be circulated during August via related publications.
Tickets can also be purchased via VMCC by telephoning 01283 540557, emailing [email protected] or online at www.vmccshop.net
First prize for this raffle will be an original, matching numbers 1961 Norton Dominator 650SS (pic, above). Second prize will be a Davida Classic crash helmet and third, fourth and fifth will be subscriptions to Mortons titles and Bonhams auction catalogues, as above, with previous auction.