The H&H motorcycle sale, which took place behind closed doors on April 7, 2020, as an online live auction, dispatched 129 lots for a total of £900,000 – a 67% sell rate. Five of the top seven bikes sold were Vincents.
Mark Bryan, head of motorcycle sales for H&H, said: "Given the context – a global pandemic – this is a remarkable result which speaks so clearly of the passion collectors have for motorcycles and the trust they have in H&H. People were buying bikes they had not seen and without knowing precisely when they could take delivery."
Fifth (behind four Vincents) in the 'top price' list was a 1930 Norton CS1, which fetched £27,600, all of the funds from the sale of which will go towards the purchase of the Old URC Church in Stoke-sub-Hamdon, Somerset, built by a distant relation of the bike's owner, former RAF pilot Bill Southcombe.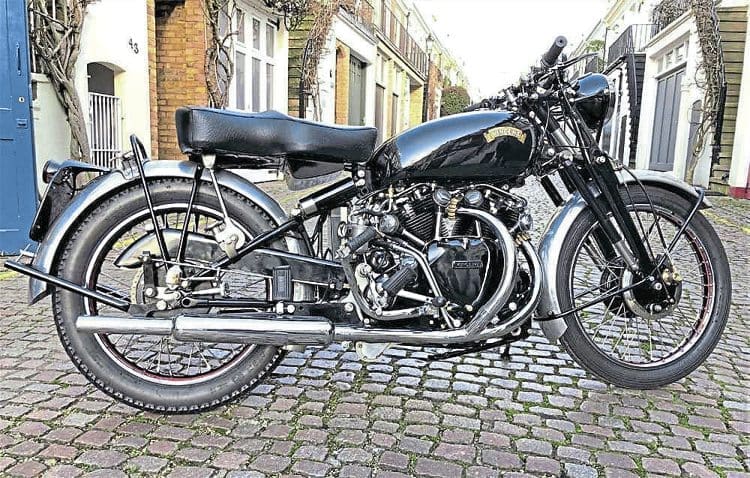 The whole community is doing its bit to seal the deal on saving the church which plays host to a number of community projects.
Bill explains why his overhead cam 'cricket bat' Norton had come to be sold: "If we fail to buy the church, it will be auctioned by the synod, to developers probably, or left to decay."
As a trustee of the charity set up to save the ecclesiastical building, he has already donated the value of two more of his bikes.
"It's a Congregational Church built by my ancestor, Richard Southcombe, for the community in 1866. It isGrade II listed and in verygood condition and was given to the URC Synod in 2016 by the Elders.
"If we are to save it we must pay the synod this year, 2020."
Top items in the sale were:
Lot 120, 1955 Vincent Black Shadow Series C sold for £47,150
Lot 115, 1954 Vincent Rapide Series C, £36,800
Lot 119, 1947 Vincent (HRD) Rapide Series B, £35,075
Lot 161, 1938 Vincent (HRD) Meteor Series A, £34,500
Lot 90, 1930 Norton CS1, £27,600
Lot 108, 1973 Triumph X-75 Hurricane, £23,000
Lot 125, 1948 Vincent (HRD) Meteor Series B, £23,000.
Read more News and Features at www.classicmotorcyle.co.uk and in the June 2020 issue of The Classic Motorcycle – on sale now!