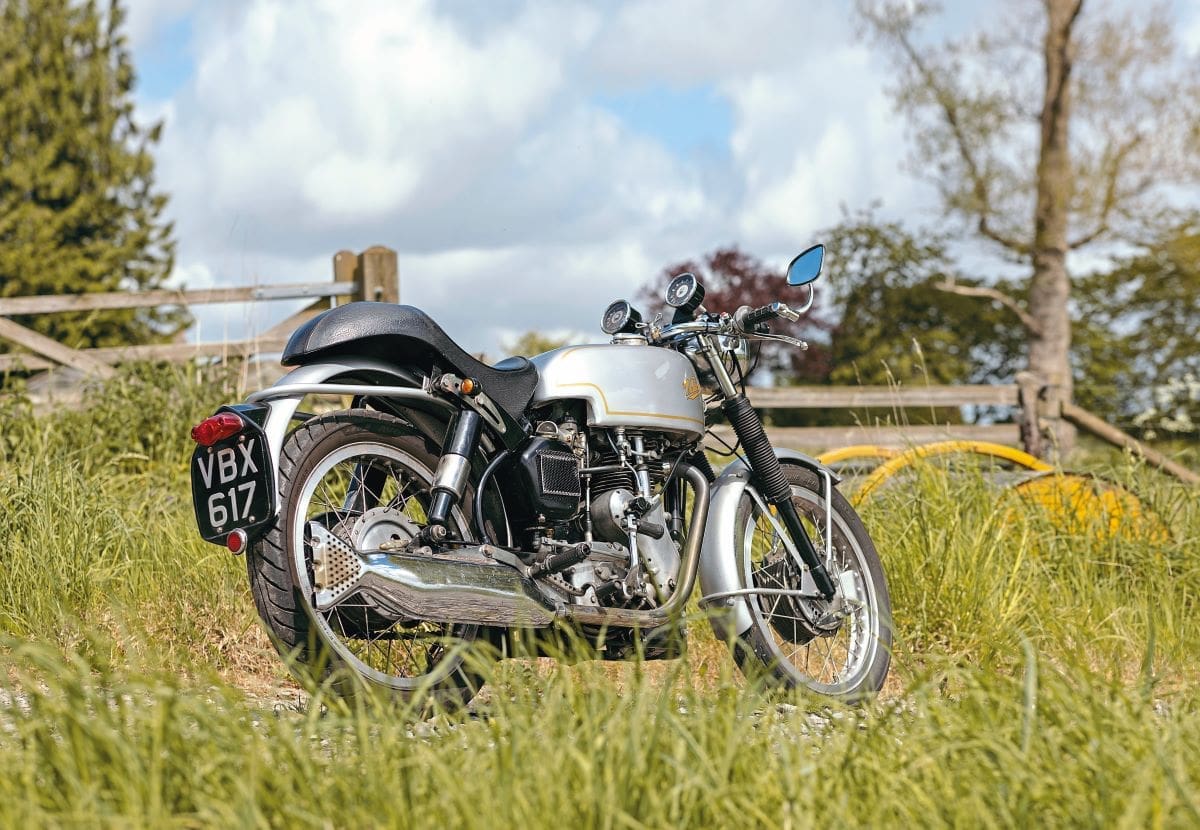 This Thruxton lookalike performs just as well as it looks, sharing many traits with the machine it apes, and having provided years of solid service.
Words: ANDY WESTLAKE Photographs: GARY CHAPMAN
Speeding along the wide, empty roads of West Wiltshire, with my head tucked down over the Velocette's silver/grey petrol tank, it needed little imagination to transport my mind back to 1967 and picture myself on the Isle of Man heading for the flag in that year's, newly-introduced 500cc Production TT.
Prior to 1967, the famous races had been largely the domain of pukka race bikes (for over 10 years anyway, since the cessation of the Clubman's TT) but for the Diamond Jubilee event, the ACU had decided that something of the original intent of the Tourist Trophy should be resurrected and introduced a class for standard production motorcycles. In three capacity classes of 250, 500 and 750cc, the stipulation was that they should be machines that 'Joe Public' could buy in their local showroom and have no factory special tuning parts.
This idea was met with wholesale approval by most of the British manufacturers who still dominated the 'big road bike' class and on June 10, 1967, nearly 50 riders and their machines came to the start line. Unlike the other classes, the production race featured a 'Le Mans' type start and were flagged off all together, with five minutes between the different capacities. After the 750cc twins blasted away, it was the turn of the 500s but as the smoke cleared, two riders could be seen trying to kick-start their bikes into life. The pair – Neil Kelly and Keith Heckles – had little experience in starting highly tuned Velocette singles but with the help of some 'magic spray' – courtesy of Reg Orpin – into the carb' manifold, they eventually got them fired up and set off in pursuit of the pack, which, by this time, had long since disappeared.
As history records, the two specially prepared Thruxtons proved to be many miles an hour quicker than the opposition, and at the end of the three hard laps Manxman Kelly won the 500cc class at an average of 89.89mph – passing through the speed trap at the Highlander at an impressive 129.9mph, while on the sister machine – sponsored by Geoff Dodkin – Heckles was second.
Although from the outset the ACU had stipulated that the machines entered in the production class had to be those readily available in the showrooms, controversy surrounded both the 250cc class winning Bultacos and Kelly's and Heckles's Velocette Thruxtons. Certainly, the rules had been dramatically 'stretched and bent' by Hall Green in providing 'production' machines to select dealers with engines that had been specially developed in a bid to win the TT that year and were very different to those on the standard road-going 500cc singles.
Both of the bikes ridden by Kelly and Heckles – and a third ridden by experienced TT racer Arthur Lavington – used 'squish' combustion chambers, with specially shaped forged pistons, while the Orpin/Dodkin motors had a host of internal improvements, including needle roller bearings on the cam followers, all of which combined to produce an extra 4½bhp over the standard Thruxton.
Kelly's victory would be the last one for Velocette in the Island but he was lucky, on two counts, to even make the start. Originally, the Orpin machine had been allocated to winner of the 1965 Manx GP Dennis Craine, but two weeks before the TT, Craine had crashed in a scramble and in the ensuing melee was struck by another rider – Neil Kelly – and suffered a broken arm. Now without Craine for the TT, Orpin offered the production race seat to Kelly, but it wasn't the end of the drama for the Isle of Man native.
Kelly had already competed in two TTs but prior to the 1967 Production race, had not competed even a lap of practice. Firstly, the Hall Green single prepared for his sponsor was late to arrive, forcing Kelly to practice on a borrowed MSS. This developed all sorts of mechanical problems, including a badly slipping clutch which saw him grind to a stop at Quarry Bends. It was here – if period anecdotes are to be believed – an elderly farmer came to the rescue by producing a large nail from his pocket to allow Kelly to adjust the clutch and get moving again. But while kicking the MSS back into action, Kelly was passed by the 'roads open' car and his hopes for a complete practice lap were dashed.
By not completing a lap, Kelly assumed he wouldn't be allowed to start and went to his work on race day. His daily toil was then interrupted when he received an urgent phone call from his pit crew, informing him that, if he could make it to the start line in time, he could race. The factory prepared Thruxton had arrived, been through scrutineering and the officials had been persuaded that as he was an experienced TT rider with six races under his belt, he had a proven record, and it was important to have a local star in the race.
Our test bike this month isn't either of the bikes ridden by the two former TT stars, or even one of the genuine 1108 Thruxtons to leave the Hall Green production lines between 1965 and the factory's closure in February 1971, but a near-replica constructed by West Country enthusiast Colin Archer and one which, for the last 26 years, has been owned and ridden by long-time Velocette enthusiast Dave Walter. As you can probably guess, I needed little persuasion when he invited me along to take the superb-looking replica for a spin. However, before I pressed the starter button to bring the single into action (no start line dramas here!) Dave told me a little of his motorcycling life, one which started over seven decades ago.
"During my childhood, my father had an Ivory Calthorpe sidecar outfit, which he used for his job as a 'cow-man' on the local farm, but he certainly wasn't a 'motorcyclist' and my introduction to two wheels came in 1946, when, age 13, I was taken to Higher Farm Wick at Glastonbury for the first of the Tor clubs postwar scramble meetings.
"I was captivated by the skills of Jim Alves on his sweet sounding Triumph twin and along with the wonderful smell of the burnt Castrol R, I made my mind up that, on reaching 16, I would get myself a motorcycle. My first machine was a 1935 overhead cam KTS Velocette, which I paid £35 for.
"On leaving school I'd joined my father on the farm but it wasn't until I returned from my National Service – two great years spent in Kenya – I bought my first scrambler, a 250cc Velocette MOV, which had been modified with Triumph forks and a twin shock swinging arm rear end. A friend then offered me a job working as a mechanic at Glanfield Lawrence in Bristol; this gave me the opportunity to ride all sorts of bikes, while on the scrambles front I'd replaced the Velo with a Greeves Hawkstone.
I had a lot of fun racing the Thundersley two-stroke but in 1960 Chris and I were married [they still are in 2022] and as I was by then back managing a farm, I decided to give up scrambling and concentrated my off-road activities using the Greeves in the scrambles class of the time trials – including events like the Tanner Trudge – which were extremely popular at the time."
Dave eventually retired from his farm duties at the age of 70, but alongside work duties, during those years his competition exploits on two and four wheels – including one day trials on a 350cc Gold Star, enduros on an ex Geraint Jones 430 Husky and hill climbs – are numerous and could fill an article or two by themselves. Despite all that, his love for Velocettes never went away so we now fast forward to 1996 and hear from the man who – over a quarter of a century ago – created the stunning Thruxton replica, Colin Archer.
Explains Colin: "From the days when I bought my first Velocette, a MAC, I've owned and restored several other Hall Green singles and I spotted this one advertised for sale in nearby Bath in 1989. The then owner was an ex-marine engineer who had stripped the motor and gearbox and fastidiously kept all of the major components, along with every nut and bolt, in a large suitcase. The frame and running gear were a bit rough but it was all there making it perfect for restoration so with the deal done; it cost me £500. I spent the next winter bringing it back to life. I was pleased with the finished result but as the MAC shares all frame and running gear of its bigger siblings, it isn't the quickest of bikes, so as I loved the styling of the Venom based Thruxtons, I decided to build it into a replica of the famous production racer.
"I managed to get the pair of Venom crankcases at the Shepton Mallet autojumble and most of the rest of the parts I needed came via Nick Payton. A talented engineer, Nick had once worked as a mechanic for Geoff Dodkin and when the shop closed, he bought many of the Velocette spares Geoff had acquired. Through the old logbook, I discovered that my bike, UBX 617, had originally been registered and sold by a motorcycle dealer in Llanelli and, amazingly, the man who sold me the Venom crankcases lived just around the corner from where the old bike shop was in the same town. The finished result of my 'Thruxton' lookalike was a joy to ride and on club runs it created a lot of interest, including that from Dave Walter, who asked me if I ever fancied selling it, he would be very interested in taking it off my hands."
True to his word, 1996 saw the big Velo sold to Dave and, in the last 26 years it's seen lots of action, including a season of hill climbs in the road legal class and plenty of miles taking part in his local club runs. In that time, the Venom-based machine has proved to be 100% reliable and other than modifying the gear and back brake pedals and fitting a pair of indicators, UBX 617 is still much how he bought it over a quarter of a century ago. So what's it like to ride?
From experience, I've found that kick-starting a Velocette single requires a certain 'knack' – something that Kelly and Heckles discovered in the 1967 TT – but on Dave's machine, there are no such worries, as with the piston eased over compression, it just needs a press of the electric starter button to bring the engine booming into life. I personally love the exhaust note from the Hall Green singles and as I engaged gear and pulled away, it reminded me of the day I first saw one circulating at Thruxton in the 500-mile race as a small child in the early 1960s.
We were soon out of the built-up area and onto the lightly trafficked B roads, where the sure-footed Velo really came in to its own. The four-speed gearbox was one of the sweetest I've ever experienced on a 60-year-old bike and the combination of straight 'bars, rear set footrests and single race seat made it an almost perfect fit for my six-foot frame. With its pin-sharp handling and braking – plus modern items like the electric start and set of indicators – there is no doubt that Dave's Thruxton replica is one of the best Velocette singles I've ever ridden and a credit to its creator Colin Archer.
Finer Details
Engine Air-cooled, single cylinderfour-stroke
Capacity 499cc
Bore 86mm
Stroke 86mm
Comp ratio 8:8.1
Power output 38bhp@6200rpm
Carburettor Amal Mark 2 Concentric
Starter Electric
Clutch Multi plate
Gearbox Four-speed foot change
Drive Primary Chain, Final Chain
Brakes Front Twin leading shoe, rear Single leading shoe
Wheelbase 54.75 in
Weight 390lb
Top speed 100+mph (estimated)