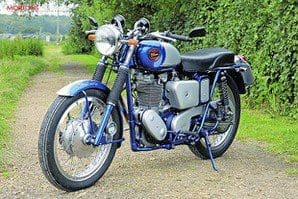 History books will tell you that John Goodman (né Johannes Gutgemann, and temporarily trading as John Taylor) built the first Veloce motorcycle in 1905. You'll also learn that the family business – run in turn by John's sons Percy and Eugene, and his grandson Bertie – continued making motorcycles until the business was wound up about 1970. So the catch question is; when did the Goodman family make their last Velocette?
Unless you are part of the Velocette cognoscenti, you might as well give up straightaway, because it was nearly three decades after the factory closed! In 1998, Simon Goodman, the great grandson of the firm's founder, made one last machine, and thanks to Neil Redley – marque enthusiast extraordinaire – I've scooped a test on this unique machine for The Classic Motorcycle.
Neil takes up the story: "Simon apparently still had access to surplus factory parts, and in the late-1990s, with the classic boom in full swing and India-made Royal Enfields becoming increasingly popular, he thought he might be able to make and sell replica Velocettes. He put together what was initially called the Road Scrambler, but the projected production cost was £9-£10,000, so he decided that the scheme wasn't viable."
"The project was put on one side for several years," Neil continues, "but, of course, those in the inner circle knew of its existence and pestered Simon to sell it. Eventually he agreed to let Alan Keyson take it over, but it wasn't really a runner at that stage, and not much was done to it until it was passed on to another arch-enthusiast, Peter Connor. Peter had to do a lot of work to make it roadworthy, as there were faults with both the piston and the crankshaft, and he's rebuilt the engine to somewhere between Venom and Thruxton standard."
Mr Connor seems to be one of those invaluable chaps who is more interested in getting machines running than using them, and he in turn was persuaded to sell the Street Scrambler – as it had become known – to complement the other rare Velocettes in Neil Redley's expanding collection down in Hampshire. Neil and myself already knew Peter's credentials, as he was the builder of the Seeley-Venom reported on in The Classic Motorcycle December 2007.
The Street Scrambler title could perhaps do with a bit of explanation, especially as it's not a term you'd normally associate with Velocettes. It really goes back to the time when British bikes held sway in American off-road racing. These events were held over miles of rugged open country, and the bigger imports were better suited to them than lightweight two-strokes, which lacked power and stamina, or the comparatively cumbersome homegrown Harleys and Indians.
Events like the Baja were national headline news, and there's nothing like publicity to spawn fashion, is there? Just as modern roads are awash with race replicas that are only ridden to the nearest lay-by snack bar, American roads back then were full of motorcycles that never saw the cross-country use to match their styling, so they became known as Street Scramblers.
Most fashions and fads passed straight by Velocettes, but not this time. The Hall Green, Birmingham, company was best known for its cammy road racers, of course, but they tried their hand at the off-road stuff, too. Scrambling was phenomenally popular after WWII, and in 1954 Velocette introduced a Scrambler powered by a specially tuned version of the 500cc MSS engine. It didn't look all that businesslike, with its standard dualseat and centrestand, but it could well have gone places in the hands of ace rider John Draper, if he hadn't been tempted back to BSA before he could develop it significantly.
Somewhat surprisingly, though, Velocette had already experienced competition successes in the States, a 350cc MAC having won the 1953 Catalina 100mile Grand National, and that success was repeated with the 500cc scrambler the following year. It has to be admitted that the Scrambler's period in the sun was rather short, but Velocette cashed in on their momentary success by listing an on/off-road Endurance export model. In true Street Scrambler style it combined the kudos and looks of the competition machine with lights and other road-legal equipment. Admittedly it was tamed by the specification of an Amal Monobloc instead of a TT carburettor, and it was nearly as heavy as the roadster, but it set a style that Velocette would persevere with until their closure; when even the Thruxton was being sold with ape-hanger handlebars in the USA.
The Endurance model was doubly significant for today's test machine, as it gives historical authenticity to its styling, and the scrambler's tuned MSS engine was the forerunner of the highly successful Venom engine powering it. The Endurance naturally used the standard Velocette frame that relied on Phil Irving's patented 'Arcuate' slots to adjust the spring rate, and so did the early scrambles model. But while the brazed lug chassis was OK for posing on US highways and byways, genuine scramblers exposed the inadequacy of the long unsupported top spring hangers that wilted when the Velo was hammered across country.
Another weakness, caused by simply clamping the rear suspension arms onto the cross-shaft, was dealt with by keying them in place, but the frame's deficiencies were clearly more serious. For a while chief designer Charles Udall employed the British manufacturers' traditional twin responses of a) hoping that the problem would go away while b) blaming riders for being too hard on their products, in 1958 he went part way towards appeasing potential customers and introduced a fresh rear subframe. It was an obvious stopgap, because while the new section was welded together, it was simply bolted onto the old brazed-lug front section that was virtually unchanged from pre-war days.
The forks were still the typically weedy Velocette items – not even protected by gaiters – and who could have confidence in their ability to cope with high-speed landings when they'd seen them juddering under mere engine vibration? An admission of their deficiencies was seen in another bargain basement upgrade, with simple triangular plates stiffening the lower mudguard stay attachment points. Interestingly, this facet of the design would be reintroduced on the Venom Thruxton several years later, showing either commendable use of proven technology and resources, or a lamentable lack of interim development, depending on your view.
None of this really mattered because the original Velocette scrambler was up against the BSA Gold Star, whose motor's similar potential power was transmitted through a more forgiving clutch, and which featured a more modern frame with better ground clearance. Whether the new subframe would have made the Velo competitive against the BSA soon became irrelevant, anyway, because its introduction coincided with rise in popularity of the TriBSA, and the Métisse – the definitive derivative of that amalgam of engine and frame – was on the horizon.
Consequently, very few Velocette scramblers were sold. And presumably – to return to the test machine – that's why Simon Goodman still had a frame that qualified for 1968 registration number, which he could use as the basis of the Street Scrambler he assembled 30 years later.
Now, it may appear that I've been rather keen to point out the deficiencies of Velocette's Scrambler, but I've got to tell it like it is, and the other side of the coin is that the Neil Redley's Street Scrambler comes out much better than you could reasonably expect when you consider its background.
'In fact it has only one downside, and that's the perennial one of the awful kick-start ratio employed on the more powerful Velocettes. Yes, I know that the engines will start if everything is in perfect adjustment, and you follow the arcane drill spelled out in the instruction book, but there is absolutely no margin for error'
In fact it has only one downside, and that's the perennial one of the awful kick-start ratio employed on the more powerful Velocettes. Yes, I know that the engines will start if everything is in perfect adjustment, and you follow the arcane drill spelled out in the instruction book, but there is absolutely no margin for error. The Street Scrambler, for example, has good sparks and spot-on carburation, and it'll fire virtually every time I kick it over (provided I remember to keep the throttle completely closed on the late-model carburettor with its unfamiliar cold-start device). But it simply isn't rotating fast enough for that cough to be reliably transformed into perpetual motion.
Perhaps the answer is that the idiosyncratic clutch won't cope with transmitting a serious kick through a higher primary drive ratio (those inducted into the magic circle will know that just feeling slippage is an inherent part of the clutch-setting procedure). Whatever, the whole business is satisfying when you get it right, but frustrating and embarrassing when you don't, and it must have cost Velocette dearly in sales.
But let's move o
n to the positives, like the machine's stunning appearance. Metallic blue and silver with liberal pinstriping might not fit your idea of a typical Velocette, but it sure makes you look twice. Any enthusiast would already have seen the distinctive Velocette timing case and silencer (more of which anon), but the second glance would show up the different subframe, and open up a barrage of questions.
Well, you already know the 'what?' and the 'why?' but there are a couple of features that still need explaining. The petrol tank, for instance is a genuine Velocette Scrambler item that was based on the contemporary Valiant roadster's, with appropriately modified mountings. The toolbox, too, comes from the Valiant, and just as on the illustrious Thruxton, it has been reversed. Behind it is an air filter that's redundant with the current carburettor, but has been retained to fill what would otherwise be an unsightly gap. The twin clocks are mounted Thruxton-style behind a separate headlight, the oil tank has the Thruxton's heat shield on it, and the twin leading shoe front brake is the one used on the Venom Thruxton, too.
'It's still non-standard, though, as the cut-out on its top edge reveals that it's one modified by marque specialist Geoff Dodkin to give clearance for the rearset foot controls used in production racing'
Changes since the motorcycle was first built are that a single racing saddle has given way to a standard dual seat, and a Dunstall-type megaphone silencer has been replaced by a Velocette fishtailed job. It's still non-standard, though, as the cut-out on its top edge reveals that it's one modified by marque specialist Geoff Dodkin to give clearance for the rearset foot controls used in production racing.
So this Velocette's unique and it looks a million dollars – but what is it like to ride? The short answer is that it's outstanding. For starters, the riding position suits me to a tee because I feel on top and in charge, whereas ordinary Velos give me a slightly vintage 'sit back and aim' feeling. It goes almost without saying that the Magura controls and everything else work exactly as they should – this is an almost new motorcycle, after all – but Neil is keen to give credit to the preparation done by his friend Malcolm Ralls. The roadholding, steering and braking are as good as you'd expect from a late-model Velocette, and that's pretty damn good by classic standards.
And the engine is superb. Although easily seduced by the raw power of a big twin, I've often said that a good big single does everything I really need, and this is one of the very best, with flywheel effect, breathing and transmission all working in perfect harmony. It still seems extraordinary to me (and would flabbergast a modern 'biker') that a comparatively simple mill like this can pull so strongly at low revs, yet deliver scintillating power at the top end. It's quite smooth, too. The rider can feel the engine working, but there is never enough vibration to be uncomfortable, or to make one suspect that the engine is coming to harm. And, of course, the fishtail exhaust sounds wonderful!
If you want facts and figures, the Street Scrambler will trundle along at 30mph in top, and I'm sure that it would do somewhere around the ton with equal aplomb. And in the all-important midrange from 50-70mph, either third or fourth gear will give you the sort of punch to surge past the average saloon while its driver is still looking at his sat nav. The Velo's gearchange is slick and precise, and the infamous clutch is feather light. True, it begins to drag fractionally after repeated riding passes in front of the camera, but that's only because the Velo's turning circle – strangely large for a motorcycle based on a manoeuvrable scrambler – means that I have to stop and start instead of doing 'U' turns.
I'd put up with that, and the iffy starting, for the sheer pleasure of riding and looking at the Velocette Street Scrambler. It's no good having aspirations to possess one, though, because lucky owner Neil Redley has no intention of parting with the only Goodman-built example in existence.