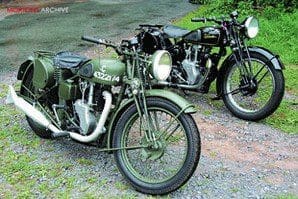 Some things in life, like strawberries and cream, go so well together that it can be hard to imagine them apart. Roger and Jane Franklin have overlapped their tastes to such a degree that you can tell, just by looking at them after 34 years of contented marriage, that they were made for each other. It can even be hard to tell them apart, at least when they are out riding their bikes, thanks to similar protective clothing and nearly identical profiles for their Velocette singles. Only the drab finish on Roger's military MAC (WD) distinguishes it at a distance from Jane's more traditional-looking MOV, although she is the one that you'll normally find riding in front.
"We bought a basket case from a friend of ours, which contained two frames and enough bits and pieces to make me think we might build two bikes. I gathered together all the missing parts over the next five years, to make the bikes as you see them now."
Unusually, Jane's interest in motorcycles was what weaned Roger from an early enthusiasm for Austin Minis and she remembers how their meeting changed her life from the outset, "I had a Velocette MSS frame in my shed that I was intending to build into a complete bike, and then Roger came on the scene so it was done for me!" Membership of the Velocette Owners' Club predated their wedding day and soon the MSS took on sidecar duties, to mobilise a growing family.
Husband and wife are now joint public relations officers for the VOC, which celebrated its half-century in 2007. The novelty of their joint appearances on Velocettes at classic events, both in this country and abroad, has been an excellent form of promotion for the club. Jane has also won the Cotswold Ladies Trial on her 1938 MOV and in 2001, she accompanied Roger to Montlhéry for the 40th anniversary of Velocette's 24-hour world speed record at the French circuit. She says, "The level of public interest really makes you feel like an ambassador, but people will keep asking about obscure mechanical details! Though I'm pretty good at explaining how it all works, really I just ride the bike and Roger's the mechanic."
Roger explains how it all came together: "We bought a basket case from a friend of ours, which contained two frames and enough bits and pieces to make me think we might build two bikes. I gathered together all the missing parts over the next five years, to make the bikes as you see them now. The Veleocette Owners' Club has an autojumble at its annual Stanford Hall rally, but several items like the rear carriers and mudguards are simply unobtainable. I made these myself, mostly by copying from other bikes, although I managed to find a factory drawing of the sump plate for the military model."
The overhead valve M-type was Velocette works manager Eugene Goodman's second attempt at creating a cost-effective machine for the low-taxation lightweight market. He directed engineering designer Charles Udall to simplify the firm's existing four-stroke engine in search of a type that required fewer skilled labour operations and had a shorter assembly time. Consequently, although a semi-duplex chassis carried over from the unsuccessful side-valve Model M project, the Phil Irving-designed dry-sump engine, most of the rest was quite new. In particular, it was the first British production motorcycle unit to offer full enclosure of its overhead valves.
Despite the fact that it shared few cycle parts with other models, the 248cc MOV looked every inch a traditional Velocette. A high camshaft formed part of a train of four timing gears that operated short, stiff pushrods in a single tunnel on the offside, the arrangement having a similar appearance to the bevel drive on the more exotic overhead-cam models. A lightweight version of the bigger bikes' four-speed gearbox came with a foot-change option, and full electrical equipment was standard. Overall, The Motor Cycle of 15 June 1933 considered that the new bike 'reveals in every line a thoughtfulness that is most refreshing.'
Jane tells me that her MOV was the first of the pair to be completed, just in time for the new millennium. The thing that strikes me most about the bike is its compact neatness, suggesting a precision instrument. The primary gear ratio is low to aid kick-starting, while a half-turn of the protruding tap on the offside of the carburettor body lifts the throttle slide without recourse to the twistgrip. The ignition control would normally be automatic, but in this case it has a manual advance/retard lever.
The riding position is comfortable, with feet placed slightly inboard of knees on generous footrests, though the controls are quite small and the brake pedal in particular is well tucked in. Square dimensions for the bore and stroke mean that the engine is eager to rev, while its modest capacity makes for an exceptionally smooth ride at moderate speeds. High-frequency vibration does begin to intrude above 50mph and would probably become uncomfortable, if sustained for more than half-an-hour. So I make full use of the rev range in all four gears to stay ahead of minor-road traffic and a pursuing rain cloud, as I head for the market town of Newport in Shropshire. The bike is happy to plod along the High Street at walking pace and I pause to de-mist my eyeshades outside the gates of Adams' Grammar School, having ultimately failed to outrun a soaking. Nikolas Pevsner considered this establishment to have been built in a 'metropolitan style' that seemed at odds with its rural setting, but my Birmingham-built machine has no difficulty in blending into the scene.
In November 1933, Veloce Ltd announced a new 350cc class contender, the MAC, which met a demand for a long-stroke version of the MOV. There were cosmetic changes for 1936 and a year later both models gained an automatic ignition advance/retard mechanism, activated by sprung bob weights within the standard timing case, under a company patent. Both the MOV and, in particular, the MAC had become a sales success by the time that war intervened.
Roger's 349 cc MAC dates from 1940 and owes its existence to an order from the French government, which was soon nullified by surrender to the Nazis in June of that year. The British War Department took on the contract, which eventually totalled some 1200 models to basic WD specification. These early bikes were designated MAC (WD) by Veloce Ltd, though they are more popularly known by their engine prefix of MDD. Following further development, another 947 units were built as MAF (M-series Armed Forces) by September 1942. Roger's bike is the former type, and as such has relatively few modifications for military use. Aside from the obviously utilitarian cosmetics, there is a plain rear mudguard and no valancing on the front one. The frame carries a steel skid to shield the crankcase from rough terrain, and bump stops are fitted to the front forks, as was standard for all the military machines.
Purists may note that the fuel tank is actually a later MAF item, which can be identified by a substantial cut out at the rear for a high-level air intake, although Roger has since fitted the correct MDD type. The rear brake also has the MAF-type extended torque arm that mounts on the sidestand pivot, as this makes for much safer braking. The standard tubular silencer would have lacked a fishtail for this model, but the trademark Velocette item does not look out of place painted silver, while the green overall paint scheme appears to be a shade or two lighter than army-issue khaki drab.
The engine protests when I try to employ the same lazy kick that readily fired its smaller sibling, so in deference to the longer stroke I ease it over top dead centre first. The unit offers more torque than the smaller MOV, though its top-end performance feels about the same. It also feels like a heavier bike to ride, though there is just 5lb difference between the two, and it reacts less animatedly to rough road surfaces, particularly at the front.
With its mild compression ratio, low first gear and heavy-duty clutch, the MAC in MDD form can pull like a side-valver and would certainly make the better tourer of the two. I find that I use fewer gear changes to maintain progress at cruising speeds, where there is also less intrusive vibration. Twin toolboxes and a hinge-up rear mudguard add to the practicality, and the rear stand secures with a spring clip instead of the MOV's two bolts, which require a spanner to undo. On a foul-weather day like today, the military bike would also take a lot less time to make presentable for inspection.
When the war ended, a MAC was the first civilian machine to leave the Hall Green works in March 1946 and the MOV followed in May, with almost all models going for export. The MOV was discontinued just 18 months later after approximately 4500 had been built, the final production batch having Dowty Oleomatic front telescopic forks in place of now-obsolete Webb girders. However, it remained a popular mount in all forms of 250cc class racing for many years. The MAC continued, largely unchanged, until late 1951, when Veloce Ltd fitted its own front forks and cleaned up the engine appearance, using a light alloy barrel and cylinder head with cast-in rocker boxes. A new swinging arm frame option with dual seat saw the model through from 1953 to its demise in 1960, by which time around 25,000 had been built.
The rain has hardly eased as I navigate the island around St Nicolas Church, where Roger and Jane are waiting. We are all glad to be wearing full waterproofs and take a few moments to chat, in case the sun should make a sudden appearance for our ride home. Roger, who is now aged 60 and semi-retired from computer programming, tells me that he plans to ride his military bike over to France for the 65th anniversary of D-Day. He explains his faith in its reliability, "I love the Velocette's basic simplicity and the fact that it's well engineered. You don't have to constantly tinker with it because it's been designed properly and tends to stay in tune. You can't say that about all British bikes!"
Jane shares every bit of her husband's enthusiasm and both are now collaborating on a new Velocette project. She explains, "I've got Roger building a 1926 EL3 Ladies' model, which is a two-stroke with a step frame that I'd like to ride in the Banbury run. Like our two roadsters, it was in a sorry state when we got it and will take a lot of work to complete, but we'll enjoy doing it together. I find it so satisfying to revive something that is so rare and of course, we are so lucky to be able to share our love of Velocettes by actually riding them together."