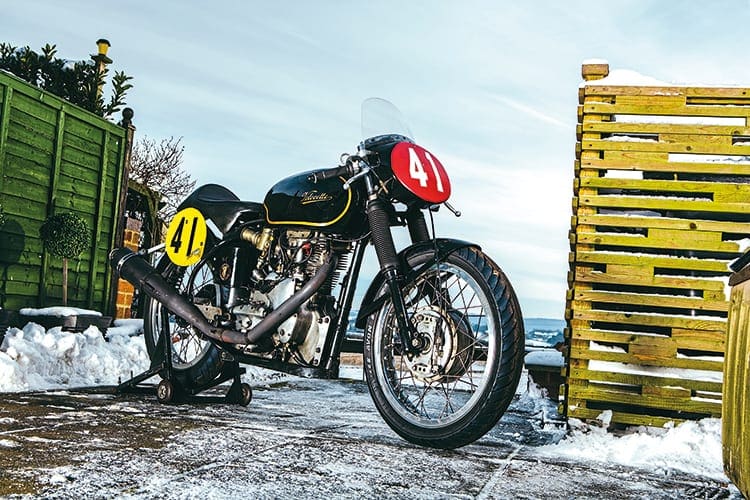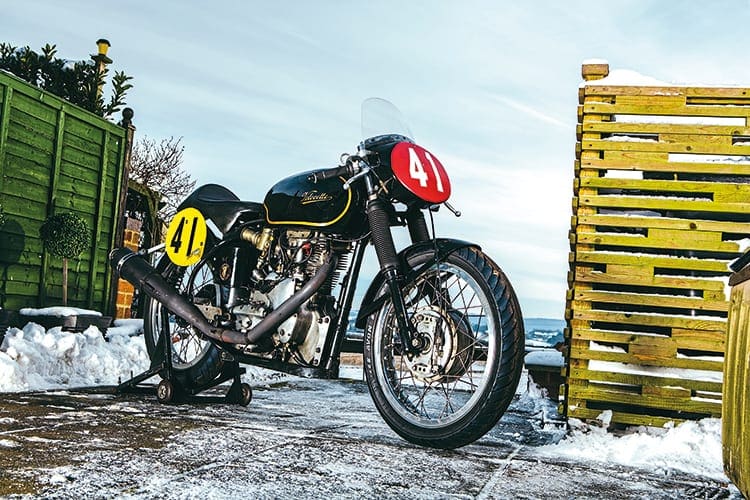 This pushrod Velocette, prepared and tuned in a modest environment by a long-time enthusiast, has enjoyed success upon success.
Words: JAMES ROBINSON Photographs: GARY CHAPMAN/RUSS LEE
Velocette, as a manufacturer, has a long and proud history in racing, dating back to when the company (Veloce) was a maker of two-strokes in the early 1920s, the pinnacle being Stan Jones' third place in the 1922 250cc Lightweight TT. Once four-strokes had been reintroduced, with the superb overhead camshaft model that was so good, dealer (and respected racer) Alec Bennett requested the company let him ride one in the 1926 Junior TT, with nothing payable unless he won (which he did) then Velocette was established as a 'racing' firm. There were numerous TT wins (though none in the 500cc Senior category; Stanley Woods came oh-so-close with seconds in 1936 and 1938) and consecutive 350cc world titles (Freddie Frith and Bob Foster) in the first two years of the world championship, 1949 and 1950.
These successes were all achieved with overhead camshaft models, usually of 350cc, though there were also relatively successful 250cc and 500cc variants on the theme. Gradually, Velocette moved away from its 'cammy' ancestry and by 1956, the most sporting models in the range, the 350cc Viper and 500cc Venom, were overhead valve, the overhead camshaft arrangement given up owing to expense and complication.
But these two 'pushrod' models were no slouches, and over the years many have found their way on to the race tracks, with notable success particularly in Clubman racing – it was the Venom-variant Thruxton that won the first 500cc Production TT in 1967, while there was success in lots of other 'proddie' racing too. There's no debating Venoms and Thruxtons could be made to 'go' and over the years many clubmen have enjoyed success on the singles from Hall Green.
Currently, what is probably the most successful pushrod Velo racing in the UK is this one, owned, prepared and developed by Graham Austen, a retired automotive industry consultant engineer, who lives in the Midlands. The successes of Graham's Velo, with Sam Rhodes (of the famous Velocette 'dynasty' family) in the saddle have seen the Austen Velocette dominate The Classic MotorCycle supported Clubman class in the Lansdowne series, while on the way bloodying the noses of many of the expensive, brand-new replica cammy Manx Nortons and Matchless G50s that numerically (and results wise) dominate the series.
The man behind the motorcycle is Graham Austen, who spent his career largely employed in the automotive rubber industry, starting his apprenticeship at Dunlop in 1961, going on to work for various companies, spending his last 15-20 years as a world trouble-shooter, mostly working for Metzeler.
Velocettes have been a large part of Graham's life, with his first in 1962, a willow-green Viper bought straight after he'd passed his motorcycle test. There was generally a Velo in the garage over many years, though he drifted away from them, building, restoring and owning a host of Italian machines, from racing Ducatis to a Moto Guzzi Airone. He came back to Velos in 2010, buying a basket-case swinging arm MSS from the Lincolnshire/Norfolk border area, the intention being to restore it. What came wasn't just the MSS though, as Graham recounts:
"What we collected totally filled the estate car up, the bumper was practically dragging on the ground. There were two frames, three engines, all manner of cycle parts. But it didn't really lend itself to a standard, catalogue restoration, so I was unsure of what to do really."
Around the same period, now-retired Graham was spending a lot of time with near-neighbour Roger Munsey, a classic racing stalwart who's competed in all manner of racing, latterly competing with Lansdowne.
Through his association with Roger, Graham went to Goodwood in 2010 and watched as Richard Adams' pushrod Velo put up a grand showing, finishing third in the pre-1955 Barry Sheene Trophy race. So Graham started to think – what about that pile of Velocette parts in his garage, perhaps he now knew what to do with it…
In winter 2010, Graham set-to, constructing his racer, so that by the time Goodwood Revival came about in 2012 (the classes alternates between pre-1967 and pre-1955), the Austen Velocette was on the grid. Sam Rhodes and Iain Duffus were the designated riders, ninth place was the result. And a good result at that.
From his new-found involvement with the racing Velocettes, Graham got to know Tony Ainley, who has campaigned pushrods Velos for years, doing numerous Manx and Classic TTs, among other meetings. Tony was advertising in the Velocette OC magazine Fishtail for someone to share the manufacture of a batch of race pistons he needed, Graham contacted him and from there an association began. Graham had acquired another special-framed Velo racer (the 'Strode special' named after Bob Strode, US concessionaire), bought from Newark autojumble and self-fettled. The long and short of it was that Tony ended up riding Graham's bike, and pestered him to buy it, Graham eventually selling it three years ago, after they'd done the Classic TT. Unfortunately, the effort was dogged by bad luck from the off and continues to be so. Graham and Tony still work closely together, with Graham building Tony's engines – they're involved in a secret, special project at the moment…
The main Lansdowne Velocette is built to Goodwood Revival pre-1955 spec, so has standard bore and stroke (86x86mm) and retains the usual two-valve head. The barrel is a standard Velo casting. Graham's engine gives 46bhp at the rear wheel but he says: "That seems to be the brick wall, we're really struggling to get beyond that." The appearance must be period, so every effort is made to keep to that, resulting in a commendably standard-looking motorcycle. The frame is a genuine, 1954 MSS, which has been carefully de-lugged and lightened. The RS (Rear Springing) Velocette frame is a heavy item, and, really, the MSS was not much more than a sidecar puller. So it does remarkably well.
Graham got to know the Rhodes family years ago, mainly through Tony. The first incarnation of the bike braked badly so Tony suggested Graham went to see Ivan Rhodes, doyen of all things Velocette; he came away with a twin leading shoe 'concealed' Velocette front brake from the Duke Velo, a special built up by Geoff Duke with a Reynolds-made frame and KTT engine, in the mid-1950s. Graham stripped the brake and copied it, modifying a standard brake plate so that it became a concealed twin leader, with the one copied itself on the Duke a copy of a 1954 works item. The team did Goodwood with that brake, the year Sam was riding, who didn't like it, reckoning it was firm/wooden, so changed to a standard Velocette twin leader to use for Lansdowne, though that was ineligible for Goodwood. The one in it now is half a four-leading shoe brake made at the behest of Velocette's Peter Goodman by T Blumfield as a development project. This one came from Richard Adams, one of the driving forces behind the Lansdowne series.
Read more in the May issue of TCM – on sale now!