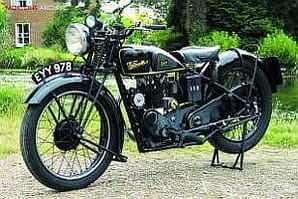 At 2007's Festival of 1000 Bikes, I had a session-long dice with a chap mounted on a rigid framed bike with a distinctive fishtail exhaust. The machine's features indicated that it was an elderly Velocette (Sherlock Holmes has nothing on me!) but it certainly wasn't being ridden with the respect usually reserved for gentlemen's mounts made before the war. Riding my machine as hard as I dared, I could just get past it on the more open sections, but its owner got me on the tighter corners every time.
Great fun, and I made a point of looking him up after the session was over, only to find that my half-litre twin had been struggling to keep up with a 250cc roadster made a quarter of a century earlier. All right, the other machine was now stripped for racing, and its owner unquestionably had more nerve than me, but it was obvious that his MOV Velocette was a machine with impressive performance.
I had to try one out, but when did you last see an MOV in use? A long time ago, I bet, if ever. But then I remembered Hampshire Velocette aficionado Neil Redley. "I've got a very genuine MOV," he'd told me when I tested his Seeley-Thruxton (TCM December 2007), "And any time you fancy a ride I can easily put it on the road." It was a rash promise, but it was one he – together with his friend Malcolm Ralls – duly kept, despite having to source a new exhaust system, rewire the MOV and renew the cylinder head/barrel joint by lapping the surfaces together. All that in the week before Neil went on holiday, which also meant we had to go ahead with the test despite persistent drizzle on the chosen day.
It says a lot for Neil's enthusiasm for the marque that he not only put up with all this without a word of complaint, but also insisted on riding out with me (on another Velocette – naturally). And it says a lot about the MOV that it more than lived up to its reputation and my expectations.
I nearly wrote that the MOV is a typical Velocette in appearance, but it was actually the MOV that created the typical look that was perpetuated in all subsequent Velocette singles. In the early 1930s, Hall Green's sales list featured the upmarket two-stroke GTP and the prestigious overhead camshaft 'K' series super-sportsters. But while the GTP was an excellent machine, it was still a 'stinkwheel' that would only appeal to a particular set of motorcyclists, and, at the other end of the scale, the cammy jobs were obviously aimed at well-heeled racers and enthusiasts. In between, there was a yawning gap, just waiting to be filled by the fabled 'motorcycle for everyman'.
Sounds ominously familiar, doesn't it? And the man who set out to provide the missing link was the very same Eugene – son of Veloce Ltd's founder John Goodman – who would nearly sink the company with the LE some 15 years later. This time, though, he got it absolutely right. Or at least he did after a first attempt with a prototype 350cc side-valve. That would have made economic sense by sharing components with the K Series, but its performance was disappointing, which wasn't too surprising considering the high standard of both the GTP and the cammy jobs. Side valvers weren't really Velocette's thing anyway, so Eugene went back to the drawing board, and the result emerged in 1933 as the 250cc MOV – M following K in Velocette's mostly alphabetical system, and OV indicating its overhead valves.
'The MOV employed a new frame similar to that developed for the still-born SV model rather than the open-loop K Series one and, interestingly, this would form the basis of most Velocette frames from then on, including the one used on the Thruxton Venom of the late 1960s'
The MOV employed a new frame similar to that developed for the still-born SV model rather than the open-loop K Series one and, interestingly, this would form the basis of most Velocette frames from then on, including the one used on the Thruxton Venom of the late 1960s. The engine was almost a total departure too, sharing very little other than its belt driven dynamo (another enduring Velocette feature) with earlier models. Indeed, a Motor Cycle magazine feature on 15 June 1933 went into great detail about what it headlined as 'An Entirely new Velocette'.
One thing the engine had going for it right from the start was its avant-garde 'square' dimensions, which contrasted markedly with contemporary competitors like Triumph's 250 that had a stroke nearly a third longer than its bore. Another thing that would assist later development was that the MOV's camshaft was carried high up in the timing case; as this reduced the length and weight of the pushrods with the result that valve float would not limit the higher revs permitted by the short stroke. The inlet and exhaust cams were close-coupled on one shaft, so that the pushrods could be fed up a single tube, and whether by happenstance or design, this could – and still does – trick casual observers into thinking that the MOV had OHC drive like the prestigious K Series models.
Positively fed
The valves themselves were completely enclosed, and that was another advanced feature in the early 1930s. They are also positively fed with oil, while competitors often optimistically expected crankcase oil mist to lubricate partially exposed valve gear. That was typical of Velocette's serious efforts to reduce wear and noise, as was the intermediate gear that transmitted motion from the crankshaft to the cams. Its position was adjustable – to give perfect meshing – and the gear teeth had an unusually fine pitch. There was also an extra 'hunting' tooth on the intermediate gear, which meant that wear was evened out around the pinions, rather than concentrated in one place. Initially the gears were straight cut, but soon they were silenced with a helical pitch, and all these features were so successful that they would also persist to the end of the line.
The high-class features weren't confined to the engine; the transmission must have come as a pleasant surprise in the early 1930s. Not only did the gearbox have the option of positive stop footchange – Velocette having pioneered the system some five years earlier for their racers – but there were four different ratios inside the box. By contrast, manufacturers like BSA still considered that three speeds were enough for quarter-litre commuters, even after WWII. Incidentally – and this is why the minor marques like Velocette are such a minefield for restorers – the gears themselves looked similar to those used in the K models, but were apparently lighter and not interchangeable.
However, the real eye-opener – both to testers in the 1930s and to yours truly in 2008 – was the performance. It was even a shock to the owner who hadn't previously ridden his MOV! Velocette claimed a top speed of 65mph in 1933, and that was remarkable enough for the era, but Motor Cycle's tester actually found that he could travel faster. A more comprehensive test conducted in the year the subject MOV was manufactured – this time by Motor Cycling magazine – gave the terminal velocity as 72mph. To put that in context, another 30 years' development of quarter litre four-stroke singles led to bikes like the C15 Star whose top whack was a mere 2mph higher. And just in case you think that I've got it in for BSA, very few of the innumerable supposedly sporty 250cc two-stroke twins made during the 1950s and 60s could get into the 70mph bracket at all!
Before I say any more about the speed, though, perhaps I should – given the frequent gripes about temperamental Velocette starting – mention how easy it is to get the MOV up and running. The trick is that the primary drive ratio is much more favourable on the smaller and lower powered versions, than on the Venoms and Thruxtons we see more frequently. Motor Cycle's tester noted that; 'The kick starter would spin the engine remarkably freely without the expenditure of any great effort on the part of the rider…' and that; 'Starting was excellent; one kick only was required, whether the engine was cold or hot…' Veloce Ltd was miles ahead of the game in opting for automatic ignition advance and retard, too, and I guess that this was the model that set the trend.
And when the motor is running, the MOV is a revelation. Neil is a big chap – dwarfing the Velo when standing beside it – and one of the reasons his machine had stayed immobile until my wake up call was the thought that it would struggle to propel him at a decent speed. Not a bit of it, "I'm amazed," he tells me, "it'll cruise at an indicated 50 without any effort." And he's right. I found exactly the same, and I've no reason to disbelieve Motor Cycling's man who went further, and claimed that his 1938 test machine would easily travel at 60mph on about half throttle. As you'd expect from a pre-war motorcycle, flexibility wasn't sacrificed to get that speed, and the MOV will pull strongly at 30mph in top gear.
'The clutch is the usual slim and idiosyncratic Velocette job, of course, but it has no trouble coping with the MOV's output (which I'd estimate at about 15bhp) despite its extremely light action'
The gear change itself is light and positive, but would confuse riders of postwar Velos with its 'up for up' Triumph-style action. The more common 'one up, three down' system came in during WWII when Veloce Ltd could only gain military contracts for its MAF by falling into line with the major players like BSA and Matchless. The clutch is the usual slim and idiosyncratic Velocette job, of course, but it has no trouble coping with the MOV's output (which I'd estimate at about 15bhp) despite its extremely light action. Handling is as good as you'd expect from Velocette, who were – after all – still a major player in Grands Prix at this time, and even the brakes are decently sized and operate properly.
All this would be pretty remarkable in an impeccably restored MOV, but this is a well used, though tidy, example. How come it's so good? "Well, it's almost a 'one careful owner bike'," explains Neil. "It was bought new by a chap called Sidney Ratcliffe, and he kept and rode it until he was 92 years old. He then thought that he was getting a bit old for motorcycling, so he passed it on to his younger mate, Alan Groves, who was a mere 87. Mr Groves apparently didn't ride it, and it passed through a dealer's hands and into my collection in 2006."
Gear pump
Mr Ratcliffe was seemingly a bit of a character. He'd fitted a tap into the oil line – Velocettes, like any machine with a gear pump, can wet-sump if left unattended – but evidently had a fear of forgetting to turn it on. Instead of a straightforward reminder, though, he'd neatly inscribed the steering damper knob with 'ISSDAMOYLON' (loosely translatable as 'Is the damn oil on?'), but whether that was to baffle or intrigue onlookers, we'll never know, as he's apparently passed away since selling his bike. It would also be interesting to know whether the 'SLOWCOACH VI' painted on the rear number plate bracket referred to his riding habits, since his MOV is potentially as nippy as you could expect any 250cc bike to be, let alone a pre-WWII one. At some stage it must have carried a passenger – the footrests are still there, as are the blanked off holes where a 'bum pad' was bolted to the rear mudguard – and that would not strain this sturdy bike.
It's not unique for me to have ridden a bike more than its current owner – but that's usually because it's just been restored and he's looking for a second opinion. I don't think there's been any other occasion, though, where the owner wouldn't have ridden his bike at all if it hadn't been for me, and there's certainly not been another one where its owner has been so astonished by its excellence.
"There's a Velocette rally in France later this year," says Neil, "and I think that after a little more checking over, I'll take the MOV instead of one of my newer and faster bikes. It's just such a pleasure to ride, and I think it'll surprise the others with its capabilities." I couldn't agree more. I've frequently bemoaned the fact that polarisation of our hobby into pre-1930 and postwar factions means that post-Vintage bikes like the MOV are rarely seen and rarely used. But if you want an interesting and capable older lightweight, this is THE machine to have.
Seventy years have elapsed since this MOV first took to the roads, but even today I can only echo Motor Cycling's tester who summed it up as a 'Well Finished Machine with Good Road manners and an Exceptional Performance'.