Makers of early cars soon realised the need for, and the advantages of, gears.Within a couple of years of their launch, the same applied to tricycles.But motorcycle engineers were left, admittedly briefly, playing catch up.
Words and photographs/drawings: Richard Rosenthal
To call any motorcycle ugly is sure to offend someone, but the collective thinking of the Rosenthal family on the subject 1910 293cc Ladies' Model Handy Hobart is that it isn't the most attractive motorcycle on the block.
Teenagers have been known to point, stare and laugh, and although its 'mother' (aka designer) may have admired their handiwork, most of us would only want to ride it during the hours of darkness.
However, despite the foregoing, it makes us smile, has character and bowls along reliably at a steady (albeit slow…) pace.
Hobart, Bird & Co Ltd of Coventry began experimenting with motorcycles circa 1900/01, leading to the launch of an advanced motorcycle in 1903 with loop frame, upright engine and sturdily braced, unsprung front fork.
Unfortunately, the model sold in small numbers and motorcycles were all but dropped for a few years.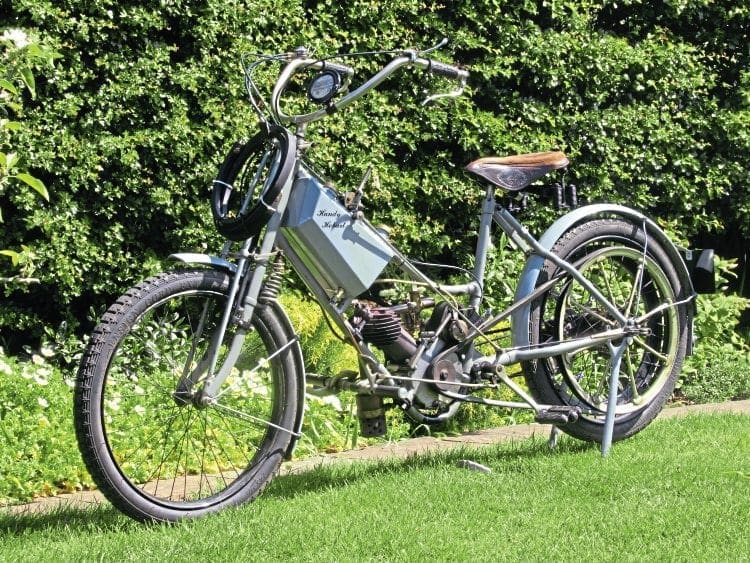 They launched the Handy Hobart motorcycle for the 1910 season, initially as a single-speeder, then, a little later, unveiled a dropped frame ladies' machine.
Both were powered by a 2½hp, 293cc side-valve engine which bears similarities to Swiss MAG/Motosacoche engines, but may well have been built by Hobart Bird themselves, and even perhaps designed by them.
Although some sources reckon the Handy Hobart didn't appear until 1911, Motor Cycling featured a number of new machines in the June 28, 1910, edition, including the Ladies' Model Handy Hobart, and just over a month later, reported Mr A Webster of Barnack, near Stamford, Lincs, was third on formula in the recent MCC Kop Hill climb and had secured the Wren Trophy and a gold medal during the Northants MCC 100 mile reliability trial, riding his 2½hp Handy Hobart.
Further Hobart models, some with Villiers two-stroke engines and larger single cylinder and V-twin units, were built before the First World War and production restarted after the cessation of hostilities, again using Villiers, JAP and also Blackburne engines.
Read more and view more images in the July 2019 issue of TCM – on sale now!