Motorcycle couriers atop new Douglases, delivering press photographs and doing it in style.
Words: Adam Rear Photograph: MORTONS MEDIA ARCHIVE
This intriguing picture, captured during the 1948 London Olympics, epitomises modernity and a brave new world, with the seamlessly stylish, beautiful looking Douglas twins, not forgetting the equally slick looking gents riding them, posed alongside a shiny aeroplane.
Long before electronic methods of transporting press photographs, it was not an uncommon sight to see them being delivered by motorcycle couriers and aeroplanes, and this (admittedly somewhat staged-looking) photograph does the perfect job of capturing the process.
Douglas enthusiast, tuner and London-based agent Eddy Withers (Withers of West Norwood Limited) is astride a Mark III Sports Model, registration JYT 147, with colleagues Ted Brigginshaw (bag in hand) and Albert Le Roy on standard (aka De Luxe) Mark III models.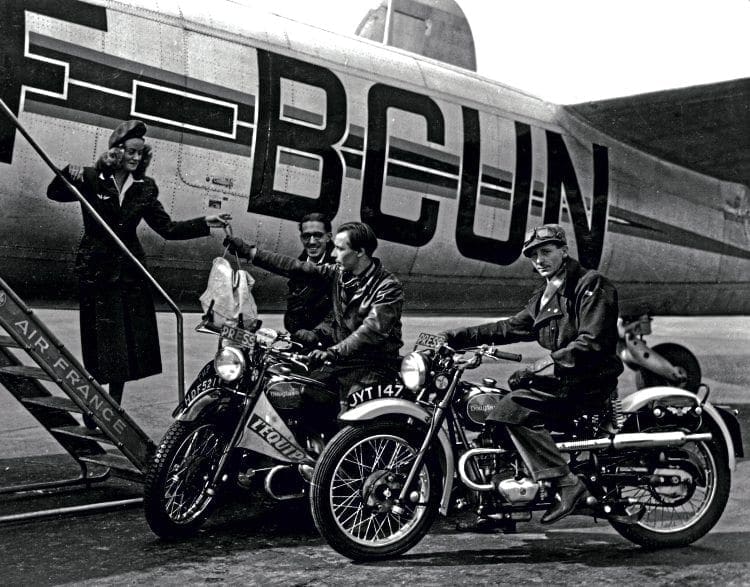 The 'press' plates above the headlights reveals the purpose of the delivery – they are carrying photographs rushed from a London athletics meeting to a waiting Air France Lockheed.
Douglas claimed the Mark III Sports Model was the fastest 350cc production sports roadster on the British market at the time, with a maximum speed of 80mph.
The Sports Model used a high-level exhaust system with the twin exhaust header pipes leading into two Burgess straight-through 'silencers.' It is also possible to pick out the neat heat shield attached to the pipe.
Read more in the September 2019 issue of TCM – on sale now!
No caption