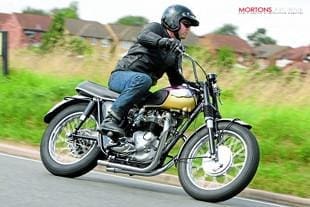 The reason for his questioning wasn't concern at my physical conditioning (admittedly ever worsening – I put it down to getting older…) but the fact he was restoring a TT Bonneville, with a 11:1 compression ratio and I'd been promised a ride on it – if I could kickstart it…
The day of the test arrived and we travelled down to Hugh's Hertfordshire workshop where we looked over the minimalist, sensational looking Bonnie, finished in aubergine and gold. Glistening in the late summer sun, the Bonnie looked, well, awesome – and just a little bit threatening, with its chunky tyres, high bars and cut-off pipes.
"You gonna start it then?" grinned Hugh. Actually, it was just a tease as Mr Brown has thankfully recently invested in some starting rollers (mainly for oil circulation of freshly restored machines), so my fears were allayed. However, if we were going out on the road and planning on stopping for photos and suchlike I was going to have to start it; Hugh had managed to painfully twist his right ankle a day or two before the test and was in no fit state for kickstarting. However, I'd a backup plan – photographic duty on the day was entrusted to John Wilkinson, a man who is currently restoring a 70s TT Yamaha (a more ferocious version of the XT single…) so I was guessing, he possessed a sturdy right leg…
Hugh's work is well known within these pages – he's restored many unit Triumph twins, often for the same people, as was the case with this one. The 1967 TT was restored for a friend of Hugh's, Rob Heap, for who previously Hugh has restored a 1966 model (featured in The Classic MotorCycle November 2005).
Bought from Baxters' in the US, the specific history of the TT is not really known, though it's thought that it was possibly campaigned by Randy Baxter; whatever, it displayed signs of having led a far from cosseted life! What came to Hugh was a complete engine, frame, hubs, oil tank, fork legs and two petrol tanks… Hugh surmises the model probably had a smash at some point and from then on, it was gradually robbed of parts over the years as it sat in the Baxters' workshop.
On stripping it down, Hugh was surprised at just how standard the TT spec engine was; even the cams are as standard, the only differences to a normal Bonnie, being those higher compression pistons , gearing and bigger exhaust pipes/no silencers, for ease of breathing. Pretty much everything else in the engine was standard 1967 Bonneville. The engine was rebuilt to full race spec with Carillo rods, gas flowed head, and dynamically balanced crank (head and crank work are features common to all Brown rebuilds) while Hugh's usual band of talented painters, chromers, and welders took care of that side of the job, to his usual exacting standards.
We pushed the TT Bonnie into position on the rollers with Hugh aboard. The trigger operated device was soon spinning the TT's rear wheel and the clutch was then dropped. A cacophony of sound erupted, as it boomed into life. It's not quiet, particularly with a few revs on… Hugh rolled it forward off the starter and after thoroughly warming it up, it soon settled down to a burbling, rumbling tickover.
As a 'control' Hugh had also made available a standard 1967 T120R, one he's recently completed, and again for someone he's restored two other Triumphs for. That man is Darlington-based Andy Bradley who is also the owner of the 1966 sister bike to Rob's 1966 model and was featured alongside it in the November 2005 issue, while Andy also owns a 1970 UK spec Bonneville. Andy and Rob are chaps who clearly appreciate Triumphs finer twins… This one also came from Baxters' and was repatriated with the TT, and restored alongside it by Hugh; Mr Brown likes to have two projects on the go at once, so if he's held up on one, there's usually something he can be getting on with on the other.
I opted to ride Andy's standard Bonnie first, just to reacquaint myself with this lovely example of Triumph's best known twin (I rode another Hugh Brown restored 1967 T120R for the April 2008 issue) – and to give me a benchmark upon which to judge the TT. Astride the T120R (which I also started on the rollers – well, there's no point in having a dog and barking yourself…) I set off after Hugh on the TT. It was obvious that the TT was a 'lively' one with Hugh accelerating 'briskly' away from me – and the standard Bonnie is by no means a slouch, though. Hugh uses a non-standard 20-tooth gearbox sprocket in his 'normal' Bonnies while the TT as standard has a 17-tooth item which is still fitted, hence its scalded-cat acceleration. Following the TT, it smelt (it was running Castrol 'R') and sounded great.
After our first photographic stop, it was my turn to take over the TT – if I could start it. I couldn't and it was also a hot day, so after leaping up and down for a bit, I cajoled John into action… a promise to make sure all his future invoices are processed quickly did the trick! After that though, I became more determined and I can report I started it time and again; indeed, by the end of the day I was starting both it and the standard one too, to save Hugh's poorly ankle. And, I do admit, to feel a tiny bit smug…
Riding position feels initially like a normal American spec Bonnie, as it should – handlebars are standard US fitment while the seat and footrests (which are folding) are in the standard position too. There is a little bit of a different feel to the riding position, created by a different top yoke being fitted to the TT, which pulls the bars back about an inch towards the rider, but it's not overly noticeable. A blip of the throttle creates a great noise; it's a bit addictive. However, despite the lack of silencing, the TT isn't obtrusively loud if revs are kept down – it burbles, rather than roars, but has a real crack when on and off the cam. The lack of a front headlamp means that from the saddle, the front end looks bare; there's nothing to intrude the eyeline to the front wheel and road.
Hugh had put a few miles on the TT prior to delivery and it was starting to feel settled in. Though the lack of lights mean it's perhaps not the most practical of propositions, it was nothing like as uncivilised or hard work as I'd expected and soon I was having a great time on it – and was grateful for the small speedo Hugh had fitted, to ensure we stayed at vaguely legal speeds as we rumbled through quiet Hertfordshire villages… out in the countryside the TT comes onto its own. The best description I can offer is it feels a bit like a classic supermoto – ie a motocrosser on the road, though of course it doesn't have the preposterously high height with which those models are saddled (pun intended…). High, wide and handsome bars and the gearing mean it's just the tool for charging about on deserted country lanes – I'm sure Rob will be doing plenty of that, with a big grin plastered across his face.