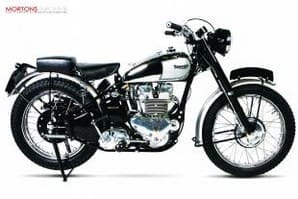 Triumph's TR5 could arguably trace its origins back to the 3TW, the 350cc twin developed for the British Army but of which most were destroyed when Triumph's Coventry factory was razed in the bombing raids of November 1940. Post WWII, there was a one day trials 350cc 3T used by the works and which, when fitted with the 500cc Speed Twin engine, formed the basis of the TR5.
Famously, the TR5 also benefited from the square alloy cylinder barrel developed for use on WWII generator sets and it was in this form that the model entered production in 1949. Although it had come about more by accident than design, being basically a mishmash of parts brought together to form a whole, what emerged – with its silver and chrome 2½ gallon tank, blade-type mudguards, two-into-one upswept exhaust and no nacelle – is probably one of the best looking Triumphs ever to have been built and, as Triumphs are regarded as among the most stylish of all machines, then by default it must be one of the most handsome motorcycles the world has ever seen. The Trophy model lost the square-barrel and chrome panelled tank for 1951 while, for 1955, it adopted a swinging arm frame too. The final season of the Trophy TR5 was 1959, though of course the TR5 name was to reappear for 1973 and 1974.
Casting one's eye over Mark Pearson's example, it's hard not to agree with those who say this is one of the handsomest motorcycles ever built. Restored over a six-month period, Mark explains that he's '…always liked competition rigid Triumphs' and so when the opportunity to buy this one came in 2002, he seized his chance. The fantastic paintwork he credits to Triple S Powder Coating (01274 562474) in West Yorkshire while the restoration was not without its problems, due to the scarcity of the model. And now he's finished, the 45-year-old haulage contractor from Derbyshire says, with the benefit of hindsight, his tip for would-be restorers of this model is quite simply, "Don't bother." However, what Mark has ended up with is an incredibly handsome machine – indeed, one European showgoer was suitably impressed to offer Mark 22,000 euros for the Trophy.
The problem that Mark has with his beautiful Triumph, though, is that now he's done such a fantastic job, he's reluctant to use the Trophy even on sunny summer days and less-so to get it dirty and muddy. Looking at it, glistening and sparkling, it is understandable but hopefully he'll decide to risk a few miles on it, as if it goes half as well as it looks, it'll be an absolute pleasure to ride.
Article continues below…
Advert
---
Advert

Enjoy more The Classic MotorCycle reading in the monthly magazine. Click here to subscribe.
---