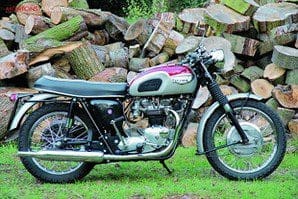 Many enthusiasts consider the 1968 Triumph T120 Bonneville to be the epitome of engineering excellence on two wheels.
Rob Holton is the owner of the example that you see here. Loyal to the brand since childhood, he felt that the latest Bonneville was something very special back in 1968.
Tracing its lineage from Edward Turner's original twin-cylinder design, the Bonneville was conceived when Triumph first measured the effects of fitting a twin-carburettor cylinder head, high compression pistons and hot E3134 camshaft to its well-developed 649cc Tiger 110 motor.
The factory's Experimental Instruction Sheet 419, dated 19 March 1958, listed bench test results for this hybrid motor, which yielded peak power of 48.80bhp. In the hands of works tester Percy Tait the 'twin-carb T110', as the prototype was then known, achieved 128mph on a timed run.
Given production approval shortly afterwards, the new model was named in honour of Johnny Allen's world-beating run of 214mph at Bonneville Salt Flats in Utah, USA. Significantly, Allen's 1956 record-breaker had been built from standard Triumph mechanical parts, showcasing their integrity under stress.
Public debut
The Bonneville made its public debut as a last-minute addition to the 1958 Earl's Court Show, where it caused a sensation among a public hungry for speed and performance in a high-octane era. The new model's T120 designation alluded to a potential top speed of 120mph.
Numerous refinements followed in quick succession, but a move to unit construction for 1963 redefined the Bonneville with a completely new engine, gearbox and primary transmission at its heart. At the same time, its brazed full-cradle frame reverted to a single heavy-section front downtube, with reinforcement around the rear swinging arm.
Development engineer Dou
g Hele subsequently brought his race shop expertise to bear on the new frame, which lost three degrees of steering rake in 1966 to improve stability at high speed. Roadholding benefited from forward weight redistribution as the wheelbase remained unchanged.
Now the Bonnies spec began to incorporate several components previously available only from the High Performance Parts list. At the same time, considerable efforts were made to maintain smoothness and improve reliability, as the bike was still marketed as a sports tourer.
A new, 'concentric' Amal carburettor design, introduced late in the 1967 production run, was a genuine technological advance over the Monobloc type 389/95 that it replaced, giving cleaner carburation and idling with excellent potential for tuning.
For 1968, the factory's catalogue proclaimed 'Precision, Power and Performance' for the Bonneville, claimed to be 'surely the most potent, fully equipped road machine in standard production today'. With 46bhp now available from a machine weighing less than 400lb, the T120 was on the verge of becoming an over-the-counter production racer.
Nevertheless, performance is about more than top speed. New race-bred components included shuttle valve dampers for the front forks, while the incorporation of a twin leading shoe front brake with air scoop finally gave the 'Bonnie' the braking performance it deserved.
Reinforced swinging arm
There was also consolidation of the existing design. The reinforced swinging arm benefited from heavier gauge tubing, with a breather hole to aid spindle greasing.
A change to 12-point cylinder base nuts improved spanner clearance as an aid to torque precision, greatly reducing a tendency to blow base gaskets. There were also improvements to the exhaust camshaft oil supply, while the high compression Hepolite pistons came with reinforced crowns.
A prominent, finned alloy heat sink for mounting the Zener diode on the lower fork yoke heralded improvements to Lucas electrical reliability. The headlamp was a fresh design with three-position lighting switch and uprated ammeter.
A new Lucas 6CA contact-breaker base plate allowed independent adjustment for each set of points, twin condensers now being remotely located under the fuel tank. Combined with a primary case inspection cover and rotor marks for stroboscopic alignment, plus a timing notch in the crankshaft, this gave potential for complete ignition accuracy. The gains were apparent in lower running temperatures with reduced vibration, besides maximising available power.
Rider comfort improved slightly, thanks to thicker knee grips on the fuel tank and a re-padded dual seat covered in grey quilting with black sidewalls. A new left side panel doubled as a toolbox, now that its electrics had moved elsewhere.
Rob Holton shares the late Doug Hele's philosophy that production racing improves the breed. Now a self-employed plumber in his late 50s, Rob treated himself to a Ducati 916 a few years ago, when Carl Fogarty was busy restoring pride to the Italian marque.
A Triumph T120 Bonneville is almost genteel compared to the head-down, brutal power delivery of a 916. Rob had considered buying one of the latest Hinckley Bonnevilles for its derivative style, but opted for a 1968 original that he saw advertised in Berkshire.
The bike looked tatty, so Rob talked the price down to a fair deal and brought the bike home to Shropshire, where he spent the
next couple of months attending to cosmetic details.
A local firm resprayed the tanks and mudguards, achieving a good replication of the Hi-fi scarlet and silver colour scheme with its metallic lustre. Redditch Shotblasting (01527 529659) powder-coated the frame and brackets, while TK Platers in Shrewsbury (01743 761764) took care of re-chroming the silencers and other shiny bits.
Examination of the inlet ports revealed that the cylinder head had been gas-flowed, post-production. However, there were also signs of valve leakage, so Rob will send the head off for reconditioning shortly.
The bike's biggest outing so far has been to the 2005 Manx GP, where Rob is a race marshal at Crosby. Inspired by his memory of Malcolm Uphill's record-breaking 100.37mph lap on a T120 in 1969, Rob was gratified not to lose sight of the pair of 916 Ducatis that circulated with him.
"I made sure to wave at the fairies around the TT course for good luck," he recalls. "A few days later, I was rounding Gooseneck when my mirror fell off – but it survived without a scratch!
"I do like to give it some welly," he says with a grin.
As a regular user of his machine, Rob admits that he is not aiming for concours standards. "When I'm not riding it, I'm balancing the carbs or checking nuts and bolts for tightness," he says.
Now it's time for my ride, and I eye t
he fuel tank-mounted parcel grid with some suspicion. Its potential for emasculation was belatedly acknowledged and it did not appear on subsequent models.
The bike's ignition switch is found above the 'World Speed Record Holder' transfer on the left-hand headlamp bracket. One key click and the ignition is live.
Experience tells me to open both fuel taps and ignore the choke lever on the right handlebar. After tickling both unfiltered Amal carburettors, a hefty boot applied to the unfolded kick-starter rewards me with that familiar Bonneville clatter.
Once the engine is thoroughly warm, I feed in smooth power and feel the bike respond to rising road speed. The T120's light flywheel (replaced by a heavier assembly on 1969 models) affords an edge of sudden, tingling excitement whenever the throttle cracks wide for overtaking, backed by the roar from twin Resonator silencers.
With comfort in mind, not to mention the longevity of brackets and fastenings, a cruising limit of 75mph would seem practicable over long distances. Both grey-faced Smiths clocks seem well damped and truthful, although the rev-counter would benefit from a red zone.
Imposing my own redline at 5500rpm still leaves room for performance equal to anything on the minor roads between Craven Arms and Telford. A couple of long, empty straights in the shadow of Wenlock Edge confirm this as a true 'ton-up' machine with velocity to spare.
Throttling back for corners
, the front wheel feels reassuringly planted at all angles of lean. A minimum of wallowing means that the centre stand lug is not a liability on left-handers and the bike's stability over rough surfaces is a revelation.
In spite of narrow handlebars, there are no wobbles over potholes and the bike consistently refuses to run wide as I accelerate from bends. The front forks deliver effective two-way damping on both compression and rebound, although with considerable dive under braking.
The impressive-looking front brake proves fade-free and predictable, with sufficient power to negate use of the rear drum on dry roads.
Another modification that works is the reinforced swinging arm. There's certainly no evidence of the 'tail wagging the dog' as on pre-unit Triumph twins. Firm damping on the Girling hydraulic shock absorbers also helps to keep the rear wheel in line.
My only real criticism is that the right-foot gear change action has felt stiff throughout my ride and Rob confirms that it has a worn selector plate in need of refurbishment. We discuss the merits of a front fork rebuild with Progressive springs, given that a pair of Hagon rear suspension units is likely to win the argument against originality, due to the state of Shropshire's minor roads.
Sensible upgrades, to
be sure, but I still declare that Triumph got the Bonneville spot-on in 1968 and Rob's T120 is proof of its excellence.
David Ogilvy famously preferred the discipline of knowledge to the anarchy of ignorance, always insisting that a single big idea should underpin any marketing campaign. The '68 Bonneville, more than any other version, lived up to Triumph's claim to have successfully blended 'Precision, Power and Performance.'
Yet, after just three years, the 'traditional' T120 became obsolete as the Bonneville grew larger. First came the oversized frame, raising the seat height by a full three inches and developed at the BSA Group's much-criticised Research and Development Centre at Umberslade Hall. Then a capacity hike to 744cc amplified the new frame's inherent resonance so that the old vice of vibration returned. Excellence had finally given way to bigness and the 'Bonnie' was never the same again.