FROM OUR ARCHIVES
Touring holidays can be memorable for reasons both pleasant and decidedly unpleasant, though Mary Adams and husband Huw had a fantastic time in Brittany thanks to Roger and Linda Nicholls of Countryside Holidays in France.
Words and photography: MARY ADAMS
We (husband Huw and I) first met Roger and Linda Nicholls four years ago on a Moto Indianos Motorcycle Rally in the Picos Mountains in Spain. Every year we have been asked to visit them in France, and 2015 was the year that we finally did it. We took the Plymouth to Roscoff ferry and then had a 1½ hour journey through the Breton countryside towards Lanrivain, and then to the hamlet of Burlaouen. Brittany has glorious walled towns and strong rural traditions, and has managed to preserve much of its heritage and character, including unspoiled castles, forts and fishing villages.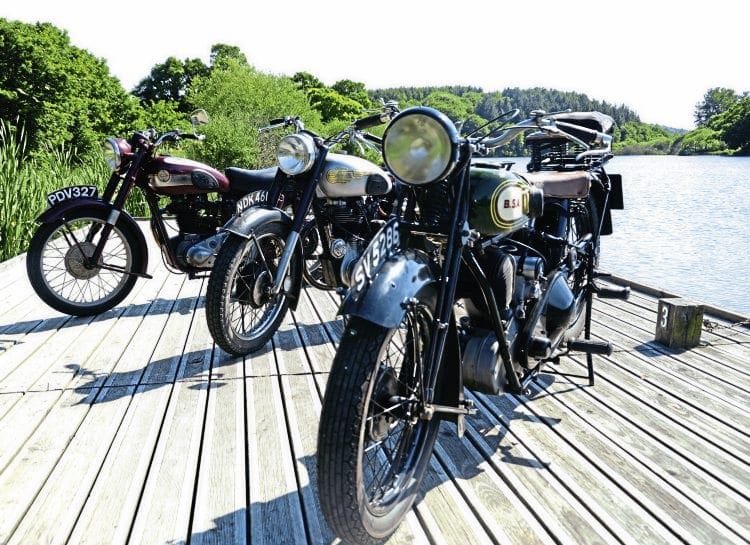 Countryside Holidays in France is situated in the heart of central Brittany (Kreiz Breizh) in Burlaouen, and it is a 'biker-friendly' concern. There is a workshop to tinker in if you need to do essential maintenance, which is conveniently located next to the bar.
Roger and Linda have lived in France since November 1983. Initially Roger went to France in 1980 with friends from art college, where he spent his days making lobster pots and leading a 'hippy' type of life. Returning to the UK in February 1982 on his old BSA A10 he was involved in a traffic accident, hitting a lorry after the bike had had a front wheel blow out owing to a defective new inner tube. He ended up in hospital and was placed in the care of Linda, who is a trained physiotherapist.
Roger and Linda have lived in France since 1983 with their two children, who were both born there. In 1998 Roger renovated a stone barn and began to rent it out for holidays and, as his children grew up, he decided to pursue a career in renting accommodation to motorcyclists and offer guided tours for bikers wanting to explore the areas around Brittany, and so, in 2005, Countryside Holidays was born.
Initially he began by taking the Triumph Owners Club from London to the Resistance Museum in St Marcel after they had failed on several attempts to find it! Pre sat nav days, you understand. He discovered that motorcycle tours were very much his forte and he started developing routes and finding good, biker-friendly cafes and restaurants. Roger even takes French bikers on routes and rallies as he is an expert on Brittany – they often tell him that he knows Brittany better than they do.
Roger organises trips to places of interest such as the submarine pens at Lorient, Le Manoir de l'Automobile at Loheac – the location of Fort de La Latte, where the film, The Vikings, was made – and a Spanish fort in Finisterre. He will even lay on a French scrapyard tour where you can find many an interesting item.
Roger is careful to tailor his rides to motorcyclists of every skill level, and will alter the route and speed to accommodate the abilities of the riders and the age of the bikes in any one party.
He maintains that past experience working in a psychiatric hospital where he spent seven years as a maintenance carpenter has put him in good stead for looking after bikers; medication time is always adhered to, and he makes sure that there is always bread on the table, beer in the fridge and a cup of tea on hand if you need it.
Brittany is unbelievable for motorcycling. With its superb uncongested roads, you can easily travel for miles without seeing a single vehicle. It is very peaceful travelling through shuttered and sleepy villages. The landscape is beautiful and the scenery is as diverse as it is breathtaking, with craggy cliffs at the north coast and beautiful sandy beaches at the south. It is a 3km walk to the nearest village where you will find a traditional Breton bar serving local ale, and Roger can organise a brewery visit if you are interested finding out how it is made. There is a local town called St Nicholas du Pelem with a large supermarket, bank, cash point, bar, restaurants, post office and a baker.
Close to the accommodation on the property is the Bike Shed where no money changes hands. Roger's rule is that if you drink what's in the fridge, you replace it before you leave. He also is the most amazing cook. With Linda being a physiotherapist she works extremely long hours in her local village practice. So, over the years Roger has had plenty of cookery practice. He cooks various dishes and everybody's culinary needs are catered for.
The accommodation is brilliant, comprising three holiday cottages, a stone house, which comfortably accommodates seven people, a wooden chalet sleeping six and a wooden cabin sleeping two people. The chalets are set in the woods with a nearby pond and woodland walk, and the stone house is situated very conveniently opposite the Bike Shed. All the accommodation – as you would expect – is bike friendly, and clubs or individuals are welcome at any time. Roger and Linda's house and gîtes are at the end of a track hidden by trees and a field, so there's no through traffic or neighbours to disturb the sound of motorcycles being fettled!
Roger will take you to local villages to sample the mouth-watering seafood platters and traditional Breton crepes, washed down with refreshing local cider. You will never go hungry or thirsty at this establishment.
We were given an amazing welcome at Roger and Linda's. We had one of the chalets down near the lake which had plenty of room to park the van with the S29 BSA in the back. We unpacked and headed up towards the bar. Thomas, Roger and Linda's son, had his birthday, so we were included in his birthday celebrations. We felt a bit guilty for gatecrashing a family party, but both Thomas and Linda told us this was normal procedure, guests took priority and everyone is always made to feel welcome at this establishment. We visited the local Resistance Museum at L'auberge de L'etang neuf, which is a great museum with a lovely restaurant overlooking a lake, making for an idyllic setting should you stay for a meal.
The following day we took an 80-mile trip to Binic, with Roger on his 1954 Royal Enfield Bullet and his son Thomas on the '54 350cc Ariel. We enjoyed a delicious 'Jeff burger' and some wonderful homemade ice cream – just what we needed on a lovely sunny day.
After the long trip to Binic, the British bikes started to feel the effect of the heat and all three played up on the way back – the joys of owning a British bike, Thomas was told! Roger's garage and bar contains some really interesting bikes and memorabilia, and his flags from all over the world reflecting the people from different countries who have visited him since 2005.
Two of the main attractions of Roger and Linda's establishment are two very cute Jack Russell-cross dogs called Nip and Gnash. They seem to be everywhere at once, and they even escort you back to your chalet when night-time descends, just to make sure that you get back okay. They really are little characters, and both so friendly – they even feature on Roger's marketing material for Countryside Holidays in France!
If you want to try something different we can highly recommend the hospitality offered by Roger and Linda in France. You don't need to speak the language; they speak French fluently and Roger will get your shopping organised for self-catering if you let him know in advance. He is the most amenable guy, and will sort you out whatever your problem or query. He is a member of a local old bike club and is happy to take interested bikers out on its club runs, or join in charity runs or other events that might be happening at the time of your visit. Brittany is a truly beautiful place and Roger and Linda's home is situated right in the centre, with easy access to all parts of Brittany. Vive la France!