Ariel's one-year-only all-alloy 500cc twin makes an excellent ride with an interesting back-story.
Words: STEVE WILSON Photographs: GARY CHAPMAN
The 1953 Ariel KHA 500cc twin was famously produced for one model year only.
This one's owner, Cyril Griffin, Wiltshire VMCC man and a noted restorer of pre-war machines, had bought it eight years ago primarily for the rarity value. He has only covered a thousand-odd miles on it since then, what with his other motorcycles and his continuing engineering work on agricultural machinery.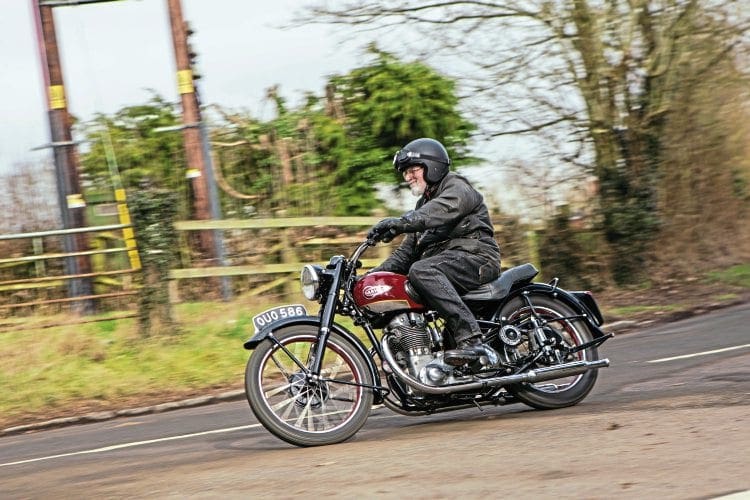 The sole sign of this light use was a tendency for the slide on the 1in Amal 276 carburettor (the 500 twins were only ever single carb) to take its time settling back to tickover after it had been revved; however, this proved to be no problem on the move. "Might be the cable," said Cyril, "I'll take a look later."
Val Page's 500cc twin had actually been designed in 1939-40, but was not introduced until 1948. It was offered in KG De Luxe (but actually cooking) and in sportier KH form (larger carb, polished ports etc); the KG would be dropped after 1951. Page's creation may have lacked a glamorous identity of its own – the late Norman Vanhouse, who worked for Ariel postwar, prototype-testing the model of which he was a fan, conceded that it came over as, "just another Ariel, with a twin engine." This was emphasised by the KH's adoption of the Red Hunter name from the famous singles, rather than one of its own from the start (the KH only became the Fieldmaster for 1952, while confusingly the 1953 KHA was then dubbed the Huntmaster, a name passed on the following year to the new FH 650).
The Ariel 500 was good, but, still Triumph beat them comprehensively in the sales charts. Why? Firstly, Selly Oak's production was limited by their antiquated works, a former Victorian dairy stables, while the Meriden factory had been purpose-built in 1942. Ariel's overall production figure for 1952 was 10,249, while Triumph's was in the mid-20,000s. Second, since 1950, 500cc twins were no longer top dog; 650s were what everybody, from sidecar men to leather boys, now wanted.
Article continues below…
Advert
Read more in the May issue of TCM – on sale now!
---
Advert

Enjoy more The Classic MotorCycle reading in the monthly magazine. Click here to subscribe.
---