I am Cyril James, now semi-retired, but still employed by Cross Manufacturing Company (1938) Ltd at the head office and works in Bath.
I joined the company on August 26, 1957, as a trainee production engineer and retired from full-time employment, as head of production, in 2006.
In 1959, as a teenager and a keen motorcyclist, I was invited to fill a vacant position as the company motorcycle road tester on a part-time basis.
The vacancy occurred due to my colleague Des Cormack leaving Roland Cross to take up an offer of employment with enhanced financial return.
Des had joined the company in 1940 and was the company motorcycle and motor car technician and apart from Roland Cross himself, he knew more about the special Cross engine developments (Cross Rotary Valves, Aluminium Liner-less cylinders, special pistons and rings etc) than anyone else.
Roland Cross understood entirely the reasons for Des leaving and they remained close friends until Roland passed away in 1970.
The close friendship continued with the directors, me and my colleagues until Des died a couple of years ago, aged 93.
Des was outstandingly generous and instrumental in providing me with a wealth of historical information regarding the various and many Cross engines. I miss him enormously and so too does Mr Rodney Cross, the present chairman.
Our considerable historical archives benefited hugely from the input from Des Cormack.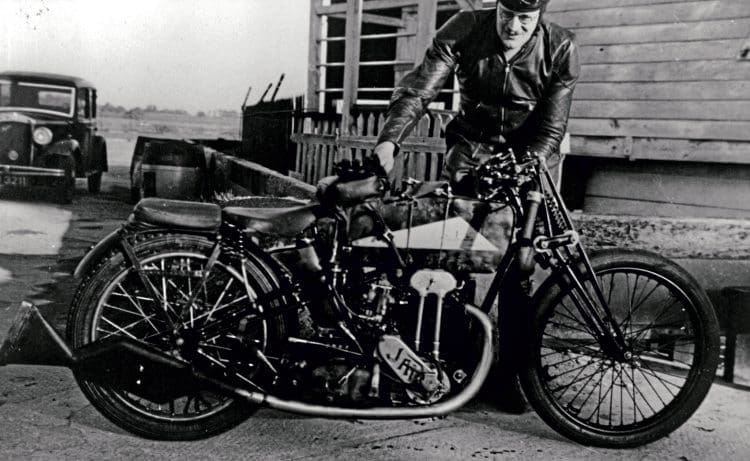 From my early days as the company motorcycle road tester (a position I occupied for 30 months) when we were using Royal Enfield machines fitted with Cross cylinders, pistons and rings to improve performance until returning to full-time production activities, I developed a profound interest in the special engines designed and developed by Roland Cross and over the past six decades I have investigated and researched the engine projects of Roland Cross, many of which took place before I was born.
You might like to refer to the articles by Andy Westlake in The Classic Motor Cycle magazine of September (HRD/Cross 500cc Rotary Valve) and (Cotton/Cross Cougar) November of 2008.
I never cease to be amazed by the level of interest that exists even today in the Roland Cross engines and to this end I was contacted last week by my good friend Bob Smith, chairman of the Cotton Owners' and Enthusiast Club.
Bob had read the article by Martin Squires in the March 2020 edition of The Classic MotorCycle and immediately realised that the drawings of the Cotton Record Breaker shows it with the 'wrong' cylinder barrel. I will explain…
Following the successful event at Brooklands on October 11, 1935, the engine was stripped down by Eric Fernihough and Dick Chapman, with the aluminium liner-less cylinder barrel, piston and piston rings being returned to Roland Cross at his Bath works for evaluation.
Due to the considerable costs of casting another cylinder (we have a flawed and unusable second barrel here) it was decided to produce a replacement barrel by machining from solid aluminium.
This barrel was fitted to the Cotton/JAP before Fernihough sold the record-breaking machine to David Whitworth.
It is immediately recognisable because being turned from a solid ingot it has parallel fins, whereas the record-breaking barrel was 'waisted' or 'tapered', similar to the original JAP model.
The record-breaking Cross cylinder barrel, piston and piston rings remained with Roland Cross and are valued exhibits displayed in the company museum at the office and works at Midford Road in Bath. The parallel finned barrel is generally referred to as the 'Mark two barrel.'
There are several historical photographs of Whitworth with the Cotton record-breaker fitted with the mark two parallel finned barrel, but less of the bike in record-breaking form, and I have been challenged on many occasions regarding the authenticity of the items in our museum.
I trust this detailed information will be useful to you and if you require any further assistance, you only have to ask.
Cyril James, Bath.
Read more Letters, Opinion, News and Features at www.classicmotorcyle.co.uk and in the May 2020 issue of The Classic Motorcycle – on sale now!