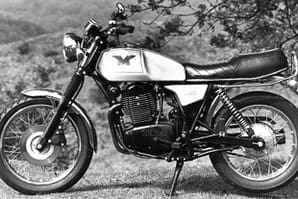 January 1989
Angry British motorcycle maker Les Harris refuted claims his Newton Abbot factory, which makes the Rotax-powered Matchless single cylinder machine, is about to close and end production of the famous marque, which began 90 years ago at Plumstead, south east London.
Matchless was initially the brand of cycle maker H Collier and Sons, which began experimenting with motorcycles in 1899.
A former employee at Harris' Racing Spares concern – which until recently built the 744cc ohv parallel twin cylinder Bonneville under a five year licence agreement from brand name owner John Bloor – claimed all motorcycle production at the Newton Abbot, Devon factory had already ended.
During recent – at times heated – exchanges, Harris confirmed his agreement with John Bloor had amicably run its course and Bloor was soon to start manufacture of a new range of Triumph motorcycles at a just-finished factory located in Hinckley, Leicestershire.
Les Harris stated that as well as running a thriving parts manufacturing business, he will continue to concentrate on and manufacture the ohc four-valve 494cc single cylinder Rotax engine Matchless G80 (as shown in pic) using British made frames and Italian front forks, rear suspension units, exhaust, carburettor and front disc brake.
January 1964
Even before the popular television series moved to Wales, Dave Bickers (247cc Husqvarna) already had the 250cc BBC Grandstand trophy in the bag.
Jeff Smith, although leading the 500cc competition by a clear country mile, could still, in theory, be caught on points by his BSA mounted team-mate Arthur Lampkin.
His victory in the 500cc Grandstand Trophy Welsh event from Dave Nicol and Vic Eastwood (both 497cc Matchless) served to confirm Smith as the season's trophy winner.
January 1939
Owners have again filed their annual running costs.
Examples include Mr Cowe of Haddington who covered 14,892 miles in the year on his Sunbeam Lion, which averaged 80mpg for a total running cost of £27-16-7d (£27-83p). Londoner Leonard Shaw spent £34-11s (£34-55p) during the year to run his Norton 16H outfit over 12,467 miles at an average 55mpg and running his James Autocycle for 12 months and 5600 miles cost HEB just 0.3d (0.12p) per mile.
January 1914
With the onset of a new year, it's timely to remind all motorcyclists they have until January 21 to renew their motorcycle tax fixed at £1 per annum by the 1910 Finance Act. And also their annual driver's licence costing 5s (25p) per year before the document's renewal date.
Applicants for motorcycle licences must be at least 14 years old and 17 years and over for the car entitlement.