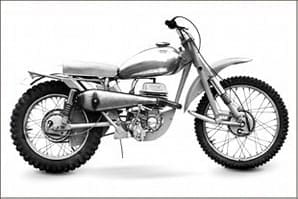 November 1913
As well as offering Indians equipped with electric lights, for the coming season The Hendee Company, Springfield, Massachusetts. is to market the Hendee Special, which is fitted with an electric start system via a multi polar motor/dynamo.
In addition to its familiar models, Rex of Coventry is listing a larger 952cc V-twin with three-speed countershaft style gearbox and cork insert clutch for next year.
November 1938
Triumph will have its new 499cc ohv parallel twin cylinder Tiger 100 on display at the annual London Show. Finished in silver sheen with black lining the high-speed roadster replaces the ohv single-cylinder Tiger 90.
On the London Show Sunbeam stand will be a complete range of 250, 350, 500 and 600cc single-cylinder models with high camshaft ohv engines. Makers state the heavy construction cylinder heads on all high camshaft engines will damp out torque reaction affects and provide better heat paths.
November 1963
Alpha Bearings Ltd of Kingsley Street, Netherton, Dudley has announced planned manufacture of complete engine bottom ends for 250cc two-stroke single cylinder scrambles applications (shown in a DMW rolling chassis, above). The firm confirmed orders for over 400 units, factory tooling up is complete and the first batch is in production.
Alpha Bearings' new bottom end is intended as a direct substitute for the Villiers crankcase assembly and as its 72mm stroke exactly matches that of the 250cc single-cylinder Villiers unit, the Alpha design marries with any two-stroke barrel of 66mm bore to produce a 246cc engine.
The crankshaft assembly incorporates full circle forged steel flywheels and matches in weight the 246cc Villiers engines' full crankshaft assembly including flywheel magneto. A battery and coil ignition system is suggested.
Costing £45 (less chaincase) the bottom end will be provided to suit either Villiers of Albion gearboxes.
November 1988
Yamaha has announced its intention to join the 600cc sports bike class by unveiling its all new 91bhp 599cc four-cylinder six-speed FZR600 priced at circa £3800.
Britain's dispatch riders have taken their first steps to unite and form a union. Called the Dispatch Riders Association the new body, will campaign for improvements in their members' lot, including no late for work penalties, a core working day ad a minimum payment per delivery scheme.