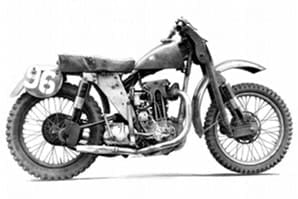 Using a 496cc Blue Star solo and 591cc M21 sidecar outfit selected from dealers' stock by ACU officials, the challenge was to follow the English and Welsh coastline without stopping the engines (a distance of about 2500 miles). This included ascents of Bwlch-y-Groes, (the equivalent of climbing 31,000ft at an average incline of 1-in-4.9), riding through heavy city traffic for over one hour using only top gear, completing 100 miles of speed work at Brooklands and making 100 climbs of the Brooklands Test Hill in 100 minutes.
For BSA the team was led by David Munro, W S Banner and factory salesman Stan Banner, the riders comprised G Carter, W Goulding, R A Harris, W Johnson, Bert Perrigo (reserve) and current trials aces Jack Amott and Harold Tozer. At half distance Roy Evans replaced Jack Amott. For the ACU, E B Ware, Len Bilbe and W J Bishop acted as passenger observers. Observed by ACU officials the motorcycles were prepared for the attempt at Rex Judd's shop, Edgeware.
After 83 hours on the road, the Beesas reached Brooklands and were timed over the flying quarter and both made 100 ascents of Test Hill riding in convoy in just 89 minutes. During the road work, the engines of both machines stopped once due to fouled sparking plugs.
1914
ABC has capitalised on Jack Emerson's record breaking spree at Brooklands last January by launching its latest three-speed 3½hp fore and aft twin cylinder model.
The Daily Mail has taken delivery of a batch of Rex V-twin motorcycle combinations for work in London, Manchester and Leeds, couriering newspapers between the railway stations and the suburbs.
1964
Despite riding through thick sea mist Dave Bickers powered the new 250cc Greeves Challenger to its first win in its first competitive outing in the BBC 250cc TV race at Mumbery Hills, Westleton, Suffolk, beating John Banks (Dot) and Alan Clough (Greeves).
Article continues below…
Advert
1989
An ongoing dispute between the ACU and Donington Park threatens the British GP for the next five years under FIM rules. The track owners want an agreement to stage the event until 1992 but the ACU is considering Brands Hatch for the 1991 and 1992 rounds. If no agreement is reached, Donington Park will withdraw from staging 1989's event and FIM rules will be broken.
---
Advert

Enjoy more The Classic MotorCycle reading in the monthly magazine. Click here to subscribe.
---