In the second part of our feature on the BSA Group's misadventure in the lightweight market, we come to the nadir – the Ariel 3 and the NVT Rambler.
Words: STEVE WILSON Photographs: Jonathan Fleetwood
1970 K2 Ariel 3
What was it?
The moped market was growing in the late 1960s.
Because UK legislation allowed a pair of wheels to be counted as one if they were close enough together, the Ariel 3 could be classed as a moped, with cheap tax and insurance, as it was 50cc-powered and featured pedalling gear.
The convenience of a moped plus the stability of a three-wheeler – what could possibly go wrong?
The 3's inventors were a three-man team, among them G L Wallis of Surbiton.
The design's party piece was the way that while the rear end was fixed, the whole front end could be tilted round corners like a motorbike.
The partners were contacted by BSA in 1967, and manufacturing rights were licensed to Small Heath, though Wallis retained the patents.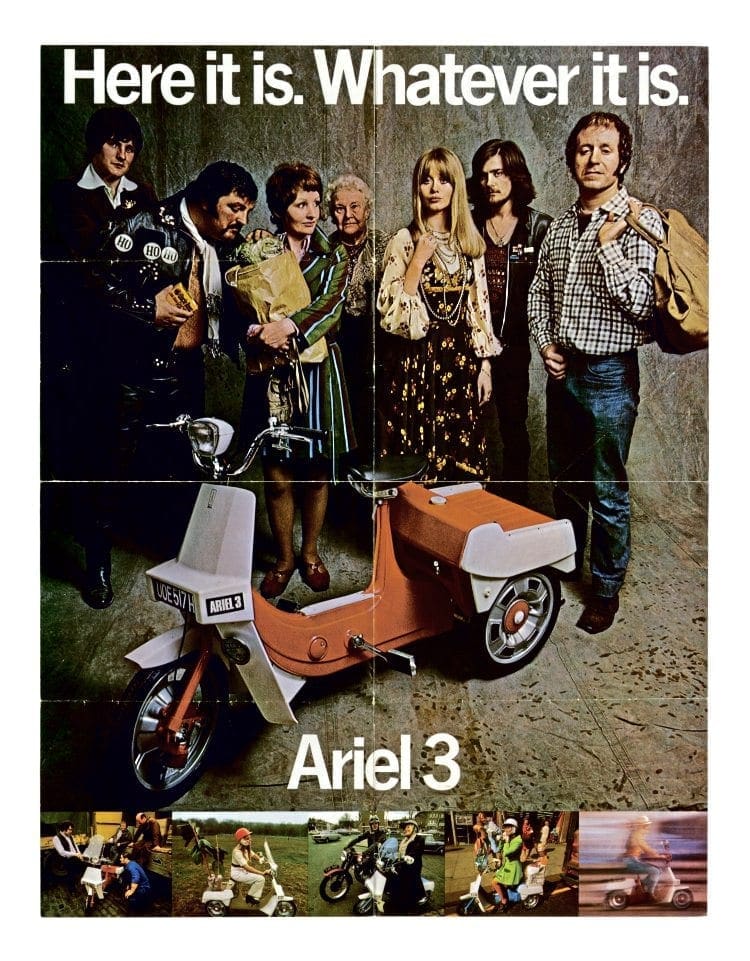 BSA's designers went to work on it at Umberslade Hall, where it was known as 'Trixie,' or 'the pantomime horse.'
The front and rear sections were joined by a pivot on the machine axis.
To this the BSA engineers added twin 'Tri-Torque' torsion bars on the same axis, which helped lift the front end up again after a corner, and kept the machine upright when parked.
A BSA-built power unit was being developed, but with time running out, management opted to buy in the existing 1.7bhp Dutch Anker Laura 48cc two-stroke moped engine.
It featured 7.0:1c.r., flywheel magneto and alternator electrics and, in the Ariel, fan cooling.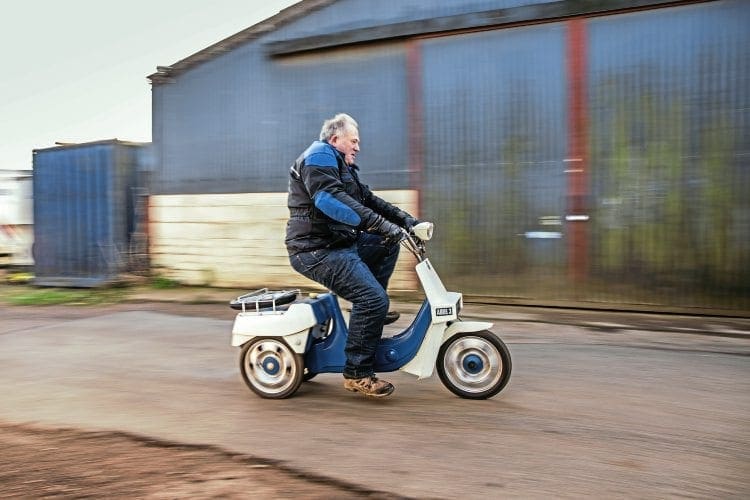 The engine was mounted above the rear axle. It drove through an automatic centrifugal clutch (so this was a twist 'n' go without gears), via a toothed belt, to a countershaft; this shaft contained a dog clutch, another BSA contribution, to allow the engine to be disengaged if the Ariel had to be pedalled home.
The belt drive was to the left rear wheel, the only one that was driven (and braked) via a chain that connected it to the countershaft.
A second chain ran forward to the pedals, via several guides and pulleys, which tensioned the chain as the front end tilted.
Read more and view more images in the September 2019 issue of TCM – on sale now!