Velocette's LE was never going to win any beauty contests. But once sorted, this unique, high specification lightweight had much to offer.
Words: STEVE WILSON Photographs: GARY CHAPMAN
Following his 'Most Original' award at Stafford for his RE Model G (see TCM, December 2017), Alex Taylor suggested that I have a go on his regular runabout – a 1954 Mk.II Velocette LE.
Not, perhaps, a prospect to set the pulses racing, for the definitive nail in the LE's 'mass sales' coffin with the riding public had been its lack of zip, the kind of zip that cheap and cheerful two-stroke lightweights provided. But I'd ridden a friend's Mk.III and knew how pleasant they could be – on the flat, at least. And the Mk.II, closer to the original concept, had the hand-starter, and the hand-change for its three-speed gearbox, so mastering them promised some amusement.
Mechanical marvel
This model was the fruit of Eugene Goodman's righteous obsession with producing a two-wheeler to Velocette's high standards ("an inability to settle for rubbish," as Titch Allen put it), for everyman (and woman). The LE, astonishingly for a lightweight launched late in 1948, featured water-cooling, shaft-drive, a rubber-mounted, horizontally-opposed side-valve flat twin engine, with generator coil electrics, and full suspension, telescopic front and adjustable swinging-arm rear.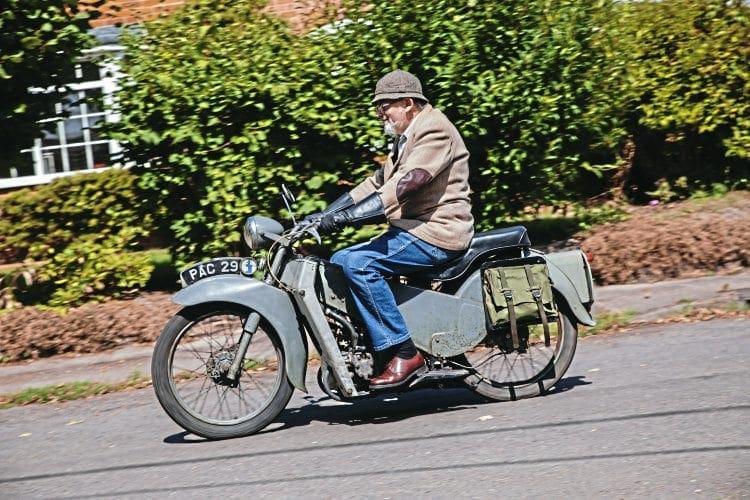 The aim had been a clean, very quiet machine that could be ridden by non-enthusiasts in normal clothing and footwear; coupled with reliability, longevity, and long (20,000 mile) intervals between major servicing.
On the normal clothing and shoes front, starting, and initially, lowering the centre-stands, was via pull lever, easy to operate with the 6:1 compression; and gear-changing by hand, as on a car.
As well as sparing shoe leather, this was hoped to make it easier for novices to co-ordinate gear-changing/clutch control.
Read more and view more images in the May 2019 issue of TCM – on sale now!