The merest mention of wiring and electricity strikes fear into the hearts of many enthusiasts. It's simple, say the experts… so we used an expert!
Words: Tim Britton Photographs: Steve Parrish
On the face of it, wiring is a fairly simple procedure on a British motorcycle, there aren't that many components involved in the typical loom and until the wholesale junking of magnetos to provide the sparks, the electrics only had to provide lights.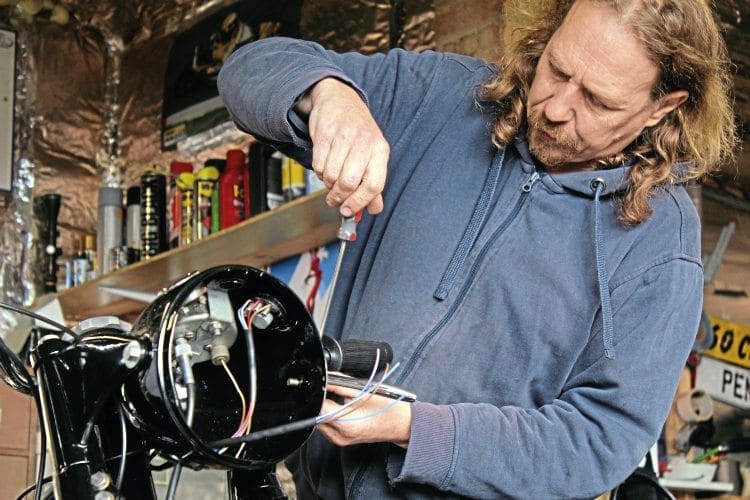 Take any average motorcycle from the 1930s to, say, mid-1960s, and the system is more than likely a 6v one, probably powered by a dynamo, though maybe an alternator as they crept in during the 1950s – there'll be a headlamp with a dip switch, a tail-light with a brake light facility, a horn and that is it. Okay, it becomes a little more complicated when magnetos vanished and coil ignition replaced them but still…
Yet poor electrical performance is still the reason for most breakdowns on even restored machines.
One of the problems is electricity isn't understood in the way a fuel or oil system is, yet terms such as 'flow' can be applied to it even though it can't be seen. It doesn't help that different tools are needed to work with electrical components either and these tools are not always on hand in an enthusiast's toolbox. However, there are people who specialise in this dark art of wiring and they claim it's not all that difficult to do – but they always seem to be fully employed.
When Steve Parrish wanted his Panther wiring up so the electrics were spot on, he contacted Ferret's Custom Electrickery and arranged a time for him to call and make the lights work.
Article continues below...
Advert
Chatting to Steve about Ferret's visit it seems he was impressed with the attention to detail and workmanship. "He just seemed to unhurriedly get on with the job – he turned up at 10am and was in his van and away home by 6pm, with the bike all finished and working. It was great."
Read more in the May issue of TCM – on sale now!
Article continues below...
Advert
Enjoy more The Classic MotorCycle reading in the monthly magazine.
Click here
to subscribe.