Coach painting is one of the oldest forms of vehicle finishing and is still favoured by many steam enthusiasts, canal boat dwellers, carriage drivers and the occasional motorcyclist. Although DIY painting has become more difficult for the restorer for myriad reasons, including safety, it is still possible to achieve a wonderful, lustrous finish.
Words and photographs: RICHARD ROSENTHAL
My story first. As a teenager over 50 years ago, I happily sprayed any form of paint which would pass through a spray gun without a thought of using masks, although occasionally, when the air became a 'bit thick,' an old duster was tied over one's nose…
I'm not advocating a return to those days, as the dangers were unknown to us then, leading to our carefree attitude and, with hindsight, we are still breathing so were lucky to get away with it.
But this is exactly what we did. Today, I'm less than proud of my actions, and we learned a valued lesson one day when spraying creosote to speed up treating a friend's mum's fence – we gassed ourselves literally senseless. Suddenly appropriate masks and understanding the products we were spraying seemed more important…
Briefly, I dallied with coach painting on a couple of jobs for my father when I was about 18, but soon returned to the spray gun, favouring cellulose.
Although mainly we sprayed the crashed cars we repaired, I also painted motorcycles, including a Zundapp 200S, a brace of MZs and various classic motorcycles.
The world became more aware of health hazards and many paints we once used are no longer available on safety grounds, while most two pack paints are available to professionals in the trade only.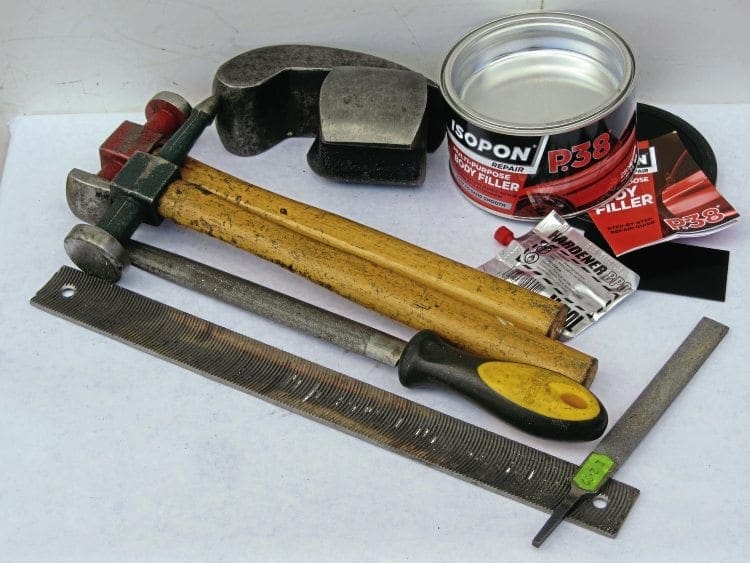 Happily for those living within 30 miles of Cambridge, a superb paint shop, Morley Bros, is favoured by many locals.
The proprietor restores motorcycles to a high standard himself and therefore knows exactly our goals, leading to a sound, satisfying job every time.
For reasons best known to myself, as son Peter was progressing with the restoration of my wife Elaine's 1912 Curry-JAP 4HP, I announced I'd coach paint all the black parts.
Where that idea came from, or why, is a complete mystery as over 45 years had elapsed since I last coach painted the mudguards of an early car for dad.
Two machines rebuilt since the Curry have been professionally painted to a high standard by Morley Bros and now I've decided to coach paint the 1933 New Imperial, the dry build of which featured in TCM two/three years ago.
Read more and view more images in the November 2019 issue of TCM – on sale now!