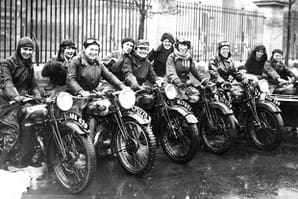 Born in Battersea in 1908, Jessie first rode a motorcycle in 1919, aged 11, courtesy of her older brother, George. At 16, she had a two-speed Scott Super Squirrel, on which she enjoyed considerable competition success.
Around this same time (1926) she founded the London Ladies Club, before beginning a long association with New Imperial, which saw her provided with works machines. It's one of these she's on in our accompanying picture; she explained in an interview with Roy Poynting (TCM, June 1998) that the terms of her New Imp contract certainly didn't make her rich, while the firm decided on which model she was sent – normally the one they wanted publicising, rather than a 'top of the range' job.
She continued riding through the 1930s, married Bill Ennis in 1939 and spent the war driving ambulances, back to motorcycling with a stunt show in cahoots with brother George (The Dare Partners) before giving up two wheels in 1951, to nurse her ailing mother and care for young son Roger.
Jessie Ennis was tracked down by the New Imperial Owners Association in 1990, and was delighted to be involved, getting back in the saddle of a New Imp (age 83) at the 1991 Festival of 1000 Bikes. She continued to be involved in the New Imp 'world' until her death in 2006, while many of her cups and trophies are on display in the Brooklands Museum in Surrey.
So who are the other riders in the picture? Unfortunately, so far they are impossible to identify, though the machines are easier to make out, starting from the far right with a pair of fashionable 'boat' outfits, a BSA (most likely a 500cc side-valve W32 or similar) with next along a circa 1932 side-valve Sunbeam, complete with handchange.
Third along comes a slightly older model, a Raleigh from probably 1929, though it is fitted with acetylene lights, which were arguably slightly older in design. The Raleigh quite jars against the next motorcycle – an overhead valve Velocette, still a modern design at this point in time – and of course of the 'basic' layout of Velocette engine design which was to serve until the firm's demise, some 45 years after this picture was taken. Whether 250cc MOV or 350cc MAC it's not possible to determine, but it's certainly one or the other.
Next along is the most interesting machine in the line-up – a real rarity. It's a 250cc Levis with chain driven ohc engine, which makes it visually appear similar to the contemporary (but much better known) AJS 'R' series. It was introduced by Levis at the end of the 1933 season.
Designer Bob Newey was clearly influenced by AJS thinking, not just in terms of design, but also in the fact that a chain-driven 'cammy' would be easier and cheaper (i.e. easier in terms of labour) to produce that the shaft and bevel drive set up favoured by the likes of Velocette (where it was reckoned a 'cammy' KSS/KTS engine took four times as long to assemble than a pushrod MAC/MOV) and Norton.
So Levis pressed ahead, though on announcement it was the firm's most expensive machine – and for the same money (£59) it was also possible to buy a 500cc Red Hunter Ariel, Model 18 Norton or BSA Blue Star.
But a 1935 Motor Cycling road test of the model may have influenced our lady pictured, as it suggested the 250, though not being especially fast (67mph in top), would make a splendid trials machine – and hers is equipped with 'knobbly' tyres.
Survivors of the cammy Levis seem to be few and far between, which is hardly surprising given that only 50 sets of castings were made. Some of them being scrapped in 1961 by the Levis factory. In the mid 1980s, there were supposed to be only three complete examples extant.
Last of the machines is Jessie Ennis's New Imp, and though the engine is obscured by the legshields, it looks like it's most likely another 250, this one a unit construction example with New Imp's own engine.
So, we've the unit construction New Imp, the 'cammy' Levis and the pushrod Velo – and the design which outlasted the others? The ohv Velocette, but of course unit construction and ohc are now de rigueur. Levis and New Imperial were perhaps just too far ahead of their time.