When John Surtees fractured his arm in the 350cc event, thus ruling him out of any further racing, the 500cc GP event was thrown wide open. Even then there was no guarantee who would scoop the top spot.
Words: MICHAEL BARRACLOUGH Photography: MORTONS ARCHIVE
The German Grand Prix of 1956 took place at Solitude near Stuttgart, and proceedings were going more or less as scripted until hot favourite John Surtees (MV Agusta) crashed and fractured his arm in the 350cc race.
This meant the young Londoner was not able to compete in the 500cc event later that day, and many thought his absence would result in either Geoff Duke (Gilera), Bill Lomas (Moto Guzzi) or Walter Zeller (BMW) securing a victory instead.
The 500cc race itself was originally billed for 13 laps, making a total of 92.2 miles. This was due to the busy schedule (which included a car race as well as four motorcycle races) but FIM regulations stipulated a minimum distance of 124.3 miles, so the race was extended to 18 laps to ensure enough distance was covered.
With Surtees out of the running, interest was divided evenly between Duke, Lomas and Zeller. The race duly commenced, and Pierre Monneret and Geoff Duke – both riding Gilera fours – bounded away from the starting grid and threw themselves into the tricky Glemseck bends.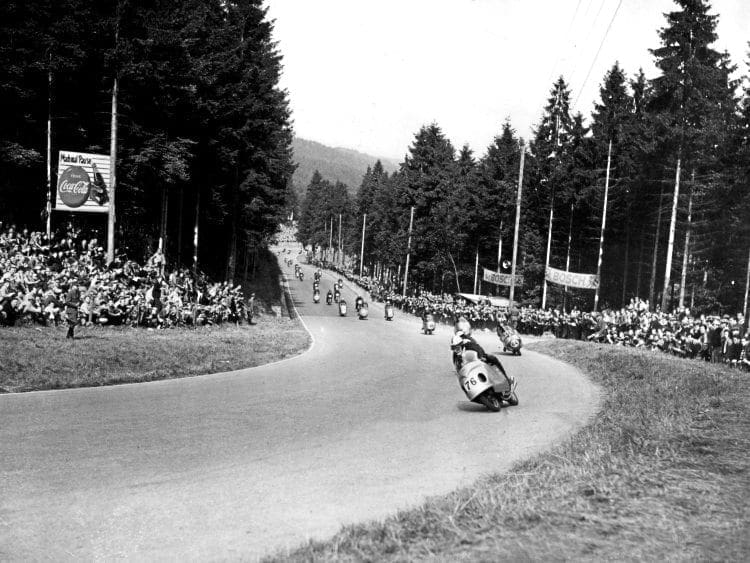 Their dominance was short-lived however, as Bill Lomas and his eight-cylinder Moto Guzzi soon screamed into the lead. Duke followed behind, and behind him were Reg Armstrong (Gilera), Umberto Masetti (MV Agusta), Pierre Monneret and Walter Zeller, in that order.
During the second lap, Duke managed to creep inside of Lomas and Zeller coaxed his BMW into third place.
The race soon became a pitched battle between Duke and Lomas, with Walter Zeller snapping at their heels throughout, but the mood of the race turned on a sixpence in laps five and six.
First Zeller retired halfway through lap five with engine failure, and at the end of the sixth lap Duke and Lomas both pulled into the pits, with engine trouble and a burst coolant pipe respectively.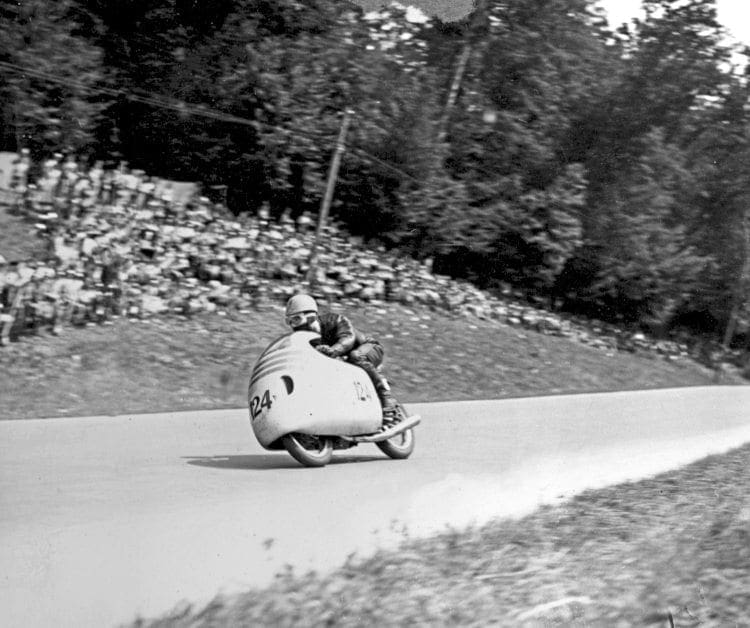 Lomas retired for good, Duke took to the track again, only to pull in twice more. At this point any hope of a last ditch victory for Duke was too far out of sight to make any use of.
So, the top three spots were taken up by Reg Armstrong, Umberto Masetti and Pierre Monneret. After much jostling they crossed the line in that order, making it a day to remember for Reg Armstrong and one to forget for Lomas, Duke and Zeller.
Carlo Ubbiali (MV Agusta) was in fine fettle in this GP, winning the 250cc event and coming second to Romolo Ferri in the 125cc event. This would be the peak of Romolo Ferri's career, managing to fend off both Ubbiali and Tarquinio Provini to secure his 125cc victory.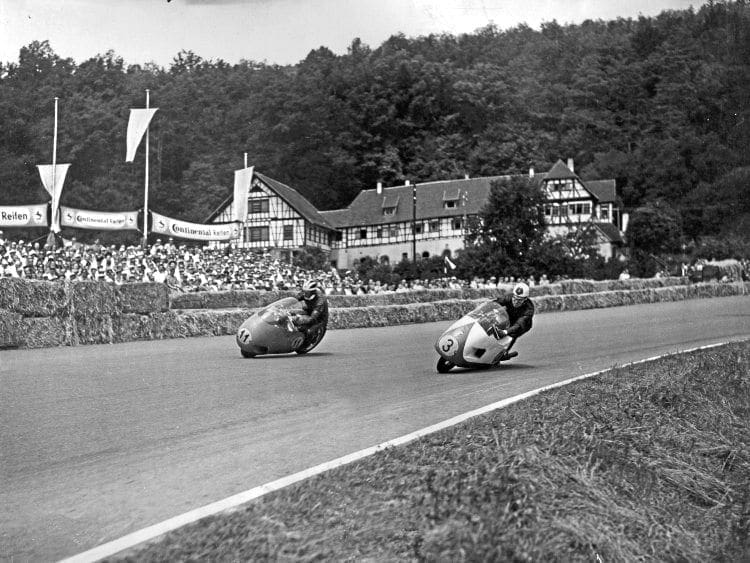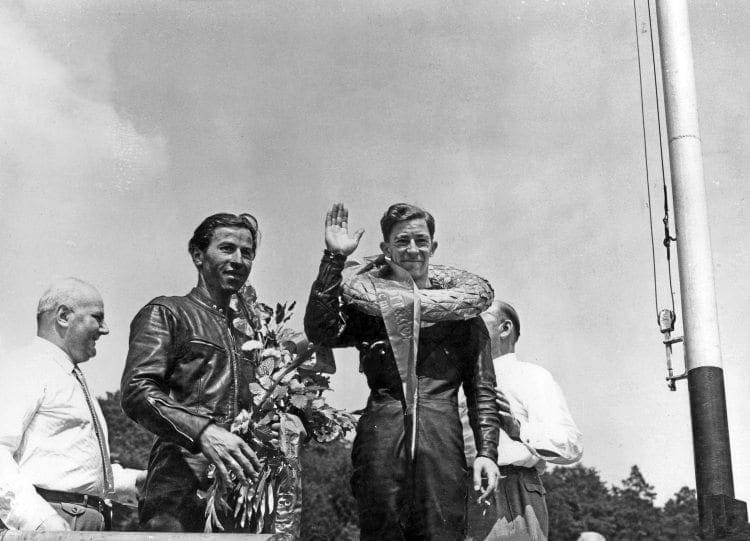 After Surtees came a cropper in the 350cc event the race was won by Bill Lomas, who rode spectacularly all weekend despite the unfortunate retirement in the 500cc race.
Read more News and Features at www.classicmotorcyle.co.uk and in the latest issue of The Classic Motorcycle – on sale now!