The somewhat surprising collaboration resulting from the Harley-Davidson purchase of Aermacchi actually produced a raft of good motorcycles.
Words: James Adam Bolton Photographs: Sara Zinelliand James Adam Bolton
It would be reasonable enough to expect that an engineering company originally founded in 1912 to manufacture aeroplanes and then turned its hands to building motorcycles 40 years later, is going to make a two-wheeler fly, and that's definitely my experience of every Aermacchi I've ever ridden.
It doesn't seem to matter what engine size, 175, 250 or 350cc, but there's something in the Aermacchi blood that means that the motorcycles are just exciting and always feel quick, a fact backed up by a long and successful record breaking and racing heritage.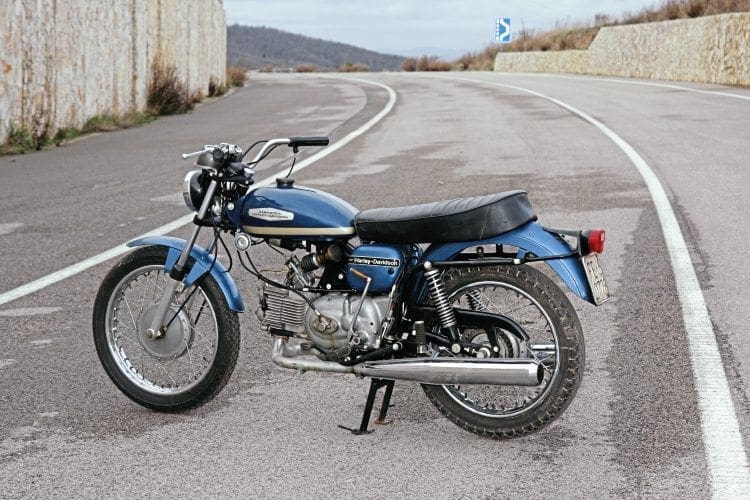 Like those stickers that you see on the back of helmets proclaiming 'the older I get, the slower I go', I take much more pleasure nowadays in profiting from what's on offer from smaller engines with fewer cubes because the riding experience is often so much more involved and rewarding.
The other wonderful thing about Aermacchi singles is just that – they're single cylinder – the most pure and simple incarnation of a petrol-fuelled engine.
And it's lucky that they're simple. Pushing the 1971 Aermacchi 350 GTS out of its resting spot in its garage in Tuscany, I know already that it will need the jets of its Dell'Orto VHB27A carburettor cleaning through, as its owner, my father-in-law, readily admits.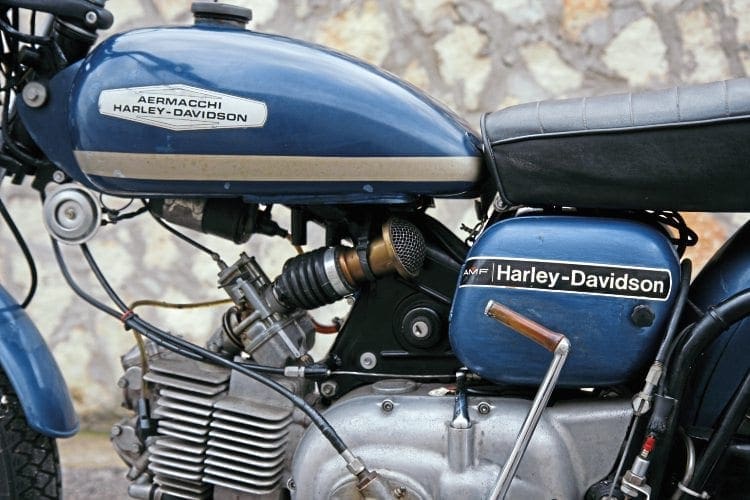 You may have read the story a couple of times now, but this is another classic that ended up in his garage after a fortuitous swap for a modern Kawasaki, and 15 years on, the several bikes that Alfonso got in return will have become an excellent investment.
Along with his Gilera 300 Extra, this Aermacchi is the bike he would use more willingly for local rides and trips to the seaside, though seeing as it's now December, the fuel has degraded somewhat.
Fifteen minutes later, with fresh fuel and jets cleaned on the very accessible carb, the Aermacchi starts easily and thumps over on the stand without issue.
It's an attractive motorcycle, and in reasonably original condition, with 33,000km on the clock, featuring an almost pearlescent metallic blue paint finish, twin chromed silencers, long dual seat, and 'Aermacchi Harley-Davidson' on the tank, and even more confusingly, to those who don't know the history, 'AMF Harley-Davidson' decals on the side covers.
See the separate box on page 56 for the Aermacchi/H-D/AMF story.
Read more and view more images in the July 2019 issue of TCM – on sale now!