In 1961, MZ's Walter Kaaden unleashed the world's first internal combustion engine able to deliver 200-plus bhp per litre, when his 125cc GP racer's power output measured as 25bhp at 10,800rpm. The world was left playing catch up.
Words: Richard Rosenthal Photographs: Rosenthal family archive
Two months ago in part one (March 2019 issue) I looked at improvements rather than development – here the brief is reversed. And now is the time to stress such development is a series of stages – some progress, others the reverse.
As with all such work, personal safety is up to you so if you choose to poke a finger down a port, turn the engine over and cut the digit off, it is not TCM's or my fault!
Ports, their roles and timings
(PIC 1): The intake of fuel vapour, the transfer of gases from crankcase to combustion chamber and the expulsion of waste via their relevant ports happens quickly.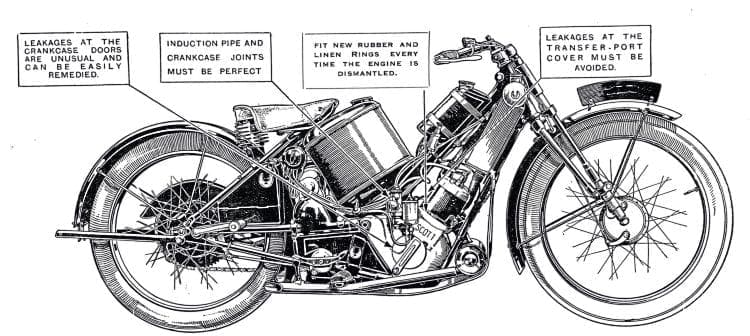 An imaginary 125cc single cylinder two-stroke racing engine, revving at 10,000rpm has its inlet, transfer and exhaust ports open for 0.003s seconds or less.
The primary role of the inlet port or disc valve is to charge the crankcase with fuel vapour.
The primary roles of the transfer port/s are power output and fuel economy and the primary roles of the exhaust port/s are power output, fuel economy and waste disposal, but only approximately half the exhaust port/s' opening time is occupied solely discharging the cylinder/s.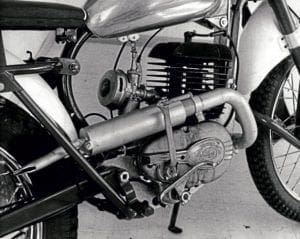 It was believed since two-stroke engines were evolved that a combination of negative pressure in the exhaust system, combined with the effects of incoming fuel vapours, purged the combustion chamber and it was also accepted incoming fuel vapour escaped through the exhaust port into the exhaust system. Yes, but there are buts!
Read more in the May 2019 issue of TCM – on sale now!
---
Advert

Enjoy more The Classic MotorCycle reading in the monthly magazine. Click here to subscribe.
---