Today, not many people may realise that Switzerland was a country with a reasonable number of motorcycle makers in the 1920s and 30s. Stuttgart's Retro Classic hosted a display of various examples.
Words and photographs: Gerry Vogt
From a distance, the red Egli seemed like the centrepiece of the Retro Classic motorcycle exhibition in Stuttgart, as it perfectly matched the well-known country flag.
However, as people drew nearer, they quickly saw that surrounding exhibits, though not carrying such bright colouring on their petrol tanks and bodywork, were certainly also fine examples of the often underestimated Swiss engine and motorcycle factories.
The 70th jubilee of a local German Club – the AMSC – had proved a good opportunity to showcase a wide range of Swiss machines: Motosacoche, Moto Reve, Condor and Allegro. Maybe not popular worldwide, but interesting, with some even connected to British brands, one such being Moto Reve. Other machines were technically advanced and surprisingly quick on road and track.
Reinhard Bättig is a true and utter Motosacoche nut and owns several of these fine machines. The icing on the (exhibition) cake was a model on which 1920s Swiss race champion Francesco Franconi thrashed all cars and motorcycles on local mountain racetracks.
That was in 1926. By modern standards, the 35hp 700cc V-twin might not sound so impressive, but the sophisticated machine was built in 1924 and features double overhead camshafts.
"Just to spin the four cams, 18 gears are needed. Two extra ones work on the double-piston oil pump lubricate the dry-sump engine," explains Swiss Jörg Strehler, a regular at mountain racing events.
"Only a few people know that Switzerland once had 53 motorcycle manufacturers," says Thomas Schmid, a great and knowledgeable enthusiast in the Leonberg club, a lively bunch of people who have already arranged 19 different motorcycle exhibitions at the Stuttgart fair so far.
"Other racers were gathered next to the two-tone brown-finished V-twin, including the Condor Grand Sport D50 from 1930, last raced in 2013 where it came quickest in its class.
"The bike originates from the Courfaivre company, which also used proprietary and/or foreign engines for their products – MAG, Moser and Villiers. Army Condors like the A540, A680, A580, A750, A250 or A350 were common from pre- to postwar days and in the 1950s the company were importers of Puch scooters, then finally Ducati; the Army-issue Condor 350 used a single cylinder engine from the Bologna-based company.
Special guest on this first weekend in March was Swiss sidecar racer and multiple world champion Adolf Hanni, who managed to set another land speed record on the Bonneville salt lake on his 600bhp outfit, achieving 390kph.
If this lot whets your appetite for your next trip to the Continent and into the mountains, why not plan ahead for autumn, travel restrictions permitting.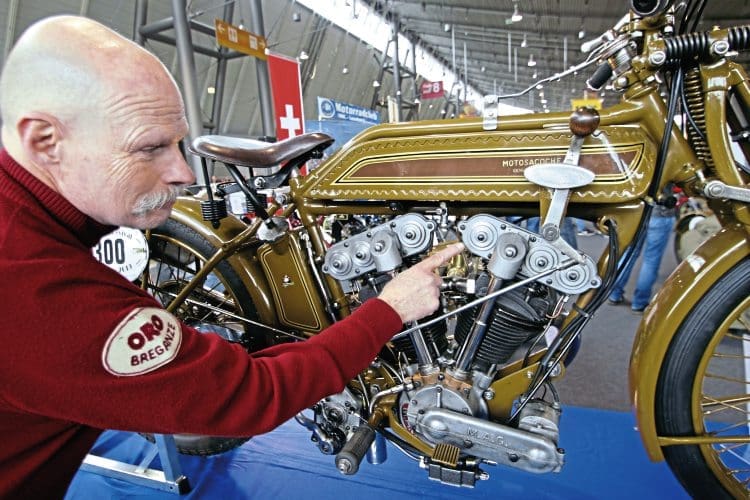 In fact, the grand opening of the Oberriet (CH 9463, Stickerweg 3) Swiss motorcycle museum is planned for September 19, 2020 – Josef Wüst, a now 42-year-old enthusiast, had thoroughly planned his future museum as he started collecting prewar motorcycles from the age of 12.
The majority of his bikes were manufactured between 1925 and 1936. The museum is planned to be open to the public every first Sunday of the month.
Again, Josef will have to see how things are in the world, but after 30 years, his dream is tantalisingly close.
View more images of this event and read more News and Features at www.classicmotorcyle.co.uk and in the July 2020 issue of The Classic Motorcycle – on sale now!