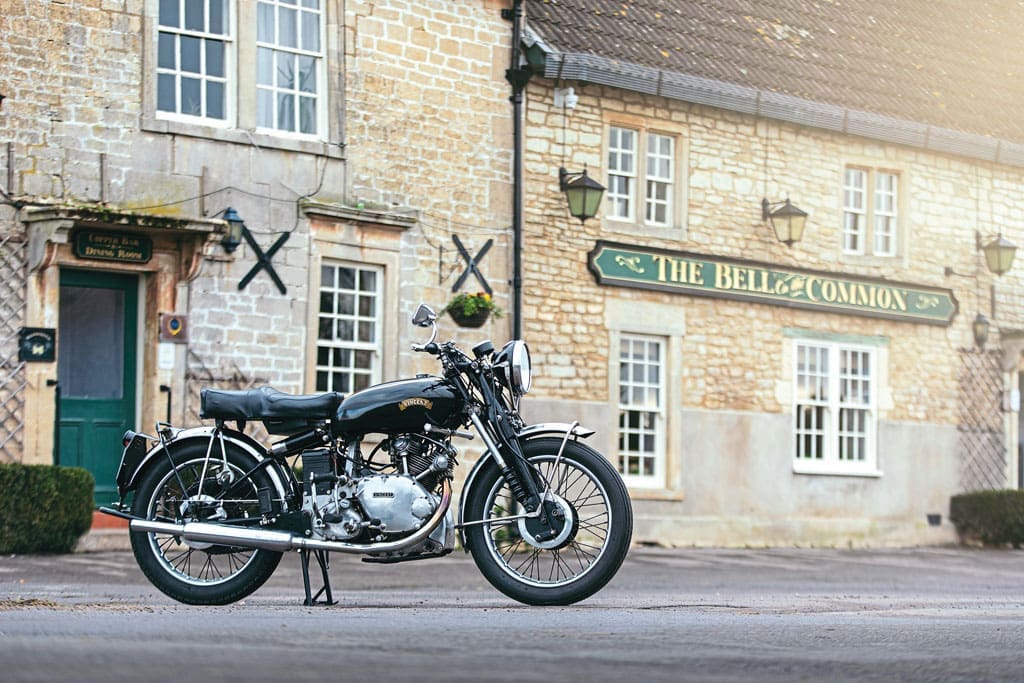 Words: ANDY WESTLAKE | Photographs: GARY CHAPMAN
"High performance single with magnificent roadholding, steering and brakes," was the way The MotorCycle described the Vincent Comet when they tested it in 1950 and, riding a similar machine (a 1949 Series C) through the sun-dappled lanes of West Wiltshire seven decades on, I can vouch for the fact that it this rings true.
With the healthy note of the silencer singing out behind me, and safe in the knowledge that, if required, the superb brakes were more than a match for bringing the 413lb machine to a rapid halt, it was a joy to be riding what some – myself included – consider to be the best 500cc single ever produced by a British motorcycle company.
The bike carrying the registration number of GAY 81 has been in the West Country for much of its life and is now owned by Steve Morris, a man who bought it from his near neighbour – and great enthusiast – Colin Groves just before Christmas in 2016. Regular readers will recognise Colin's name, as I've tested six bikes from his eclectic collection and he told me how he came to acquire the Stevenage single over 25 years ago.
"Over the years I've owned several Vincent twins, on which I covered lots of miles, but I always fancied a Comet, and when I saw this one advertised in Bristol, I decided it was perfect for my needs.
"The previous owner had been admitted to an old person's home and had arranged for a friend and neighbour – a non-motorcyclist – to sell the bike for him. At that time it was a non-runner but it was obvious that it had been well loved and although some light restoration had been done, it was basically original.
"The deal was done and back home in my workshop I discovered that the magneto was duff and with this replaced it started and ran perfectly. At some time it had lost its original number plate – GAY 81 – but through their records the Vincent Owners' Club were able to verify that it was an original machine, manufactured in September 1949 and first registered in March the following year.
"There was a number stamped on the bottom of the crankcase and they were able to inform me that it was the 15th Series C Comet to roll off the Stevenage production lines. The first registered owner was Norman Peach – who was both a wheel builder and tester at the Vincent factory – and once, when out testing the bike, he'd suffered a slight spill, which resulted in a broken offside footrest.
"He'd ridden it back to the factory but for some reason they didn't have a replacement, so the footrest was welded up and put back on. This was still evident when I got the bike, which reinforced my thoughts that it had never been restored and it's still on the bike.
"I had to replace the rusty exhaust and silencer, renew the clutch and valves and replace the timing gear but, basically, there was little I had to do to get it back on the road. Over the 25 years I owned the Comet, I covered thousands of miles, and it really was a lovely machine to ride."
Due to ill health, Colin had to give up riding in 2017 but before then he'd started to thin down his collection and, as previously mentioned, by December 2016 the Vincent had a new owner in the form of Steve Morris. Before we fired the bike into action, Steve told me a little about his motorcycling career and how he eventually persuaded Colin to part with the Stevenage thoroughbred.
"My first bike was a Garelli Tiger Cross which I paid £12 for – including a helmet – in 1974, it also taught me a lot about mechanics as it frequently seized when I didn't have the correct mix of oil and petrol in the tank. Through my teens and twenties I had lots of different machines, but then I had a break from two wheels when I got married and it wasn't until the early 1990s that I got back into bikes when I bought a very rough Honda CX500 for £100 and had a lot of satisfaction in bringing it back to life for my first restoration.
"Although I've had modern bikes for touring, the 'oldies' are my first love and I've presently got a couple of Sunbeams (S7 De Luxe and a S8), a Royal Enfield Continental and a 1926 250cc BSA. Since my teens, I longed for a Vincent, but the price of the twins has now risen to beyond my means and when I met Colin I was immediately drawn to his Comet.
"Several times I asked him if he was interested in selling it but the answer was 'no, but if I do I'll give you first refusal'. Just before Christmas in 2016, my wife and I were off to Scotland for a holiday and on our way we stopped at Colin's house to say hello. Out of the blue he asked me if I was still interested in buying the Comet and, as you can imagine, it didn't take too long for me to say 'yes, please'. The deal was done and a month later the Vincent was tucked away in my workshop, awaiting the first sunshine of the year.
"On closer inspection I was intrigued to notice that on the bottom of the crankcase there was evidence that a name had been deleted. I've since discovered that this machine was known as a 'transition' bike, as it was originally stamped with 'HRD' on the case and when the company became 'Vincent' they still had some of these in the stores, so the engine builders were given instructions to machine the name off.
"I also discovered that although it had been given an age-related number the original one of GAY 81 – a Vincent factory one – was still available and I was lucky enough to secure it and transfer it over. In the last three years, I've done quite a few miles on it – including a couple of 'Distinguished Gentleman's Rides' – and the bike has run faultlessly.
"There are some superb roads around where I live in West Wiltshire and after a hard day's work, getting it out and taking it for a spin is the best therapy I could possible ask for."
The Series C Comet was a new model added to the Stevenage company's range in 1948 and although before the Second World War there had been both singles and twins in the Vincent-HRD line up, it was a fresh design. Although all earlier singles had rear springing, the oil-bearing central spine, from which the engine was hung, was a new development.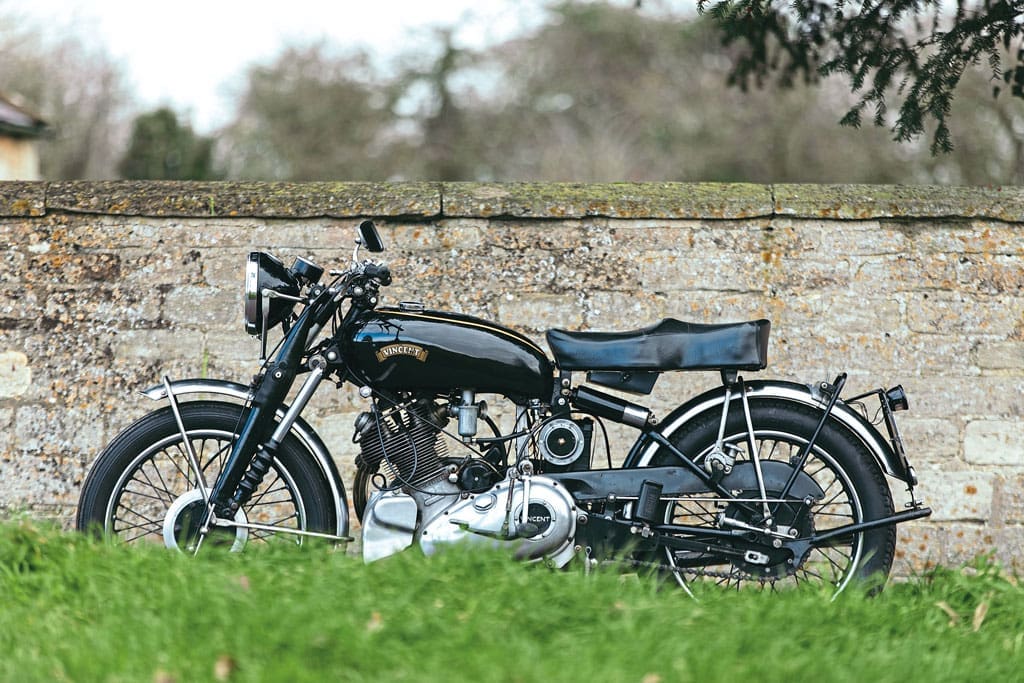 As was pointed out in the 1950 road test, this frame and the Girdraulic forks were identical to those fitted on the 1000cc twin and earned accolades from the period testers: "The handling was of the highest order and has earned praise from experienced riders throughout the world. A feeling of tautness and rigidity is provided by the frame of the Comet.
"The rear wheel, controlled by the twin spring cylinders and separate hydraulic unit, maintains contact with the road in a leech-like fashion, but so effective is the hydraulic damper that, as with the front fork, there is never any suggestion of excessive reaction or patter.
"Front and rear suspension characteristics harmonise in an exemplary manner and result in steering and roadholding, which is not only a sheer delight, especially at high speeds, but which also makes maximum contribution to safety."
…For the full feature, pick up the February 2020 issue of The Classic MotorCycle. For more information on how to get your hands on a copy, click HERE.