The TUAR Club Rally in September is an example of good, pure motorcycling fun.
Words and photographs: MIKE DAVIS
What better way can there be to spend a sunny September Sunday than meandering along country byways, amongst the vineyards and through the medieval villages of the Loire Valley? Simple.
Doing it on a period motorcycle in the company of people who share your passion – which is exactly what the vintage motorcycle section of the Thouars based TUAR Automobile Club have been doing each autumn for the past 34 years.
On a dewy morning, 50 motorcycles, with a combined age of 2668 years, left the market place in Thouars, heading north toward the Loire.
They passed through the streets of Montreuil-Bellay, in the shadow of its 1000-year-old castle, before heading for Saumur, where the breakfast stop was taken at the Musée du Moteur – which displays, in a former bottle top making factory, engines from motorcycles to jet aircraft.
Back on the road, they headed for Courchamps and lunch, then finally headed south, along roads fringed with vines whose grapes hung heavy waiting to be picked, before a late afternoon return to Thouars with another 115km on their odometers.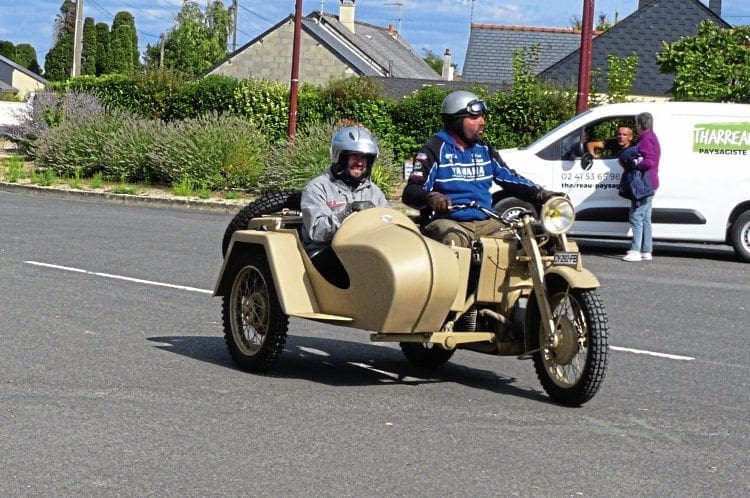 Many of those participating were couples sharing a passion for machines of a bygone age.
Two such were Patrice and Catherine Batardière, whose incongruous choice of motorcycles were a 750cc Chang Jiang M72 sidecar combination and a 125cc 1954 Mandille et Roux 528.
Patrice required little prompting to explain how a Chinese motorcycle came to be in Anjou. "It had its origins in prewar Germany," he said.
"The Germans supplied BMW R71s to the Russians under the Molotov-Ribbentrop non-aggression treaty and the Russians produced reverse engineered copies as the Dnepr M72.
"When production ceased after the war, the documentation, tooling and parts stock was sold to China. My M72 is a Chinese machine. I wasn't looking for one but 15 years ago, I saw it being advertised for sale in Paris. It had only 600km on the clock and was in very good condition."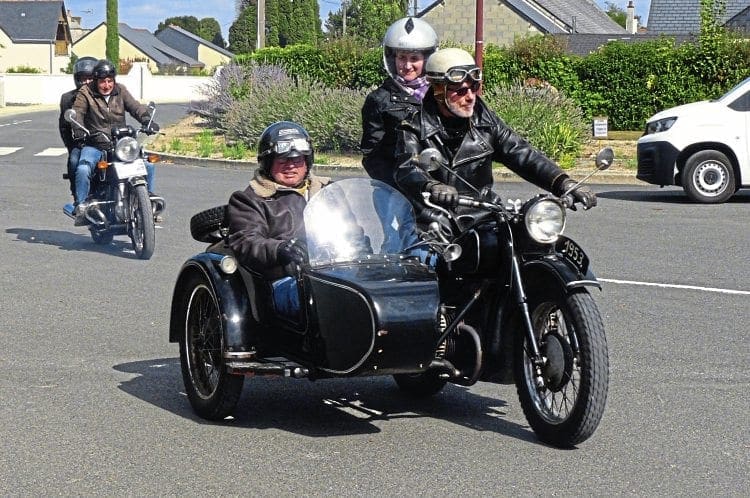 Asked about the Mandille et Roux, Patrice continued. "I bought it in Normandy. It was an abandoned restoration, which I finished. I enjoy restoring as much as riding motorcycles. It's a reliable little machine with a Sachs two-stroke motor. It still has its cork clutch plate – which wears out quickly and needs replacing frequently."
Among the earlier machines participating were Daniel Courlais' 175cc 1924 Motobécane MB2 and a 350cc 1925 Française-Diamant belonging to Luc Baillargeau's father.
When asked why he was riding his father's machine, Luc explained that his father was too tired today – that was understandable, Zoé being 94. "But he's still riding his motorcycle," Luc added, "and he plans to be back next year."
Post Second World War French motorcycles were well represented. Two Motoconfort U46Cs, a U22 and a U26; a Motobécane Z2C and D45S; a Peugeot 55T and 56TB; a Monet et Goyon M2V; and a Terrot HCTL. BMWs were numerous.
The UK marques present were Sunbeam, AJS, Matchless, Triumph and Royal Enfield. A quartet of Lambretta and Vespa scooters brought up the rear.
Someone whose motorcycle saw less road use than he would have wished was Francis Sabourin, whose 175cc 1953 Griffon 676 TC4 was making its first run since he bought it. "I had hoped for better,"
Francis sighed. "The problem was the carburettor. The engine hadn't been run for several years and wasn't running well today. It gave up not far out of Thouars and wouldn't restart. So it's been trailered for most of the day. But I'll sort it tomorrow."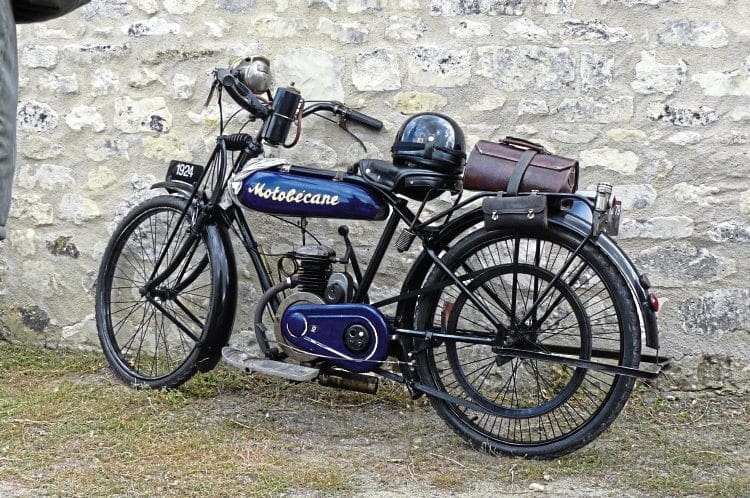 Francis had exacting requirements when searching for his motorcycle. "I scanned the online advertisements daily for over six months. It had to be a Griffon and this particular model, which was my first motorcycle when I was 17. Also I wanted a 1953 example so we'd both be the same age! I found it two months ago in Bourges."
Another motorcycle marque within the Peugeot group was FMC – France Moto Cycles – an example of which Anthony Colas should have been riding.
"I registered my 125cc 1957 FMC 557 TAS for this event but eventually decided to use my 175cc 1953 Peugeot 176 TC 4 [the alter ego of Francis Sabourin's Griffon] because it's a more comfortable ride for long distances.
"I've owned the Peugeot for three years. Before that for six years it was laid up in a barn, where I found it. I undertook a complete rebuild, including remachining the cylinder head, liner, connecting rod and piston.
"After reassembly it ran much better. As to the frame, tank, mudguards and foot guards, I've adopted a light touch. I like originality – or, as we say, dans son jus."
Anthony was one of a number of first timers participating. "It's my sort of event. An interesting route, relaxed, non-competitive and in the company of equally passionate people. To me, it's what classic motorcycling is all about."
View more images and read more News and Features in the February 2020 issue of The Classic Motorcycle – on sale now!