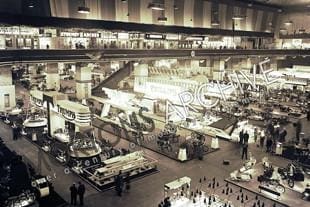 Thing was, the 1956 showpiece nearly didn't go ahead. A dispute at the Norton works in Birmingham (remember, by now Norton was part of the AMC group, though the move to London was still in the future) had led to 'industrial unrest' to such a degree that stand-fitting staff at the show downed tools in support of their freshly made redundant industry co-workers. Apparently the situation was so serious, the whole caboodle was nearly cancelled, but a late agreement saw that the show went on, though the Saturday opening day was a 'victim' and didn't happen. The Motor Cycle's wise old sage Ixion said: "I expect the number of fictitious grandmothers buried between Monday and Friday this week will be well above the average even for November!"
However, surely the show's organisers should have foreseen such a problem and the simple fact was the direct action drew a response; former employees at Norton had been seeking severance pay for six months, but when the electricians, carpenters and others withdrew their labour in the run up to the show, as if by magic the Norton situation was remedied. But this was the Friday before Saturday's opening day – so it was Monday before the show could open.
The Motor Cycle's editorial finished on a bright note though: "Everyone is making the best of it. The displays are bright and attractive and full of interest… this year's London show portrays remarkable variety, not only in makes of machine but also in types."
Star names were attracted to the show too – with the meeting of 'world's fastest motorcyclist' Johnny Allen and world 500cc champion John Surtees scheduled in such a manner it would be part of BBC's second Saturday live show coverage – while ITV was broadcasting live from the show on the Friday evening.
There were plenty of motorcycling highlights too, including the new 70cc 'commuter' from BSA, the Dandy, while Velocette unveiled its new 200cc 'sporting' flat-twin, the Valiant. Also on the Velo stand was the pre-war supercharged Roarer – which was gaining plenty of column inches – while foreign makers had turned up in their droves, displaying everything from exotic racers to diminutive commuters. There really was something for everyone.
Article continues below…
Advert
Images from this set and others can be purchased from www.mortonsarchive.com
? View contents and other articles from May's TCM
---
Advert

Enjoy more The Classic MotorCycle reading in the monthly magazine. Click here to subscribe.
---