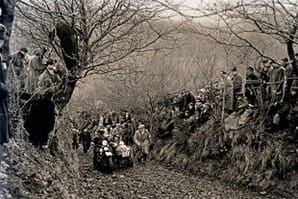 As was usual with the trial, there was a strong, large contingent of Army riders, whose riding ability… "compared most favourably with that of the civilian entry" according to The Motor Cycle.
Those taking part started on the Friday evening from three different venues – Virginia Water, near Staines, from where 138 came, Launceston, Cornwall, which accounted for 63, and from Kenilworth, Warwickshire, starting point of the remaining 59.
The first Virginia Water man left at 8.01pm, number one from Kenilworth at 10.19pm and the pathfinder from Cornwall at 11.18pm. All were due to be in Taunton for 1am, Saturday morning. Just one and a half hours later, after breakfast, the 'sporting section' of the run began.
Sections were reported in The Motor Cycle as being "… not really muddy" but "… slimy and considerably 'riper' than in 1952". There were a couple of early sections – Stoney Street and the notorious Beggars Roost – before the sun broke through at around 5.30am.
Among those who came unstuck on the 'Roost' was J P B Cuffe (497cc Norton) who, in attempting to charge the hill, 'stepped off' at reasonable lick – many of the Army riders adopted the same tactic, trying a second gear charge, which was doomed to failure, the same fate which befell many of the sidecar men.
P A White (497cc BSA) was among those who showed how it should be done, trickling round the bottom bend then accelerating slowly, gently up the hill.
Next came the run to Darracott Hill, near Bude, which was undertaken in mixed weather – bright sun punctuated by sleet and hail… though the section was not too bad, not being so affected by the 'slimy' rain, while the crowd was good – the sun seemingly having brought them out.
During the rest of the day the weather deteriorated just in time for the special test in Bude, then worsened further still (it was snowing by now, or at least "something suspiciously like snow" said Motor Cycling) with Bluehills Mine, the last section, in terrible conditions.
Finally, it was a main road run to 'the end.' By now, a "biting wind was whipping the waves against the cliffs" and the riders enjoyed a hearty tea, before heading off to home, having already completed 340 miles.
Awards saw 38 of the first class variety, 35 second class and 77 in the third class category.
To view the rest of the pictures in this set and to order prints please visit www.mortonsarchive.co.uk