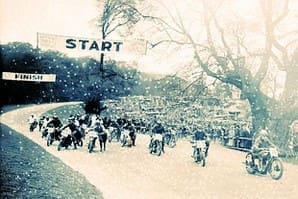 Some of those putting on a performance were already established, while others were to be near the top of the racing tree even after the Second World War, which was still six years away.
Commented Motor Cycling; "There can be no doubt about the popularity of small circuit road racing, and entrants had been attracted from all over the country."
There were some well-known competitors too – among the entry were Doug Pirie, Austin Munks, Freddie Frith, Maurice Cann, Norman Gledhill, Arthur Tyler, John 'Crasher' White, Malcolm 'Spug' Muir, Harold Daniell, Oliver Langton, plus the likes of speedway star Squib Burton, Royal Enfield trials ace Jack Booker, sidecar star Kim Collett and Morgan men Henry Laird and Clive Lones. Even Geoge Brough was among the entry, in the sidecar category.
First race of the day around the two mile, 327 yard track was the opening 350cc heat – Frith (Norton) won, NT Bennett second, with Muir (Velocette) third. Tyler (Norton) took the second heat, run next, from Bill Kitchen (Velo) and early leader R Fidgeon (Norton). With the final positions determined by race speeds, overall victor was Tyler, from Frith and Bennett, with the speeds of Kitchen and Fidgeon only enough to garner them replicas, rather than places.
Next on track were 750cc sidecars – Kim Collett, on his plated-tank 596cc cammy Norton cleared off into the distance and won, from Clive Lones' Morgan, the cyclecar pilot hindered by a bad start which saw him last away. Richards (Douglas) was third.
There were three heats for the 500cc solos, again with final places decided by race times, rather than heats and finals. In heat one, Frith (350cc Norton) won, after an early scare when G R Vesey 'on an ancient 490cc Norton' (The Motor Cycle) though '…the aged machinery protested… a cam spindle seized and sheared, and that was that.' Heat two was a battle between Daniell (Norton), White (350cc Velo) and Jock Forbes (Norton) – Forbes won, the other two dropped away, with Cann and Harold Levings (both Norton) coming through. Nobody seemed to want to win heat three – leaders Tyler and Langton (Rudge) both dropped out leaving B W Swabey (Rudge) to win. However, they weren't quick enough for anything but replicas – top three were Forbes, Firth, Cann.
Daniell won his heat (two) and the unlimited class overall – G S Hill (498cc OK Supreme) won heat three and was classified second, with third, Tyler, on his redoubtable 350cc Norton. Winner of the first heat was Cann, but too slow for a position in the 'classifieds' while Daniell's race speed was the day's fastest.
Last race of the day was for 1100cc sidecars – again, Collett won, with Laird second. George Brough's name was nowhere to be found.
Visit the Mortons Archive for more information and online search options concerning Straight from the plate or other classic motorcycle images, or speak to our archivist Jane Skayman on 01507 529423 with your requirements. Email [email protected]