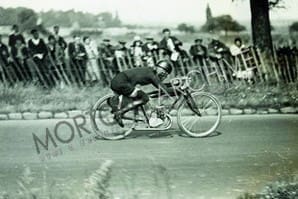 Though he wasn't competing, the fastest man on two wheels, BMW star Ernst Henne (who has the title at 134.68mph) was on hand to see what his competitors could do, with the list headed by Joe Wright (supercharged OEC–Temple–JAP) and Owen Baldwin (unblown ohc AJS V-twin), with local interest provided by the 996cc non-supercharged Rovin-JAP, which was encased in all enveloping streamlined bodywork. In fact, if anyone looked under the cladding, they found the Grindlay-Peerless–JAP Bill Lacey had built the year before, unaltered but hidden. The 'Rovin' didn't trouble the timekeepers, while Baldwin had problems too – but Wright, despite some frustrations, eventually retook the record for the flying kilometre, at 137.32mph.
Though the bigger bangers
chasing the outright speed records were headline hogging, there were loads of other interesting machines, attempts – and attire. While taping one's leathers or suit down was prevalent, the strangest get-up was sported by Regne, rider of the 100cc Rovin–JAP. Eschewing normal raceware, he was described thus by The Motor Cycle, as; "… a lightweight rider with silk stockings (with ladders!), the flimsiest of running shoes, and something very like a bathing costume". His machine, too, was equally non-conformist, boasting wooden wheel rims for lightness…
Bert Denly was hampered by illness (as was Baldwin) so his 500cc cammy AJS was taken over by J A Baker, who'd never ridden it before – alas, he was off the pace. Still, the same man did set 350cc records on another, smaller ohc AJS (for the standing start kilometre and mile, at 76.33 and 84.63mph), while Wal Handley was also going well, establishing a new benchmark time on a 500cc unit construction, ohc FN, at 121.25mph for the flying start mile.
Another establishing a host of 'bests' was Mrs Gwenda St
ewart, in a brace of Morgans. In her 750cc JAP-powered car she set flying start new kilometre (99.11mph) and mile (98.333mph) records in the 750cc cyclecar category, then switched to her 1096cc job to post bests in flying start kilometre (115.66mph) and mile (114.82mph), then the standing start kilometre (70.42mph) and mile (80.69mph) too. Incidentally, Mrs Stewart was to later (in 1934) lap Montlhery at 147.79mph and set the all-time ladies' lap record at Brooklands, circulating at 135.95mph. Both were achieved in a Derby-Miller car.
Other record breakers at Arpajon were de Latour, on a streamlined 175cc JAP-powered Rovin, who achieved bests in the kilometre flying start (86.36mph), mile flying start (84.64mph) and kilometre standing start 60.91mph, while Cheret, in a 346cc JAP-engined Jack-Sport cyclecar, did new flying start records for the kilometre and mile, at 70.53 and 70.03mph respectively.
Article continues below…
Advert
To view the rest of the images in this set and to order prints, please visit Mortons Archive, or speak to our archivist Jane Skayman on 01507 529423 with your requirements. Email [email protected]
---
Advert

Enjoy more The Classic MotorCycle reading in the monthly magazine. Click here to subscribe.
---