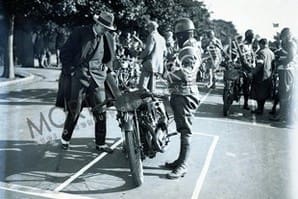 Hot favourite was Len Randles, winner in both 1923 and 1924. Riding the same overhead valve Sunbeam he'd used in June's Senior TT; as yet riders were not barred from the September races for competing in a TT 'proper', as was the case later with the Manx GP, the only stipulation being that they were 'amateurs.' Randles was number one in the entry list, so the first starter.
Further down the competitor list are various familiar names, including 19, Charlie Dodson (who had also made his 'full' TT debut by then too) and 40 Eric Fernihough, while 43 was Eric's Cambridge University Motor Club cohort Archie Birkin, the brother of 'Bentley boy' Tim and the death of whom in practice for the 1927 races led to closed roads practicing.
But it was 20-year-old Sub-Lieutenant H G Dobbs who won through. Randles led for a time, before his clutch burnt out, while Archibald and Provis (both Norton) had spells in front, before they too dropped out. Norton-mounted Dobbs – who only received his appointment in the Royal Navy the day before the race – won at 59.976mph. Hector Dobbs returned (by now a Lieutenant) for the 1926 Amateur TT but crashed out, then switched to car racing, successfully campaigning and building Rileys through the 1930s. He reached the rank of Commander in the Navy during the Second World War and died 1968.
Second place was J C Vaughan, third Kenneth Duncan (both Nortons) while fourth was Scotsman J Morton, the lead 350cc runner on his New Gerrard. Fifth went to Bentley mechanic and future Le Mans Aston Martin driver Jack Bezzant, on his P&M, with sixth the second 350, Edmonds' Chater-Lea.
Just a word for Norton rider J Robinson, though, classified 14th and winner of the York Trophy for the most meritorious performance. TCM's editor's namesake endured a tough time, according to The Motor Cycle; "The day (started) badly by having trouble before the start; he then fell at Quarter Bridge, landing on his head, with his feet over the parapet, having to receive medical attention, while a footrest was removed.
Article continues below…
Advert
"He carried on, later stopping to help another competitor (and give him a lift!), and then falling again at Windy Corner. Notwithstanding all these vicissitudes, he finished at an average speed of 48mph." Robinson's race time was five minutes short of four hours, 45 minutes longer than Dobbs.
---
Advert

Enjoy more The Classic MotorCycle reading in the monthly magazine. Click here to subscribe.
---