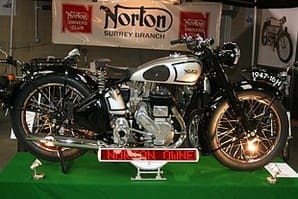 Once there the weather had minimal impact, with almost everything, including the jumble, under cover. The show was the regular mix of familiar faces and bikes along with some new restorations after extended shed-time over the winter.
The Norton Owners' Club had a neat stand arrangement as well as an impressive selection of models to secure the Club Stand award. The club's usual rivals, the Francis-Barnett Owners had a new display marking 90 years of the 'built like a bridge' frame.
In the pre-1950 class, runner-up Dave Murray has owned his Rudge Sport Special for 30 years. The bike is in superb condition (it has won previously at Ardingly,) but this time, he was pipped by Dick Leaver's uncommon 1937 AJS Model 2.
Best British winner Dave Bushell has owned his 1938 Scott for 52 years. It is one of just four prototype Clubman Specials.
RESULTS IN FULL
Best pre-1950
First, Dick Leaver, 1937 AJS Model
Second, Dave Murray, 1938 Rudge Sports Special
Best 1950-59
First, D. Raggett, 1957 Francis-Barnett Falcon 74
Second, Geoff King, 1956 BSA DB32 Gold Star
Best 1960-69
First, Vince Gill, 1964 Norton 650SS
Second, H. Ward, 1961 BSA A7SS
Best 1970-on
First, Piers Richardson, 1971 A75R Rocket 3 MkII
Second, Alaistair Cox, 1978 Triumph Tiger
Best Competition/Special
First, George Page, 1971 Triton Café Racer
Second, Jim Rose, Comerfords Trials Triumph
Best Heavyweight
First, Sybil de Bidaph, 1939 Indian Sports Scout
Second, CJ Tullett, 1930 Panther 100 Redwing/Steib sidecar
Best Lightweight
First, Bernie Stevens, 1953 NSU Max
Second, B. Righton, 1949 BSA Bantam D1
Best British
First, Dave Bushell, 1938 Scott Prototype Clubman Special
Second, Dave Edelstein, 1947 Norton 16H
Best Overseas
First, Lloyd Benton, 1977 Kawasaki Z900 A4
Second, Paul Miles, 1978 Kawasaki Z1R-TC
Best Club Stand
Norton Owners Club, Surrey Branch
Real Classic Award
Mr DJ Winfield, 1957 BSA A7SS