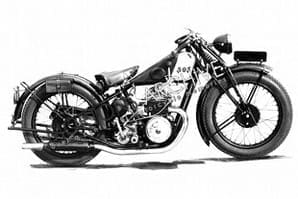 The reason was however simple – the firm was based in Hallow, Worcester and proprietor Len Vale-Onslow didn't have access to mains gas. So welded it had to be.
It was also special in that SOS became an acronym for several things; it started off as Super Onslow Special, was Success On Success for a while then finished up as So Obviously Superior.
Ownership of the firm passed to noted two-stroke tuner and Brooklands rider Tommy Meeten in the autumn of 1933 and production continued until the Second World War, initially still in the Midlands though from 1936 in new premises on the Kingston bypass, home of 'Meeten's Motor Mecca'.
Always a cut above the 'other' two-strokes that used the same basic Villiers engine, the attractive SOS would have reappeared post=war but for unfortunate circumstances.
Instead, Meeten's Motor Mecca became a Villiers specialist, until closed in the mid-1960s when a new flyover was built.
Description and years of models follow…
1927 The launch model
"Its chief characteristics (are) economy and comfort, coupled with speed and reliability." So said The Motor Cycle, anyway. Power unit was the 67 x 70mm Villiers, with an aluminium cylinder, and a Villiers carburettor.
1928 with Villiers engine
With a 147cc Villiers two-stroke engine, a two-speed Albion gearbox, clutch and a kick-starter, the new addition was reckoned to be capable of 140mpg. Weight was said to be not much more than 100lb, with a price of just 21 guineas.
1929 SOS four stroke
That SOS made four-strokes is little known – but indeed it did, using JAP engines. In fact, it was a four-stroke SOS which was raced into 10th place in the 1929 Lightweight TT by H Lester. By 1931 four-strokes had gone from the range.
1931 range leading SOS CY
The 'range leading' CY, with 343cc Villiers engine. Burman supplied the gearbox, while SOS made its by-now trademark straight tubed, welded up frame. It was impressively rigid. The CY gained the 'long stroke' 346cc engine in 1932.
1933 water cooled SOS
The first of the water-cooled. Using a 'stock' Villiers bottom half, Vale-Onslow added his own top end, with iron barrel and head. Radiator was mounted beneath the petrol tank. This model was available in 148 and 172cc (here) configurations.
1938 end of line SOS
End of the line. Still representing the 'quality' end of the utility market, production ended at the start of the Second World War, with Meeten turning to farming. Postwar, Meeten had hoped to return to SOS production, but looting of his engine stock saw it unviable.
Visit the Mortons Archive for more information and online search options concerning SOS motorcycless, or speak to our archivist Jane Skayman on 01507 529423 with your requirements. Email [email protected]
Other articles in the 'which model' series:
? Ariel Square Fours
? BSA A10s
? BSA Bantam
? Cammy Norton Singles
? Norton Commando
? Norton ES2
? Triumph Thunderbird
? Velocette LE