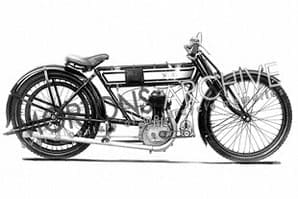 Norton's first in-house engine in 1907 was a sidevalve single – but of 660cc, though reduced to 633c (in 1908) for production. The first 500 – or 475cc – debuted in 1909, with the famous 79 x 100mm dimensions adopted from 1911. For all the rest of its days, the 500cc sidevalve Norton was to be of 79 x 100mm.
Riding
It is fair to say, that the BS Norton I once had the pleasure of riding was right up among the most exciting, exhilarating, raw motorcycles I've ever had the opportunity to swing a leg over. The performance was truly staggering, likewise the smoothness, though the thing I was most thankful for was that I was riding it on a disused airfield, as stopping was something of an 'issue'.
Later 500 sidevalves became more 'civilised' but still offered class-leading performance, while thousands upon thousands served their country during the Second World War. By the 1950s they were an outdated anachronism, with rigid frame and sidevalves, but their passing was still noted mournfully by many.
Model description and production years follow.
1913 Norton BRS
Made famous by the likes of Dan O'Donovan and Dan Bradbury, the BS and BRS – Brooklands Special and Brooklands Road Special – represented the pinnacle of flat-tank, single-speed, belt drive development, though they 'lacked' in the braking department. They were made into the early 1920s.
1921 Norton 16H
By now, there was a three-speed gearbox, clutch and chain final drive for the 490cc side valve, and a 16H tag and £115 price. The model of choice for the clubman/sportsmen, as opposed to its bigger (633cc) Big 4, which was aimed at family men and sidecarrists.
1930 Norton 16H
This 1930 model (though picture is dated 1929) has the rakish saddle tank and down-tipped handlebar, though by now it was behind the ohc CS1 and the overhead valve Model 18 and ES2 in the 'pecking order.' Still, Norton's reputation meant it was still sought after.
1935 Norton 16H
By now priced at £49-15-0, the 16H (along with the ohv Nortons) was highly unusual in that its magneto drive was clockwise as a result of 1934 engine changes. Also, for 1935, there was the adoption of the four-speed, footchange gearbox, while the exhaust pipe was now on the right.
1937 Norton WD 16H
Based on the 1937 16H engine (which had open valve gear; it was enclosed in 1938) housed in the trials frame, there were reckoned to be more than 100,000 WD 16Hs delivered to the forces during the course of hostilities. Postwar, many were bought by the trade, demobbed and sold on.
1950 Norton 16H
Now, the Big 4 and the 16H were virtually indistinguishable, with the Big 4's stroke reduced, bringing its capacity down to 597cc. The 'lay-down' gearbox came in 1950, and then, after nearly 50 years, side valve Nortons disappeared from the range for 1955.
Visit the Mortons Archive for more information and online search options concerning Nortons, or speak to our archivist Jane Skayman on 01507 529423 with your requirements. Email [email protected]
Other articles in the 'which model' series:
? Ariel Square Fours
? BSAs
? BSA Bantam
? Cammy Norton Singles
? Norton Commando
? Norton ES2
? Triumph Thunderbird
? Velocette LE