Once the only means of family transport available to the working family, sidecars still have a loyal following. Watsonian helps gets Steve Parrish's back into fine fettle.
Words: Tim Britton Photographs: Gary Chapman
Given Steve Parrish's earliest experience of a sidecar, when he was left sitting in one outside a shop while his older brother nipped in for a packet of fags and all of a sudden it rolled away, down a hill, it is a wonder he is still enamoured with the things.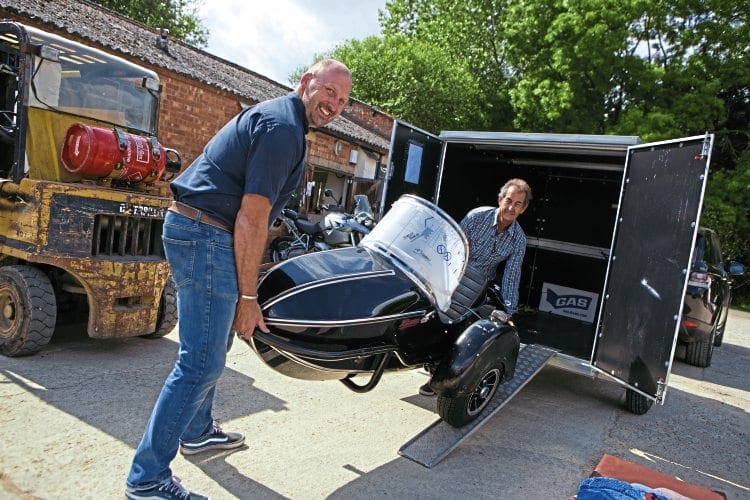 Sidecars tend to polarise opinion among motorcyclists – there are those that love them and those that don't and precious few in between. When seeing a sidecar these days, though, the general public are more likely to think of the Wallace and Gromit connection, or possibly even of granny and grandad, who used one for transport back in the day, than have a strong opinion about them. Whichever it is, the sight of an outfit promotes a smile rather than disdain and as far as Steve is concerned, that is all to the good.
Steve's got a bit of racing pedigree with outfits too, as in order to race on the Isle of Man in his early days he had to share transport with a local sidecar racer and the deal was Parrish would man the chair. "Great fun," he admits.
Anyway, the Panther outfit Steve acquired has been fully rebuilt – or at least the Panther bit has – but the sidecar part needed specialist attention. Just to put things in the picture, the sidecar body fitted to this outfit is Watsonian's stalwart of some 60 years the GP – or Grand Prix – and is reminiscent of the sports sidecar body produced by the company in the 1950s.
This longevity of production has a number of benefits for owners. Firstly, it means all fittings and suspension are readily available and will retro-fit older models, thus keeping things original. It is also a timeless classic that doesn't look out of place on either an original classic motorcycle or a modern classic such as the T100 Triumph or Royal Enfield range. The extra benefit is the modern bodies are exactly the same as the originals, so if you have an original that is beyond economic repair, then the new body will drop straight onto the old chassis and only those who know the integral luggage boot was only introduced in the 1970s will know the difference.
Article continues below...
Advert
Read more in the June issue of TCM – on sale now!
Article continues below...
Advert
Enjoy more The Classic MotorCycle reading in the monthly magazine.
Click here
to subscribe.