Using a pressed steel chassis was a coming trend in the 1930s – frames were cheap to manufacture and strong, capable of housing large-capacity engines, as BMW and Zündapp exampled. Beyond the Rhine,
a French company followed similar lines.
Words and photographs: Gerry Vogt
At least 50 pairs of eyes are focused on the black and chrome motorcycle. Giggling and murmuring, most of the spectators, of varied ages, are tapping on their smartphones and iPads, with many wearing traditional Bavarian costume, as we're the middle of Oktoberfest. It's a pretty common sight, even though many of them have come from the Far East, America or Africa.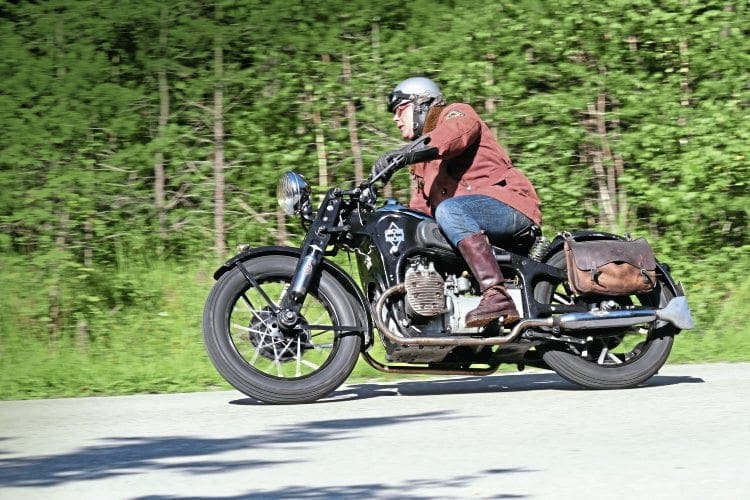 But what's strange today is that after visiting the local BMW museum next to the BMW-Vierzylinder building, they don't quite realise the machine in question, and that they're taking pictures of, is not 'local produce' – until someone spots the name. Clutching his pudding-basin helmet, the owner does his best to explain. Then, at a third prod on the kick-starter, his machine comes alive, the big side-valve boxer twin shakes and rattles at tickover. Pulling back the longish hand lever, first gear is selected, the open driveshaft starts turning the slightly out-of-true rear wheel, and departs to a flurry of pictures, the sound a steady rumble as man and machine pass the 1972 Olympic area.
"It happens quite often, people are usually puzzled as they read the name on the frame side. Even real motorcycle nuts are perplexed," says Thomas Weidmann, Francophile owner of this prewar boxer-engined steed. By now the Gnome et Rhône is parked in front of his workshop in north Munich, next to his 1960 Citroen HY van. Large railings are stored to the left, while a metal staircase needs finishing and welding. Some rails are mounted on tables, other balustrade pieces are kept upright, clamped up, awaiting more work and measurement.
If few motorcyclists nowadays will have heard or even seen a Gnome & Rhône machine, the majority of vintage aircraft enthusiasts know the make well. In Gennevilliers, north of Paris, Louis Seguin started a little workshop manufacturing stationary engines in 1885. Soon his bother Laurent joined him. It didn't take very long before the Seguins decided they'd rather go up in the air than stay on the ground. The first airborne product to leave 'Societe des Moteur Gnome' was their home-brewed seven-cylinder engine, an immediate sales success.
Article continues below…
Advert
Read more in the May issue of TCM – on sale now!
---
Advert

Enjoy more The Classic MotorCycle reading in the monthly magazine. Click here to subscribe.
---