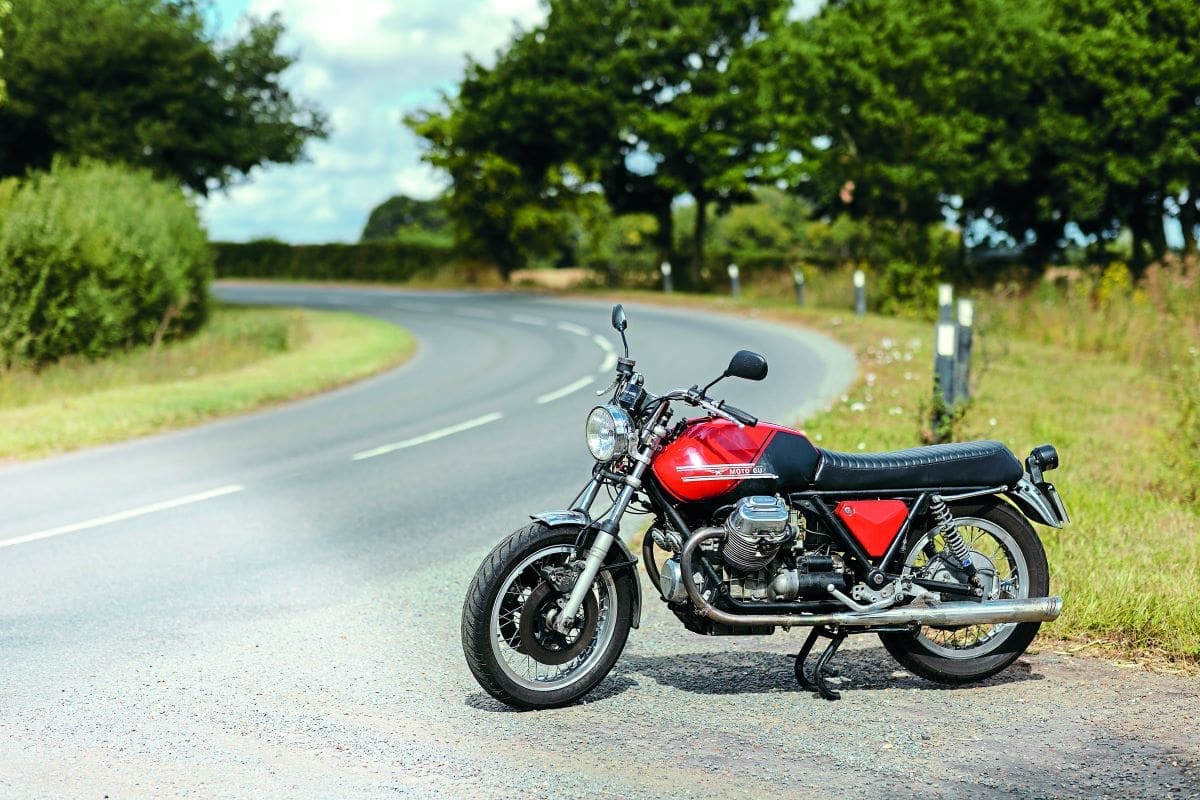 After a long lay-up, this 1972 Moto Guzzi V7 Sport is back on the road and enjoying a second wind, though still sporting much of its original patina.
Words: PHIL TURNER Photographs: GARY CHAPMAN
By the late 1950s, Moto Guzzi was struggling. Cashflow was in such dire straits that the factory pulled out of racing in 1957, instead channelling development and resources into their road-going range, and towards securing more lucrative contracts.
One of those was to design an engine for Fiat's new ultra-compact car, the Cinquecento. Guzzi's chief engineer Giulio Cesare Carcano (designer of their famous 500cc V8 GP bike) came up with a 90-degree V-twin – initially 500cc, then increased to 650cc – compact enough to fit in the car's tight rear engine bay, but it was rejected by Fiat and the engine was shelved. Several of the engine's features were also used in the equally fruitless, contemporary '3×3' military trike.
Carcano's design efforts wouldn't be in vain, though, as shortly after a lifeline came their way when the Italian police requested a replacement for the ageing Falcone. The V-twin was brought down off the shelf and a new machine was built around it. Dubbed the V7 (by then it had jumped to 700cc) it was a success, in both police and civilian versions, but it couldn't resolve Guzzi's woes. By 1966 the company was in receivership.
A masterpiece
A year later, new management brought in renowned engineer Lino Tonti, along with his favoured test rider and racer Luciano Gazzola, to breathe fresh life and ideas into Mandello; the writing was on the wall and Guzzi would need something in their range to compete with the multi-coloured, multi-cylinder superbikes of the late 1960s.
Tonti's experience and expertise was considerable – he had worked with Aermacchi, Benelli, Bianchi, Gilera and Mondial, among others, and left a mark on them all. He set about tweaking the V7 platform (upping capacity to 757cc, increasing compression, fitting Dell'Orto SS carburettors and adding a fifth gear) securing lucrative American police contracts and notching up speed records at Monza. He also took the new engine racing, but the V7's existing touring-style 'loop' frame was too tall, heavy and flexible, and offered limited ground clearance, so the bikes weren't competitive. Tonti's first experiment was to move the generator from the top of the engine to the front, but it wasn't enough.
Frustrated, he set about hand-crafting a replacement frame; though primarily for the track, he had one eye on it becoming the basis for a road machine. A masterpiece of simplicity, his design used triangulated straight tubes, with the backbone set significantly lower than the loop frame – helped by the generator's new position. It was incredibly compact, and ran very tight to the V7 engine's casings and cylinders; so much so it had to have removable lower rails to allow the unit to be removed.
Into the new chassis was fitted one of the record-setting Monza engines: now 748cc, 70bhp and with a 9.8:1 compression ratio, chrome-plated bores, a high-lift gear driven camshaft, strengthened bottom end to deal with the power increase, and a lightened flywheel – among other improvements.
It was the package Tonti had envisaged: a Moto Guzzi that could compete on both circuit and street.
Fast, agile and characterful
Though reluctant at first, Guzzi management gave the road-going version the green light towards the end of 1970 – Tonti twisted their arms by threatening to resign – on the proviso it would be ready for the company's 50th anniversary the following year.
Labour problems and a long wait for tooling meant the target wouldn't be hit, but determined to have it ready (and to meet homologation rules for production racing) the reformed racing department began hand building pre-production prototypes. The bikes wore a seriously eye-catching livery of lime green tank and side panels, and red frame tubes; they were dubbed the Telaio Rosso (red frame) V7 Sport. Only around 150-200 were produced – depending on who you talk to – so naturally they are exceedingly difficult to come by today, though plenty of replicas have been built.
Full production started properly in November 1971. The first batch featured the eye-catching lime green metallic finish of the Telaio Rosso on the tank and toolboxes, but with a black frame and stainless-steel mudguards. Later versions were offered in lime green with a silver frame, and slightly more sedate metallic burgundy/silver, and red/black.
Whatever colour the buyer chose, they were essentially getting a full factory racer on the road. Aside from a thicker, steel-tube frame replacing the chrome-moly ones of the Telaio Rosso; smoother-casting on the engine casings; and a more durable gearset, the showroom bikes were pretty much exactly what Mandello's racers rode.
The V7 Sport was fast, agile and characterful, but it wasn't uncompromising and had some typically Tonti touches that marked it as 'a cut above' the competition: a pivoted seat and courtesy light allowing illuminated access to the battery and fuses; two generously-sized and lockable tool boxes, sitting neatly inside the triangular frame structures; and 'swan-neck' handlebars that could be slid up and down the fork tubes for a tailored riding position.
It went down a storm with the motorcycling press and buyers alike, and instantly re-established Moto Guzzi as a maker of high-quality performance motorcycles. Though short lived – it would be dropped in 1974 to make way for the Le Mans – the V7 Sport would shape the way Mandello would make motorcycles for the next 50 years.
"Pillion? Sorry?"
Paul Abbott's V7 Sport is one of the early batch: a 1972 model. Though it came to him resplendent in red, he suspects it may have started life lime green: "Recently, I've had reason to poke around a bit, which I never really had done before. Inside and behind the side panels there's definitely green paint underneath that red."
Paul didn't know much about the history of his V7 when he bought it in Turin in the mid-1980s. It was actually his second trip out to Italy to buy a bike: "My good friend Jon Fraser had a very good contact in Turin called Dr Carelli; he was an academic doctor rather than a medical one.
I had a Ducati 750GT at the time, but it was getting a little tired. Jon told me his contact had a 900SS for sale – a silver/grey one – and I decided to buy it. I did the deal through Jon: no email, no internet, no nothing. I think there was maybe a photograph of it faxed over to us, if I remember rightly.
"My partner Trisha and I decided to fly out and ride it back home to Suffolk over a few days. It was all a bit of a novelty: helmets in our bags, money in an envelope… £1200 if I recall correctly."
Youthful enthusiasm completely overtook any form of preparation, and when Paul and Trisha arrived in Turin they were somewhat surprised to see that the 900SS had a racing seat – complete with the rather lovely, but uncomfortable, sculpted hump at the back. "Pillion? Sorry?"
All was not lost, as Paul recalls: "Thankfully it had rear pegs, but the good doctor had to supply us with a temporary seat!"
Pillion provision sorted, Paul and Trisha took a few days to ride back over the Alps, through France and home, a journey which wasn't without its challenges. "I remember riding up the Mont Cenis pass. It was lovely and sunny all the way up and it rained all the way down the other side. The Ducati didn't much like wet weather and it started to conk out, and was only running on one cylinder. I remembered the extent of my preparation stretched to a can of WD-40 in my bag, so we took shelter on a railway platform in Chambéry and I sprayed it all over the electrics, and it worked! We rode back through France over another two or three days."
Paul ran the 900SS for a few years and then fancying a change requested the latest 'Carelli Catalogue' from Jon. A list was duly faxed from Turin and on it was the V7: "That was in 1986, I think. It didn't look like it does now, it had a big black and red fairing on it; quite handsome in its own way, but clearly not original. The front disc brake must have been added at some point too, as originally it would've been the big, double-sided drum Grimeca twin leading shoe item."
The deal was done and once again Paul and Trish were bound for Turin to pick up the bike: "We did the same thing: flew over with helmets, money, a change of clothing and that was it.
Hard to imagine now really, but we were given absolutely no paperwork: no receipt, no logbook, no MoT. Back then, customs just weren't interested and we simply cruised through the borders. I don't remember anyone asking for papers. It wasn't actually that old then either, only 14 years-old, so technically it should've had all those things.
"Incidentally, unlike the Ducati, the Guzzi came back without missing a beat."
Rustoration
After the successful ride home, the V7 was parked up in Paul's shed, but was then left largely unridden: "I didn't really use it as much as I should've done, to be honest. By then, I had three bikes: I ran a BMW as a daily ride-to-work, the Ducati was still in the shed and now there was another one. I kept the Guzzi running and went out for odd little trips, but I didn't use it very much at all. It still had the Turin plates on it, and the fairing, I just ran it around as it came to me really. I probably stopped doing that around 1990. After that, it just sat in the shed."
That's where it stayed until 2018 when Paul (by then semi-retired) decided it was time to resurrect the Guzzi. Although stored in a dry(-ish) shed and kept well protected, time had taken its toll, as he recalled: "The fairing had to go, it was getting seriously rusty, even indoors. To be honest, the whole bike was in need of quite serious care. The fork legs were completely gone, the exhaust wasn't that bad but it was covered in rust. I had an attempt at restoration with another friend, we took it all to pieces and just didn't really get much further."
Freely admitting it was a little beyond his abilities and equipment, Paul started looking around for someone to take it on. He didn't want concours, just the necessary work to get it back on the road: "I look at immaculate bikes and think, 'well, I could have that but do I really want to do it?' In the course of this project I've realised that age is hard to re-create and the 'rustoration' concept has started to settle with me, really."
'That was hard work!'
Through another contact, Paul found Dave 'Hutch' Hutchinson of HTE Motorcycles in Norfolk, and drafted in Jon and his van, to take the V7 up for an assessment. It wasn't quite as bad as initially feared, as Paul explained: "The engine had fared fairly well and it actually stayed in the frame throughout. Being a thorough guy, Hutch of course investigated it fully, but there wasn't that much wrong: a loose bearing in the alternator, and a bit of an oil leak. He went into that and sorted it all.
"He cleaned up the carbs and rebuilt the front end – the original forks were shot, so I purchased a new set from Stein-Dinse, an Italian motorcycle specialist out in Germany. Hutch also respoked the wheels. It's still on the original Borrani rims, which I decided to polish. That was hard work!"
A bit of electrical work was also required, as during the course of the first attempted rebuild a fruitless attempt to get the engine to run caused more harm than good, as Paul admits: "Unbeknownst to us, we'd misconnected the coils, causing a massive short and melting a good deal of the wiring loom. Hutch had to repair all that and fit a new ignition switch.
"There wasn't much else that needed doing really. Like the 900SS, it also came with an original racing-type seat, which poor Trisha perched on – complete with our luggage – for 900-odd miles without complaint! I don't know how she did it!
"I decided it had to go, so Hutch took the original seat base, and had the foam reshaped and reupholstered. I also bought some extended swan-neck handlebars, that sit higher than the originals, for a less extreme riding position.
"All the basics are there now, and apart from some slight problems recently with an ignition capacitor, it's running well."
Shove of torque
That I can confirm, and with a touch of throttle and a prod on the starter button the big twin burst into life and settled into the unmistakable 'chugga-chugga-chugga'.
Slinging a leg over the freshly upholstered seat and reaching for the bars, it immediately struck me just how low and long the Tonti frame sits. It felt like a very long way across the tank to the controls – even with the additional height from Paul's higher bars – yet even in a prone position, I had little problem getting my feet firmly on the ground.
The B1117 between Hoxne and Horham isn't the ideal road for an outing on a 1970s superbike – narrow, bumpy, busy – but once underway and climbing up the gears the shove of torque from the big 'vee' and the accompanying roar from the twin pipes did a good job of goading me into pushing the pace perhaps a little more than I should have.
Guzzi's have a reputation for lazy, low-down grunt but the V7 doesn't really come alive until the revs are in the mid-range, when it starts pulling hard and doesn't really stop until near the 7250rpm redline.
It is, of course, easy to keep it in that sweet spot, so stable and predictable is Tonti's masterpiece of a chassis. I hesitate to use such a motoring cliche, but Paul's V7 Sport really did feel like it was running on rails. Even over the rough, rutted and undulating surface of the B1117, it held its line impeccably and never once felt unsettled. The long wheelbase and 227lb kerb weight required a bit of muscle getting into the tighter turns, and for quick changes of direction, but once tipped in and the line set it tracked perfectly, and filled me with confidence.
It wasn't long before I settled into a rather nice rhythm. There's little need to dance up and down the gears, so torquey is the V7's motor, and with the stability and confidence inspiring handling, it's actually quite a relaxing ride for a pure-bred race replica. I can imagine just how much fun Paul and Trisha must have had coming over the Alps in 1986…
Finer Details
1972 Moto Guzzi V7 Sport
Engine: Four stroke, air-cooled, OHV, longitudinally mounted 90-degree V-twin
Capacity: 748.4cc
Bore x Stroke: 83x70mm
Compression Ratio: 9.8:1
Fuel: 2x 30mm Dell'Orto VHB 30CD carburettors
Starting: Electric
Max Power: 70hp@6300rpm
Transmission: Five-speed
Final Drive: Shaft
Suspension: Front Hydraulic forks. Rear swinging arm with twin hydraulic dampers preload adjustable
Brakes: Front: 2x 220mm drum, Double-sided with twin leading shoes per side drum (Original). Rear: 220mm drum
Tyres: Front: 90/90-18. Rear: 110/90-18
Wheelbase: 1500mm
Seat Height: 760mm
Kerb Weight: 227 kg
Fuel Capacity: 17 Litres
Top speed: 120mph