The second half of the Lansdowne campaign brought more close racing, with four champions duly crowned.
Words: Richard Adams Photography: Sports-Pics and Richard Adams
At the end of May, the Lansdowne Series was invited by Bemsee to Oulton Park, which is a great circuit for classic motorcycles and a firm favourite with most riders.
Mike Edwards on the Ripley Land G50 won both races, which increased his lead the in the Bonhams British Championship Class.
He was chased home in both races by Alex Sinclair and Glen English.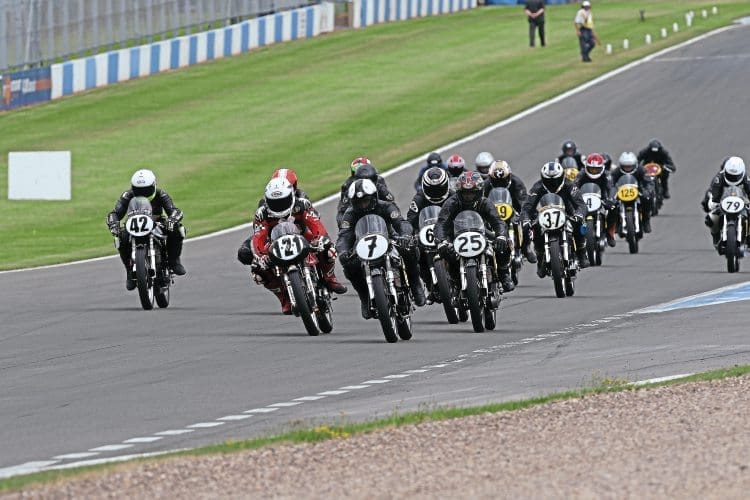 In the National Motorcycle Museum sponsored WRR class, Peter Crew managed two class wins and each time was followed home by TT star Charlie Williams, both on Manx Nortons. In the Avon Tyres sponsored 350cc class Andy Molnar on his Manx got maximum points, as did Tony Perkin (Rudge) in The Classic MotorCycle-sponsored TCM class.
The next meeting was with the North Gloucester Club for two days at Castle Combe, for the only motorcycle race at the circuit in 2015. There is always an enormous crowd at this meeting.
We had a guest rider among us at this one by the name of James Haydon riding a G50 which he was to ride at the Goodwood Revival meeting in September.
Former British Superbike and 500cc GP rider James only did the Saturday race and managed to get fourth place, mixing it with the front runners.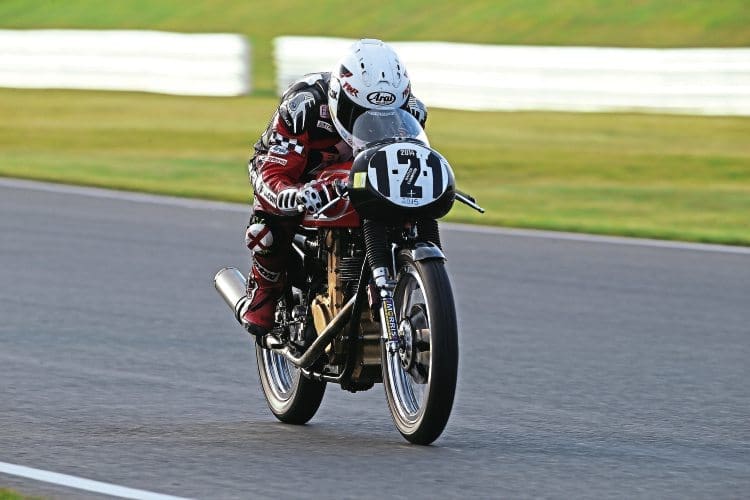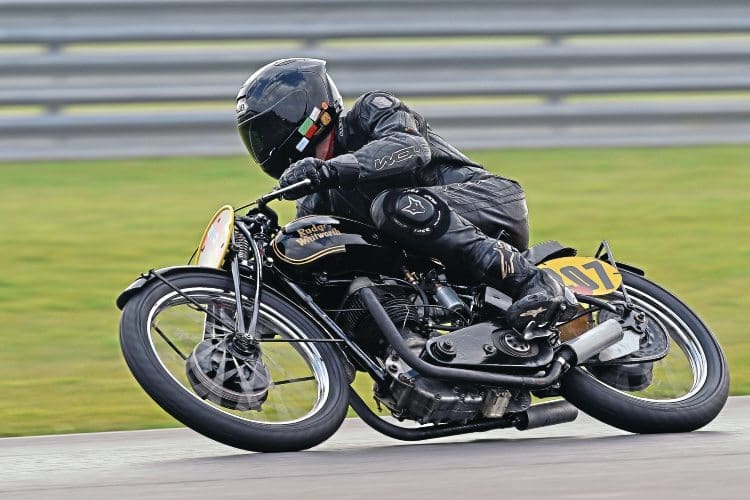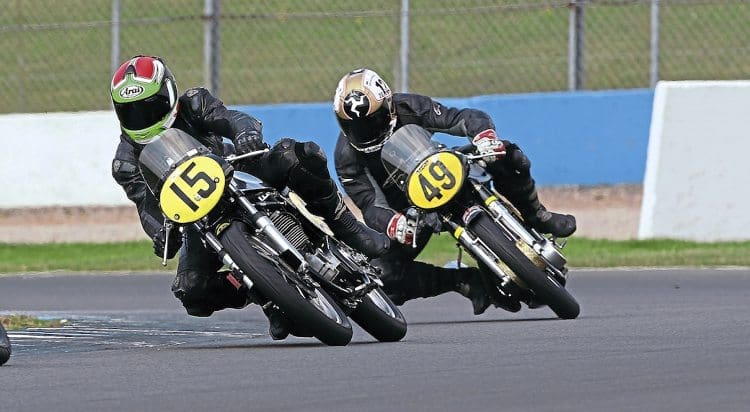 Mike Edwards took all three wins in the Bonhams class, Peter Crew (Manx) all three in the WRR class and Richard Molnar (Manx) all the Avon 350cc wins, leaving Tony Perkin to sweep up the TCM class wins.
Next it was off to Cadwell for the MSV-organised International Classic meeting with three races over two days. Saturday was fine but Sunday was very wet. Mike Edwards dominated the Bonhams class, as did Peter Crew in the WRR class, Ian Lucas (Manx) in the Avon 350cc class took the wins there and Tony Perkin again in the TCM class.
In August, everyone was invited by the CRMC to the excellent Donington Classic Festival for three days. This is a meeting where everyone can take off their silencers and make as much noise as possible!
A whole grid of more than 30 noisy, mostly 500cc singles. It makes you realise how noisy racing in the 1960s was – wonderful!
Here there were four races and in the third one, Mike Edwards was beaten to the line by an ecstatic Alex Sinclair by 0.073sec. Edwards won the others. Ian Bain (Manx) managed to spoil Peter Crew's clean sweep as well in the WRR class and Jeff Bing (Manx) dominated the Avon 350cc class and Tony Perkin's old Rudge kept on clocking up the TCM points.
At the end of August, the series was invited to put on a support race at the Silverstone MotoGP meeting. This was to be a non championship round as it clashed with the Classic TT where several Lansdowne regulars always ride.
We were given the new F1 Wing as our home for the weekend, which was fantastic, as we had garages so big that you could park your vans inside! For this event all bikes had to have an oil containment tray under the engine/gearbox so as not to drop even the slightest drip on the hallowed Tarmac.
The race was on Saturday evening and was a close thing between the first three, all on Manx Nortons, Duncan Fitchett, Mike Russell and Chris Firmin.
They all took a turn in leading the race, and it ended up being the closest race finish of the weekend with Fitchett taking it from Russell by 0.061sec at the flag. The next day Sunday was wet and everyone could watch Mr Rossi give a lesson in wet weather riding, and a British win in the Moto3 by Danny Kent.
There was no meeting in September, so it was on to October and an invitation to join the CRMC for their Race of the Year meeting on the Snetterton 300 circuit for three days of glorious sunshine and close racing. No better way to end the season.
There were two races on Saturday and one extra long race on Sunday, with double championship points for the last race.
At the front in the Bonhams class there several riders looking to go out in glory so it was close, as the wily old Mike Edwards took two wins but Mike Russell got the better of him in race three by 0.275sec, with Chris Firmin (Manx) not far behind.
In the WRR class Peter Crew won all three but Seb Perez on his G50 has been getting ever closer to him during the season. In the Avon 350cc class Jeff Bing managed a clean sweep as did Tony Perkin and the Rudge in the TCM class.
At the end of all that, Mike Edwards retained his British Championship in the Bonhams class, as has Peter Crew in the National Motorcycle Museum WRR class, Ian Lucas came out top of the Avon 350s and the ever reliable Rudge took Tony Perkin to The Classic MotorCycle class win.
So another great season has ended and all riders would like to thank the clubs and organisers who invited us to their meetings and our four generous sponsors all of whom have helped make 2015 a successful and enjoyable year.
Let us hope we can all do it together again in 2016 – dates will be forthcoming shortly.
Final 2015 Championship positions
Bonhams Lansdowne British Championship
1st, Mike Edwards, 330. 2nd, Chris Firmin, 212. 3rd, Mike Russell, 210.
Motorcycle Museum WRR Championship
1st, Peter Crew, 351. 2nd, Seb Perez, 211. 3rd=, Gordon Russell, 113. 3rd=, Mike Farrall, 113.
Avon Lansdowne 350cc Championship
1st, Ian Lucas, 201. 2nd, Jeff Bing, 121. 3rd, Mick Baldwin, 59
The Classic MotorCycle Championship
1st, Tony Perkin, 248. 2nd, Mike Farrall, 105
Winner of the Karl Heinz Lansdowne Cup was Peter Crew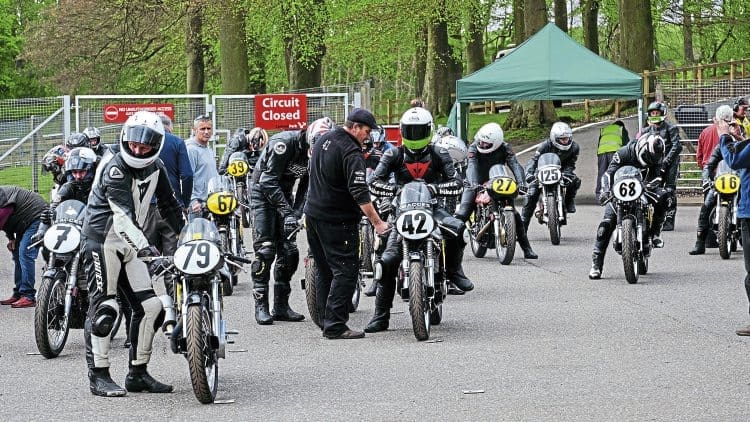 The classes and awards…
Karl-Heinz Lansdowne Cup
In memory of former competitor Karl-Heinz Kalbfell, who lost his life in an accident at Brands Hatch in 2013. This trophy is awarded to the highest point scorer of the four main Bonhams, WRR, Avon and TCM championships.
Bonhams Lansdowne British Historic Championship
For pre 1963 500cc Grand Prix racing motorcycles, either original or replica, but in a very period original specification.
Thus original sized wheels, exhaust systems, carburettors and so on are required plus the appearance of the bike must be very much in keeping with bikes the period. Riders use 'control' Avon tyres.
The winner of this championship will be a British Champion.
This championship is sponsored by Bonhams auctioneers
WRR Lansdowne 500cc Championship
For pre 1963 351cc to 500cc racing motorcycles either original or replica in original condition but with allowed period type modifications.
So for example such bikes with different sized wheels, exhausts, carburettors and so on as long as such modifications were used in period.
Tyre choice is free. Such modifications will be subject to a handicap system similar to that used in the number of years. This is essentially how Lansdowne has always run
This championship is supported by The National Motorcycle Museum
2015 Avon Tyres 350cc Championship
As for the Lansdowne 500cc Championship but for up to 350cc this is essentially how Lansdowne has always run. This championship is supported by Avon Tyres.
TCM Lansdowne Club Class Championship
This is a fairly new class for the Lansdowne Series and shares regulations with the very successful 1950s specification races at the Goodwood Revival.
This class is for very original pre 1954 Group 1 type bikes and pre 55 Group 2 bikes.
The Lansdowne Series was inspired by the Revival from the start so this is continuing a tradition. This championship is supported by The Classic MotorCycle.
Read more News and Features at www.classicmotorcyle.co.uk and in the latest issue of The Classic Motorcycle – on sale now!