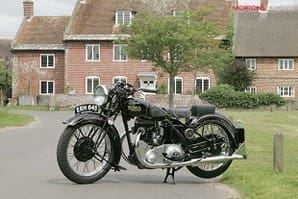 I'd better clarify something about the Rudge Special, right from the start. Although it was an exceptional motorcycle by most standards, it was actually the standard 500cc model in Rudge's range, where it was eclipsed by the Sports Special and the fabled Ulster racer. The point needs to be made because the name can cause confusion, such as when a concours judge at a classic show earned untold derision from Triton builders by awarding first prize in the Specials' Class to one of these models.
Having said all that, many things about Rudge-Whitworth Ltd and its products could be classed as special. From pioneering variable transmission systems when single speeds were the norm, through radical engine designs, to way-out schemes like the canoe sidecar and the motorcycle-drawn caravan, the company was always prepared to try something new.
Founder Dan Rudge was himself rather unconventional, being an ex-soldier who returned from the Crimean War to run a pub called the Tiger's Head in Wolverhampton. A skilled craftsman, around 1870 he began making bicycles of the 'penny-farthing' type in a workshop behind his pub, and he personally raced them to great effect. Copying the French practice of fitting them with ball-bearings – while other cycles had plain bearings – he made them successful both on the track and in sales figures, a 'cause and effect' connection the company never forgot.
Besides being a cycle racer and an engineer, Dan Rudge was an entrepreneur, and in the next decade he took out patents on adjustable ball bearings and even on an entire small-wheeled safety cycle in the modern style. After his early death in 1880 his business was bought by solicitor George Woodcock, and was moved to Coventry where it flourished until mass-produced American cycles began to make inroads into the market.
Woodcock died in 1890, but his firm was saved by the intervention of Charles Pugh – the head of an established firm making screws and hinges – who, in 1891 had set up the Whitworth Cycle Company in Birmingham. It was soon so successful that larger premises were needed, and Pugh took over the well-regarded but ailing Rudge concern three years later, forming a new company called Rudge-Whitworth Limited.
Pugh's first involvement with motorised cycles came around the turn of the century, when he became an intermediary in the export of French Werner machines to South Africa. The relationship soured when he discovered that Werners were reaching Africa via other importers and the result was a protracted legal dispute with the manufacturers. There was also an interesting final connection with the founder's family, after Dan Rudge's son Harry collaborated with Charles Wedge to produce the Rudge-Wedge, a Minerva-powered machine that was notable for its embryonic suspension system. After a promising start the business failed, and in 1903/04 the Rudge-Whitworth factory took it over and used the Wedge name on some of its bicycles.
In 1909, the Rudge-Whitworth board finally decided to enter motorcycle production on its own behalf, and – unlike some other would-be manufacturers – invested some serious thought and development money. The result was one of the best 3½ horsepower machines of its day, with an inlet over exhaust engine – combining better efficiency than side valves with more reliability than overhead valves – and a neat girder fork with an enclosed spring. A forward-looking design aspect was that the engine had a detachable head to simplify decoking.
Development continued, and by the time quantity production was under way in 1911, Rudge-Whitworth machines had advanced features like roller bearing big ends; while clutches – usually referred to as free-engine devices – were standard fittings. The company successfully publicised its new motorcycle in all sorts of competitive events, perhaps the most notable achievement being Victor Surridge's 60 miles in one hour at Brooklands in May 1911.
Proprietary gearboxes were already optional fitments on Rudges, but in 1912 came the invention that really made the company's name. Belt drive was still the norm, of course, and the Rudge Multi-Gear used the principle that if the distance between the two faces of the driving pulley was altered, the belt rode closer in or further out, effectively altering both the size of the pulley and the drive ratio. That much was obvious, but the clever thing about the Multi Gear was that it performed the reverse trick on the rear wheel pulley, and maintained belt tension.
The Multi Gear helped to achieve a TT win in 1914, and – although that didn't greatly benefit the company because of the imminent occurrence of WWI – it sustained the firm's reputation for a decade or so. The belt system was then supplanted by conventional gearboxes that could provide a wider range of ratios. Rudge still led the way by making its own boxes, and was one of the first manufacturers to specify four speeds. Not content with that, Charles Pugh's son John – together with talented designer George Hack – then decided to jump straight from the old inlet over exhaust engine format to the four-valve ohv style currently proving so successful on the Triumph-Ricardo.
Numerous wins at the Isle of Man and elsewhere followed, perhaps most famously, when Graham Walker won the Ulster Grand Prix in 1928 at an average speed of over 80mph – the first time an International race had been won at such a speed. That led to the introduction of the Ulster racer cum fast roadster, and in the next decade or so, it underwent continuous development. Initially the combustion chamber had a 'pent-roof' shape which allowed a relatively simple rocker system to operate parallel pairs of valves, but in 1932 the valves were oriented radially, which required a complex and wear-prone set of six rockers, and thereafter a hybrid semi-radial scheme was employed with parallel inlet ports.
The fully road-going 500cc models also benefited from the four-valve technology, but they were spared the further complexities by retaining the pent-roof head right to the end. The Rudge Special first appeared in 1927/28 and initially deserved its name, being an up-market version of the current Standard model, with a shapelier tank, extra nickel plating, and an Andre steering damper. However, the Standard was really already past its sell-by date, with antiquated features like rim brakes, and it's no surprise that (after a further year when it was renamed the Roadster) it was deleted from the sales list, with the Special effectively taking its place as the standard model. The process is commonplace today, with each year's luxury automotive feature becoming next year's standard fitment, but things didn't move quite so quickly in the 1930s, and the Special subsequently evolved gradually until production stopped for ever with the advent of WWII.
The test machine belongs to Hampshire enthusiast, Pete Wadey, and he had to make a determined search to find the exact model he wanted, and he wanted one of the last ones made. Why? Well, Rudge's fortunes might have been declining during the 1930s, and design stagnated somewhat, but in 1937 two significant changes occurred. The footchange was moved from the left to the right-hand side where most classic enthusiasts would prefer it, and more importantly, the complicated valve gear was finally enclosed and given the lubrication it deserved.
But why was Pete so determined to own a Rudge Special in the first place? "I'd sold the Sunbeam S8 I'd restored," he recalls, "because it was a heavy old thing that was stronger on comfort than handling, and I had a bit of extra money put aside, so I just wanted to invest in something a tad exotic. And then I saw a Rudge Special at a show, and immediately decided that I had to have one. It was enough out of the ordinary to be interesting, but had none of the quirkiness of the Sunbeam, and it had an air of sheer quality about it. That was some 15 years ago, and I searched for months before I found this one in Derby, where a chap had started its restoration before running out of money and enthusiasm."
Pete didn't wait to get h
is prize home before starting work on it. "What work had been completed was poorly done and only loosely assembled," he remembers, "so I had to spend an hour either tightening things up or removing them altogether, before it was safe to bring the Special home on the trailer." He didn't rush the subsequent restoration or spare any expense, and the result is a machine whose understated elegance can cause it to be overlooked, but which really deserves the closest of attention.
It has now been on the road for a decade or so and still looks pristine. "I don't do a lot of washing and polishing," admits Pete, "but if possible I just don't go out when it's raining." That doesn't mean that he's an armchair motorcyclist, though, as the odometer indicates that he's covered more than 1000 miles per year, and this isn't his only motorcycle.
He's never regretted his decision to seek out the Rudge. "I just love owning and riding the Special," he says, "it looks so smart and was really well made in the first place, and when you ride it everything – the starting, the gearchange, the handling the power and the brakes – works really well. In fact the only thing I don't like is the lack of suspension!"
Well, I agree with all the plus points. The Rudge goes like a really good 500 made two decades later, and the generously sized brakes are better than many offerings from even that period. Pete warns me that it's best to use just the foot lever which is coupled to both brakes, and I soon see why, as instinctively using foot and hand levers together results in a disconcerting feeling that the front brake cable has broken.
The trademark enclosed spring on the Rudge's front forks makes them look more sophisticated than normal, and while it may be auto-suggestion, they seem to have a better than average response to bumps. I don't really notice the rigid rear end, as the Rudge is no less comfortable than any other similar motorcycle, and I'm not quite as sensitive as Pete who suffers with a bad back. In compensation, he is delighted with the mechanism that operates the centre stand, and it really is impressive that you can park the Rudge with an easy pull on the left-hand lever without fully dismounting.
Incidentally, that lever, like the foot controls and the handlebars, is black coated rather than plated. It's strange Rudge used stylish metal panels to tidy up the engine/gearbox area, and yet deliberately made an upmarket machine look slightly dowdy in this way. It's the sort of idiosyncrasy that delights owners, however, and it does at least give a quick indication of whether a Rudge's restorer knows what he is doing.
Pete definitely does, and he obtained copies of manufacturing drawings to ensure that many little items he made – like the tommy-bar nuts on the quickly detachable rear mudguard – are exactly right. An indication of his attention to detail is that the transfer on that mudguard is actually the third one. The paint specialist first applied the common 'Rudge Whitworth Coventry' badge, not realising that the company had relocated after being taken over by Middlesex-based EMI in 1936. Having had a 'Rudge-Whitworth London' transfer applied instead, Pete then discovered a 'Rudge Whitworth Limited' decal was used in 1938 (perhaps enthusiasts didn't like being reminded of the firm's move from its traditional home) and it was back to the paint shop yet again.
So you can take it that everything about this motorcycle is as right as possible, and Pete's restored Rudge – like the original machines that won TTs and aroused fanatical enthusiasm in owners – just oozes quality, with lustrous black paintwork festooned in gold coach lines, quality fittings and individual design touches.
And, of course, the four valve engine really sets the Rudge apart. Not just because it delivers above-average power, but because it shows how bold and innovative the company was. That was due in no small part to the brilliance of designer George Hack and the ambition of company boss John Pugh. The latter's death in 1936 certainly put a damper on things, but the future was still fairly bright until new owner EMI needed all its resources to manufacture electronic equipment during WWII, and production never restarted.
It's significant, perhaps, that while competitors responded to the difficult financial conditions of the 1930s by making economy specials, Rudge had survived without making any compromises, and it took a global catastrophe to finish off a firm whose most ordinary machine really was Special.