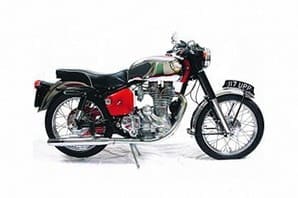 The Royal Enfield Bullet must hold the record for the longest continued production run for any motorcycle in the world. Though there have been changes and alterations over the years – including of course the relocation of the main manufacturing site to India.
Malmesbury man Alan Jones's 1958 Bullet is an unusual machine, insofar as its frame is the next evolution on from the one that is used in Bullet manufacture today! For that to make sense, it needs to be understood that when manufacture of the Bullet first began in India, the model was still being built and updated by Royal Enfield themselves.
Subtly modified
Alan bought his Bullet in 1993, and then spent the next two years restoring it. He singles out Hitchcock Motorcycles as being particularly helpful during the restoration. Though the Bullet is beautifully presented, it is subtly modified to make it a practical proposition on today's roads – the addition of indicators and mirrors being the obvious, sensible updates.
There was no particular motivation for Alan when buying the model – it was just available at the right time, at the right price, and the 56-year-old handyman snapped it up. As well as being displayed as part of the show-stopping, show-winning and ever-inventive displays of the Malmesbury Motor Cycle Club, the Bullet is regularly used.
Royal Enfield's Bullet has come in many incarnations over the years. The name was first used for 1933, on a range of sporting singles, and the tag continued in the decade leading up to WWII. Following the cessation of hostilities, the Bullet reappeared in 1949 – with a pivoted-fork spring-frame. Indeed, it is this frame a version of which is still used for Bullet production today.
Article continues below…
Advert
The all-welded frame as used for Alan's machine was introduced for 1956, and it was this item that was used until the British Bullet went out of production in 1961. Of course, the Bullet lived on in India (based on a 1955 model) and in 1977 it began to be re-imported into the UK, a situation which continues to this day, albeit in an updated manner but still recognisably – and in spirit – a descendent of the original Bullet.
---
Advert

Enjoy more The Classic MotorCycle reading in the monthly magazine. Click here to subscribe.
---