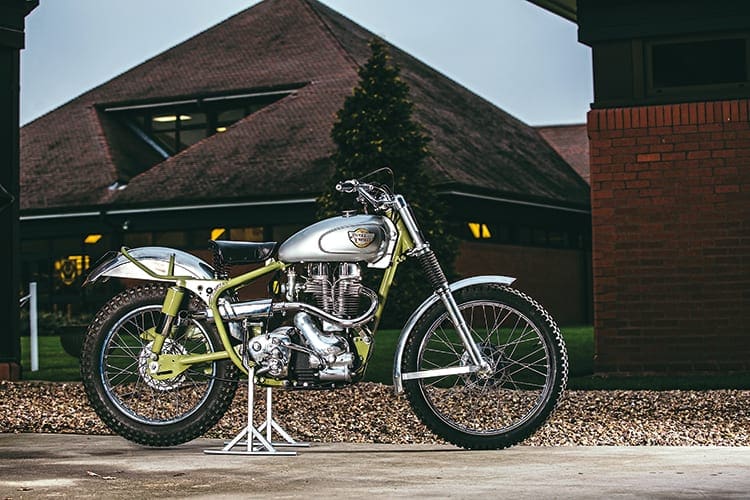 There was a raft of famous trials 'partnerships' in the heyday of the 1950s. That between Johnny Brittain and HNP 331 was one of the most successful.
Words: RACHAEL CLEGG Photographs: GARY CHAPMAN/MORTONS ARCHIVE
Behind three letters and three numbers – HNP 331 – lies the story of one of the most important trials machines and important trials riders in motorcycle history.
HNP 331 – aka the famous works trials Royal Enfield 350cc Bullet – won more than 50 championship trials and was also a technologically pioneering machine. Some of the most ground-breaking mechanical advances were developed on HNP. In fact, the Bullet was so ahead of its era that it would take years for many of the other major manufacturers to cotton on. But more of that later…
The staggering successes of this machine were also owing to Royal Enfield's star rider, Johnny Brittain. From 1949 to 1960 Brittain would ride a raft of Bullets, always retaining the HNP 331 registration.
Johnny Brittain, now 86, said: "That machine was like part of my body. I was on it so much over a 12-year period. I knew it so well."
Brittain joined Royal Enfield in 1949 though it wasn't until 1950 when his contract started. "I was still with James at that point. I won the 125cc Victory Trials for James in March 1950 and then started riding for Royal Enfield not long after."
Johnny's father, Vic Brittain was among the nation's top trials riders for Sunbeam and Royal Enfield. He was also a strong road racer, competing in the Isle of Man TT nine times. "My father was an excellent trials rider and a road racer. Back in those days a lot of riders switched between trials and road racing. It's not like that anymore."
Indeed, when it came to two wheels, Vic Brittain was nothing if not prolific. His first trials competition was in 1928 for Sunbeam and his career continued from then on. "He competed in most of the International Six Days Trials from 1928 to 1939," said Johnny. "His last trial was in San Remo in 1948 – when he returned from retirement. He was riding for the Great Britain team with Charlie Rogers, Allan Jefferies and Hugh Viney."
Vic Brittain also raced for the Norton team in 1934 at the TT alongside all-time greats Jimmie Guthrie and Jimmy Simpson. That year Vic finished fifth at an average speed of 72.24mph.
The peak of Vic Brittain's trials riding career was in the 1930s, culminating at the 1939 International Six Days Trial (ISDT). But it proved to be one of the most notorious ISDT events in its history.
The Germany-Russian pact – which led to the taking and dividing of Poland – had been announced. This was the signpost of the inevitable: the outbreak of war.
Brittain says: "Dad had travelled to Germany to compete in the event for the British team on his Norton but they had to escape the trial on the fourth day because the authorities knew that it was imminent war would be declared between Britain and Germany."
"All machines were impounded overnight so the team had to 'join' the trial in order to get away. They set off on the fourth day and instead of forking right to go further into the Bavarian Alps, they forked left towards Switzerland."
A few days after the riders' return, war was indeed announced. Abandoning the ISDT was thus a wise move, especially as the intended route was through the Bavarian Alps, via the small town of Berchtesgaden. This picturesque hamlet happened to be the location of Adolf Hitler's mountain headquarters…
But political close-calls aside, the fact Vic Brittain competed in myriad ISDTs was a testament to his riding capability.
Motorcycle competition, therefore, was bred into young Brittain's every fibre. And in 1949, after his father retired from competitive riding, Johnny was offered a ride with the Redditch-based Royal Enfield factory team. Suddenly, this tall, gangly teenager was thrust into a world of high-pressured, top-class competition.
"I was given the HNP 331 right from the off and that became my own personal registration number plate and I rode the Bullets for 11 or 12 years, all under the HNP plate."
This registration number allocation was a familiar scenario with British factories – Sammy Miller's GOV 132 Ariel being the most famous, with Gordon Jackson's AJS 187 BLF also among the better known.
Despite being armed with a factory Bullet and being born into a motorcycle dynasty, Johnny's learning curve for trials riding proved to be steeper than he initially thought. "When I joined Enfield I hadn't done that much in terms of actually competing. I'd started out on a Wolverhampton-made DMW and rode a James in the Scottish Six Day Trials as a private entry but I wasn't terribly experienced. Yet I was expected to follow in my father's footsteps and instantly shine. But I didn't do that well in the first trials so I had to change my plan after that and spend a lot of time practicing. Dad had retired and I was under a lot of pressure to live up to his name. I quickly found out that I wasn't going to win just because I was Vic Brittain's son."
Over the years, Brittain would be given different machines – always with the HNP 331 registration. "I never really got a new machine, as such, rather, they were motorcycles which had been altered each year."
According to Royal Enfield expert Gordon May, one such alteration was a raised seat. "Johnny was so tall so Royal Enfield had to adapt his machines to accommodate his height."
Brittain competed in a host of national trials with middling success. Then, in 1952, his fate changed. "I won the Scottish Six Days Trial," he explains. "So I thought to myself 'If I can win that, I can win anything.' And that gave me the confidence I needed to succeed. For a while in the mid to late 1950s Jeff Smith, Gordon Jackson and myself dominated the trials scene."
Indeed they did. Between them the three riders won the ACU Gold Star Award every year from 1952 to 1958. "The competition was won by points. The rider who finished first got 10 points, second place was nine points and so on. Points added up throughout the year and we won the Gold Star year on year."
But Johnny's proudest competition moment was the 1953 International Six Day Trial in Czechoslovakia. The team consisted of Jim Alves on a 650cc Triumph, Hugh Viney (500cc AJS), Bob Manns (500cc Matchless) and Jack Stocker and Brittain, on 500cc Royal Enfield twins.
"I was only 22 so I was the junior member. I'd also failed to finish, owing to a machine breakdown, in 1952. All the riders on the team were in their 40s. I remember my dad saying to me; 'You have a lot of responsibility on your shoulders' before I went off to the ISDT and I did. I had to prove myself for the team because there was a lot of controversy surrounding my selection. Even some people at Royal Enfield thought I was too young."
He proved the sceptics wrong, spectacularly. "The ISDT was the Olympics of motorcycling. We [Royal Enfield] won a Manufacturer's Gold Medal, as did AJS and Matchless, it was amazing. The award ceremony was something else – when they raised the Union Jack it felt very special." But far from any sense of grandeur or pride, Johnny said he can only remember one feeling after the 1953 ISDT; "Relief," he laughed. Although there was a lot of pride too.
Back the Bullet and more success. "I won the Scottish Six Day Trial in 1957 for a second time. I won the Scott Trial in 1955 and 1956 and almost had a hat-trick with three wins but I came home with two instead. Yorkshireman Artie Ratcliffe beat me in 1957."
Key to Brittain's trials domination was a simple but pioneering development: the Bullet's spring frame.
Read more in the May issue of TCM – on sale now!